Friday Food Fight: Which Nashville Hot Chicken Joint Will Rule the Roost?
Before we begin, I feel duty bound to make a disclosure: I'm a wuss when it comes to hot-spicy food. I generally go with mild or "1". In the past I've toyed around with ramping up the heat, but most of the time I got burned. I like a little of it, but get flummoxed when the fire in my mouth obliterates the taste of the food.
So you could argue that I'm not ideally qualified for a Friday Food Fight about Nashville hot chicken, but —
1: I suspect a lot of readers prefer mild, and 2: Tough noogies, it's my column.
For the uninitiated, Nashville hot chicken emanated from the Music City's African-American community. It's fried and cayenne-spiced, and has a reddish exterior. There's way more to it, but those are the bare basics.
Nashville hot has spread like wildfire in recent years, and has generated at least a couple of restaurant concepts in the Bay area. Two of them are our contestants: Nash's Hot Chicken in downtown St. Pete and King of the Coop in the Tyrone area.
NASH'S HOT CHICKEN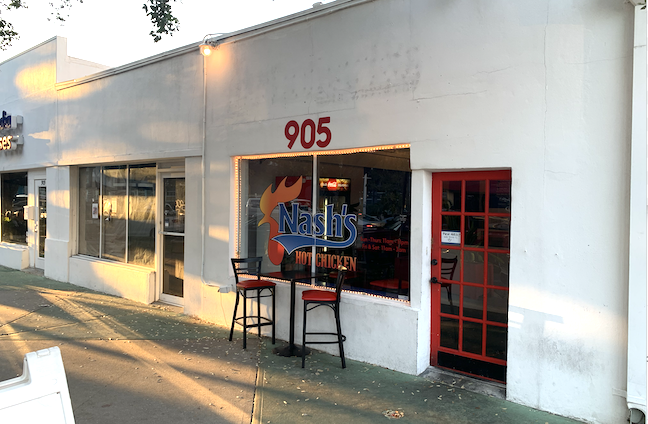 Co-owner Jason Griffin, who is part of the group that founded and runs The Mill, calls Nash's a "600-square-foot chicken shack." Let's go with "hole in the wall" instead. The joint sits on the busy corner of Central Avenue and 9th Street.
A lonely two-top sits outside. A few small tables occupy the plain, tidy interior. Everything about the place says grab-and-go, which is what I did on a Saturday night at around 7 p.m., with no parking space in sight.
Bonnie dropped me off and drove around the corner. I paid, collected the food and she came back and picked me up. We went to a friend's house to eat. It was closer than the FFF Lab.
Appearance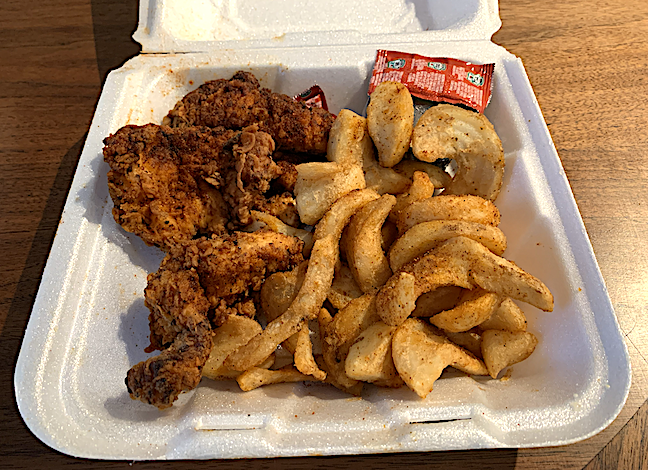 In keeping with Nash's no-frills, it's-all-about-the-grub aesthetic, our meal ($13) came in your basic styrofoam container. The five chicken tenders had the requisite dark red hue. They were sided by a pile of seasoned curly fries, the fattest I've ever seen.
We ordered three sides — coleslaw, mac-and-cheese and bacon-braised collard greens ($5 each) — all in separate containers.
Texture and Taste
Tenders of any kind can come out dry, stringy, or both. Not these. They were moist and, well, tender. And, above all, scrumptious.
The #1 (out of 5) heat level was just right, letting the spiciness linger in my mouth but not getting in the way of the flavor.
I ate mine with a knife and fork, slicing off morsels and dipping each bit in a nice mustard ranch sauce.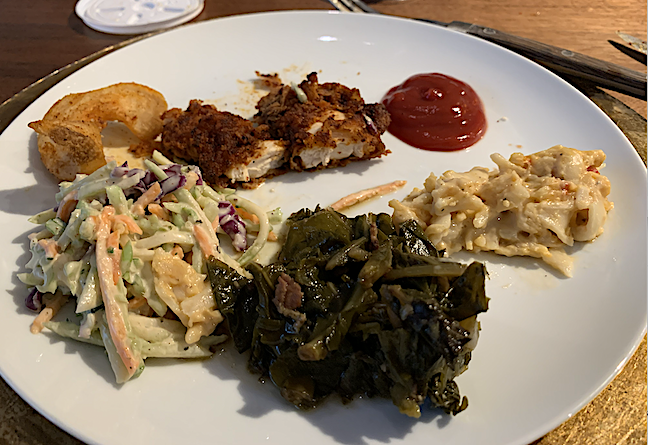 As for the sides, the mac-and-cheese and the greens made for quality partners. The slaw deserves special mention. It was exceptional: thin sticks of carrot mixed in with different types of cabbage, and some other stuff as well. It was wet without being soggy.
To cover our bases, we ordered one tender at #3 heat, which is the house standard. Summoning our courage, we each took a bite — and found that it wasn't nearly as fiery as we feared.
Maybe I'll go back To Nash's and order an entire meal at Level 3 … Um, probably not.
KING OF THE COOP
On Tuesday, I called King of the Coop three times and got a voicemail that said staff was helping other customers. So at around 4 p.m., Bonnie drove us 30 minutes across town to order in-person at this take-out only place with a temporary vinyl sign.
We arrived to find the Coop's door frozen shut, with an Hours sign indicating it was closed on Tuesdays. The restaurant's website said it was open from 11 a.m. to 9 p.m. on Tuesdays. Putting it mildly, this was disappointing customer service from a restaurant concept that was founded in Tampa's Seminole Heights in 2019, has four Bay area locations, and is touting its growth.
We made the same dreary trip the following afternoon, picked up our order and brought it back to the FFF Lab. We got a three-piece Tender Basket ($9.49) with fries ($3.49) at Midway heat, plus two more tenders ($7.49) at the Coop's signature Nashville Hot. 
As sides, we grabbed coleslaw and mac-and-cheese, both $3.99. The Coop had discontinued collard greens, although they were (are?) still on the menu.
Appearance
The tenders were larger and looked to have a tougher exterior shell. The conventional fries were flecked with cayenne pepper. 
Beneath it all was a slice of potato bread, which I discovered well into the meal. I didn't bother with it. The sides came in separate containers.
Texture and Taste
The tenders, which I knife-and-forked, were indeed tender, but were not quite moist as Nash's. They were tasty in conventional chicken-tenders way but — given their Nashville Hot billing — came up short on personality.
The spice (not just the heat) didn't make as much of a flavor impression as its counterpart. But kudos to the mustard ranch dipping sauce, which enhanced but didn't bury the taste.
The spicy-heat quotient was right in my kitchen. Curiously, I couldn't tell much, if any, difference between the two levels. 
As for the sides, the fries were nice — thick and hearty; the mac-and-cheese was fine. The slaw, however, was stringy and actually kind of dry. It had crunch, sure, but essentially no taste.
And the Ruler of the Nashville Hot Chicken Roost Is …
Nash's Hot Chicken!
A little advice for The Coop: Update the website ASAP and change the message on the answering machine.