W is for Watches: The best of times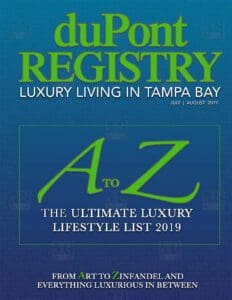 A to Z: The Ultimate Luxury Lifestyles List is duPont Registry Tampa Bay's annual compendium of the best our region has to offer. Each year we choose a different set of categories and then select businesses that are top-of-the-line in each category. This year: Art to Zinfandel (and everything luxurious in between).
A fine timepiece is at once a small wonder of engineering and a work of art you can wear on your wrist. Collectors know they'll find the quality they seek at Mayors Jewelers, a national luxury chain that's been in business for over 100 years; its International Plaza store is mecca for such vaunted brands as Tag Heuer, Breitling and, of course, Rolex. Old Northeast Jewelers (based in St. Pete with a branch at International Plaza) has been buying, selling and repairing fine watches since 1979, including Hamilton's distinctively asymmetric Ventura, a favorite of Elvis and now part of the wardrobes of Men In Black. If you own a vintage watch that needs a tune-up, you'll want your jeweler to treat it like the precious object it is; that's why many chronophiles rely on the careful, efficient service of Pasadena Jewelers.