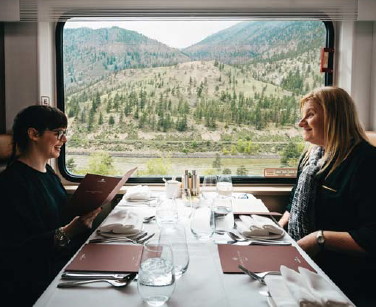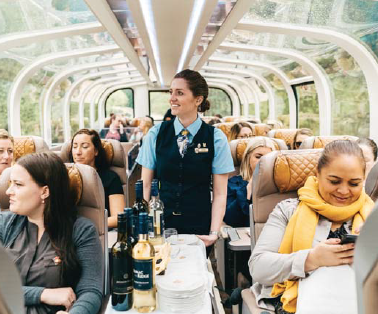 I am stirring cream into my steaming coffee, lulled into a contented post-lunch linger as much by the delicious meal as by the train's steady chuga-chuga-chuga-chuga when I hear an urgent command, "Bear, to the right."
With a fifty-percent chance of picking the correct "right," I swivel my head and look out the picture window across the aisle in time to see the black bear, motionless between the treeline and the tracks, its head up as though it is equally curious about us. Cheers and applause erupt. The excitement of our shared top-tier wildlife sighting changes the "me" dynamic on this slow-travel adventure to an "us."
Soon after, our on-board hosts Lauren and Queenie, lead a game upstairs of Name That Tune. The playlist is from the 50s, 60s and 70s, an indication of the general age of most guests, and the participation level is high. Everyone has a touch of the Sillies, brought on by a combo of cabin fever and an open bar of BC wines and top-shelf liqueurs and spirits.
I am on a two-day train trip from Vancouver, British Columbia to Lake Louise, Alberta. Yes, that Lake Louise, the one from the postcards with the castle-like hotel on the shores of a glacier-fed lake in Banff National Park. It was along the Canadian Pacific tracks we're traversing where the last spike was planted in 1885, completing the railway and bringing British Columbia into the fold of the nation. It also brought tourists, in whose footsteps we follow, into these mountains.
This is not the kind of rail travel you choose to reach a destination. You take a Rocky Mountaineer trip for the luxurious front-row seat
it affords to some of the most breath-taking, awe-inspiring scenery in the world; to cross trestle bridges over steep canyons, to watch waterfalls ribbon down sheer rock-faces, to ride alongside rivers both placid and white-capped in hues ranging from mud to gemstone. The ultimate prize, though, is to be surrounded by the magnificent Rocky Mountains, her jagged snow-capped peaks a dramatic
backdrop in every direction.
The Rocky Mountaineer is a bucket-list trip for many who also wish to take an Alaska cruise or cross the Atlantic Ocean on the Queen Mary. Cameras, smartphones and tablets are always present, snapping photos, that is. There is no Wi-Fi on board. The intention is to look out, not down.
Our journey began the day before, when coach buses delivered us from the Four Seasons Vancouver to the Rocky Mountaineer stationat oh-dark-early. A pianist woke us up as he played through a travelthemed repertoire (think Route 66 and Chattanooga Choo-Choo) on a baby grand while servers roved the flower-filled hall with morning beverages on trays. Flocks descended on the souvenir racks, women wrapping themselves in sweaters in anticipation of a cooler couple of days ahead. Overhead, the hands on an enormous backlit clock-face ticked closer to departure until the stationmaster, with the help of a bagpiper, gathered everyone around for the ceremonial whistle and "all aboard" call.
The kilted piper played on until the last passenger had climbed the red-carpeted steps to their assigned car. Uniformed Rocky Mountaineer employees lined the platform, waving good-bye as the train pulled away from the station.
Though 760 passengers are traveling today, only 70 are on my Goldleaf car and we, along with four hosts and three culinary staff, are a self-contained unit. Goldleaf cars are glass-domed doubledeckers with spacious, adjustable leather seats on top and a dining room below where guests choose their chef-prepared meal from a menu and are served at four-top linen-clad tables that are pressed against picture windows. A Julia Child quote graces the back of the menu, "People who love to eat are always the best people."
From an outdoor platform, you can smell the pine, hear the train and watch the landscape unfold at a gentle pace: An old barn on a river bank, a hawk riding an updraft. This is where the photographers with real cameras hang out, and those who just want to feel an extra bit of happy.
The second morning after boarding in Kamloops, I watch the way the light and shadows shift on the landscape as the sun rises, mist is trapped across a stretch of mountains and families of ducks cut their path across still waters. A woman named Dolores wearing a yellow shirt waves to the train from the porch of her yellow house as we pass through Canoe. She greets every passing Rocky Mountaineer train this way.
The mountains become more imposing with each passing hour as we near Banff National Park. Westbound trains haul their cargo in open-topped cars. Heaps of glistening black coal and day-glow yellow sulfur pass directly beside my window as their locomotive pulls them westward. I sip chardonnay from a vineyard in Osoyoos, the southern part of BC's Okanagan Valley.
Lauren picks up the mic to explain that we're behind a 10,000-foot long freight train that can't pull over for us to pass. No one knows how long we'll be delayed. The culinary team springs into action, preparing an unexpected dinner of curried chicken with coconut rice to be served at our seats. Simon & Garfunkle's "Homeward Bound" is playing over the speakers and headlights glow from the Trans Canada Highway across the river, reminding me of a longago road-trip with my parents through these same Canadian Rockies. I recall the silhouette of mountains against a darkening sky, my dad's excitement at seeing a bighorn sheep on steep rocky incline and giving up my count of elk, moose and deer and goats once I'd reached 100. Again, I am a passenger, in charge of nothing, grateful to connect with that long-ago memory.
It is pleasurable to ride, to just take it in. To be immersed in these mountains.
Learn more by visiting rockymountaineer.com
By Megan Padilla