A to Z List 2019: G is for Golf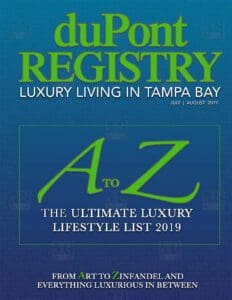 A to Z: The Ultimate Luxury Lifestyles List is duPont Registry Tampa Bay's annual compendium of the best our region has to offer. Each year we choose a different set of categories and then select businesses that are top-of-the-line in each category. This year: Art to Zinfandel (and everything luxurious in between).
"You could be in Scotland as easy as Florida," Streamsong Resort's general manager told dRTB last year, describing the terrain of the golf resort southeast of Tampa built on the remains of an old phosphate mine. With three championship-level public courses plus high-end dining and lodging, it's a golf-cation must. If you like to gaze at jaw-dropping scenery while you're waiting for the other guys to play through, head north to Lecanto's Black Diamond Club; of its three Tom Fazio-designed courses, the most renowned is the Quarry Course, where holes 13 through 17 were built around the rims of two canyons up to 80 feet deep. Or maybe you're looking for something on a smaller, if no less spectacular scale? Congo River Miniature Golf in Clearwater, with its waterfalls, caves and gators (!), is a mini-golf course like no other. You'll need gear for your golfing adventures, of course, and you'll find everything you need and more at Golf Locker, Tampa's golf superstore. And you like to watch as well as play, right? As so many of us have discovered first-hand over the last few years, the Valspar Championship at Palm Harbor's Innisbrook Resort is Tampa Bay's chance to get up close and personal with some of the greatest golfers in the world while enjoying the fantastic amenities of a top-flight resort. Mark your calendars: Next year's tournament takes place March 16-22, and as always it's for a good cause; last year, the Copperheads raised almost $2.3 million for local charities.