Theaters, galleries, museums, concert venues, markets and more have all had to bob and weave through the ever-changing demands of the pandemic, but the shows will and do go on.
Star Turns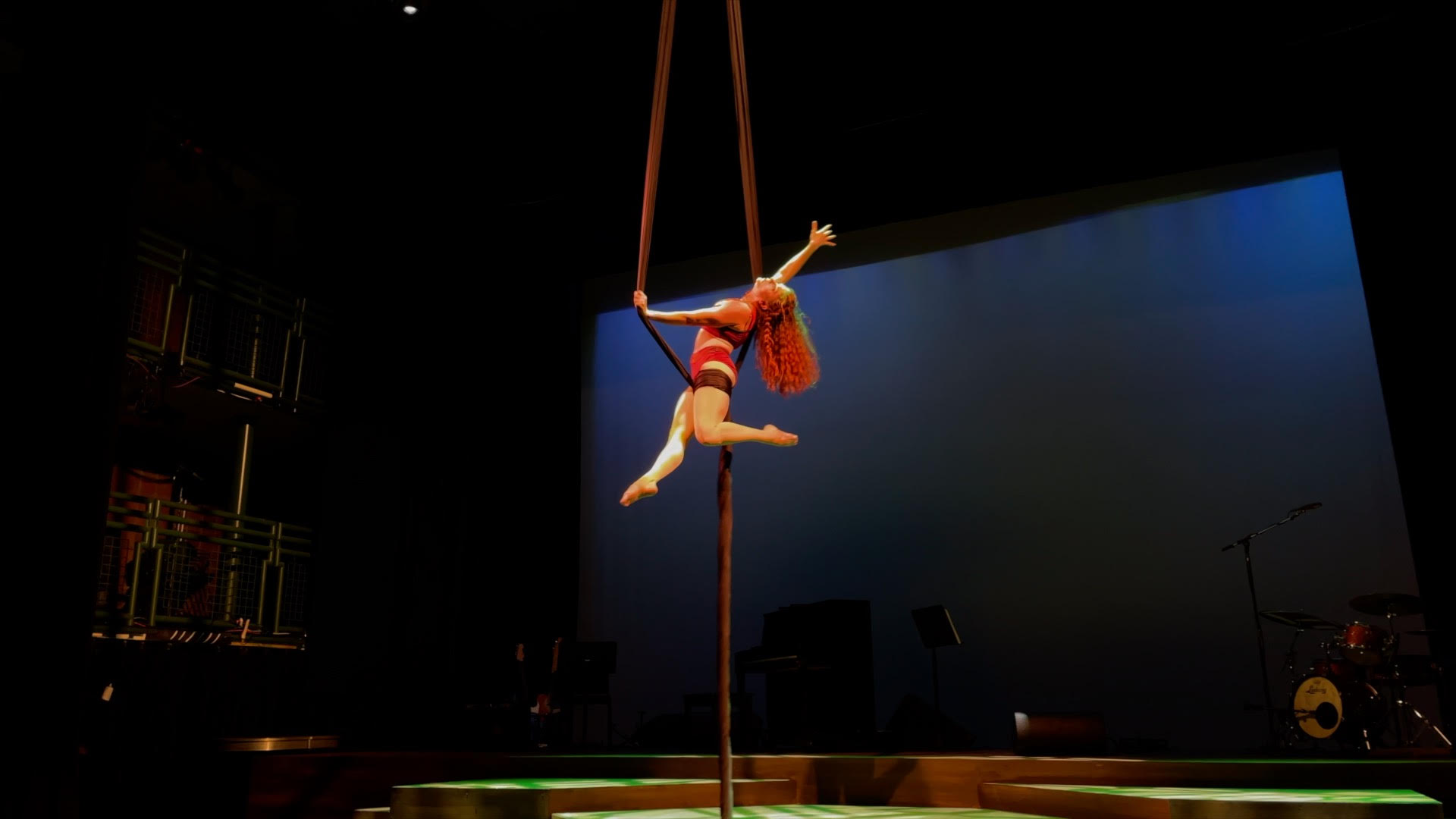 Jobsite Theater. I'm excited to see what they'll do with the outrageous Satanic-hand-puppet comedy Hand to God (through 3/14). And do seek out the innovative Digital Shorts at jobsitetheater.org, like Doubt Raised a Voice that Sings, a sensual music-and-aerial-dance collaboration between Kasondra Rose, Jeremy Douglass, Adriana Corso and Katrina Stevenson.
At American Stage, look for a virtual star turn by the multi-talented actor/director L. Peter Callender (so good in last summer's Zoom Othello) in the title role (and two others) in Satchmo at the Waldorf (extended through Mar. 7).
Stageworks continues to offer plays whose topics are very much of the moment, such as American Son (opening 3/12), in which mixed-race parents in South Florida plea for police officers to investigate the disappearance of their son .
Let The Music Play
There's music in the air on the Tampa Riverwalk, thanks to the Straz Center's free Live & Local series, a nice mix of Florida-based solo performers. Across the bay at the Mahaffey, the Florida Orchestra continues to make beautiful music this month, including a program alluringly entitled "Serenity," featuring works by Barber, Vaughan Williams and Albinoni, among others (3/13-14).  Also at the Mahaffey, I'm looking forward to the divinely eclectic Pink Martini (3/29). 
Ruth Eckerd Hall and the Bilheimer Capitol Theatre have had to make lots of adjustments to their all-star lineups, but the outdoor murder mystery parody The Office! Who Is the Scranton Strangler? is very much alive and very funny, too, through 3/14. Also coming up this month: Jim Brickman (3/14) and the hilarious Paula Poundstone (3/20). 
In St. Pete, the Palladium Live! livestream series continues 3/5 with The Palladium Chamber Players' Mile-End Trio featuring Florida Orchestra Concertmaster Jeffrey Multer on violin, cellist Julian Schwarz and pianist Marika Bournaki. Jazz sax star Jeremy Carter follows on 3/19 and bluesmen The Damon Fowler Group on3/26. Come April, look for performances by La Lucha, Daniela Soledad & Nate Najar, and dance artists from the BEACON Dance Series.
Museum Quality
Indoors, outdoors and online, our museums are offering a rich array of options, including a number of appealing activities for kids. At the Museum of Fine Arts in St. Pete, the exhilarating Color Riot! exhibition of Navajo Textiles continues through 3/14.
Photography is on the main menu at the Tampa Museum of Art, too, where Her World in Focus: Women Photographers from the Permanent Collection opened 2/4. At the Florida Museum of Photographic Arts across Curtis Hixon Park, Jeff Whetstone: Batture Ritual finds haunting juxtapositions near New Orleansalong the Mississippi River's "batture" — the French-creole term for the thin strip of weeds, trees, and mud between the water's edge and the tall, hardened levees that contain its floods.
The riverbeds of Florida, as well as its phosphate mines and ocean floors, have proven to be a trove of fossils, from saber-toothed tiger fangs to giant sloth claws, and the new show at the Tampa Bay History Center — Tusks to Tails: A Fossil History of Florida — shares these discoveries. (And you gotta love the exhibition's tagline — "They Lived. They Ruled. They Died. Now They're Back!")
Kids may also dig the daily "Mangrove Talks" at the Tampa Bay Watch Discovery Center, a little gem of a museum on the St. Pete Pier. Budding meteorologists and forensic scientists should enjoy MOSI's Homeschool Science Experience Enrichment Days, while on Science After Dark Fridays grownups get to indulge in science-y fun (lubricated by wine and beer samplings) like making your own bath bomb.
From science to history: Building the Sunshine City, a new exhibition at the St. Petersburg Museum of History, traces the city's journey from fishing village to vibrant business and cultural destination. And a landmark in our recent cultural history is being celebrated this month: Ten years ago, on 1/11/2011, The Dalì opened its dazzling new home, with its iconic glass "Enigma." Consider it anew when you pay a visit to the much-buzzed-about Van Gogh Alive show, which continues through 4/11.
Gallery Scenes
In Seminole Heights, the Tempus Projects gallery is moving to a new home — 800 N. Nebraska Ave. — and in observance of the move they're presenting a show called Home is Anywhere You Hang Your Head centering on the integration of artworks in the domestic setting. 
At the Morean Arts Center, domesticity of another sort is on the docket, as the gallery presents exhibits by four Creative Families:  the Massings, Whipples, Jaegers and Gerhards (through 3/25). Members of Florida CraftArt gallery showcase their work through 3/20.
At MIZE Gallery in St. Pete, Chad Mize follows up February's Keep It Cute with Afterlife in March. 
The Tully-Levine Gallery at the ArtsXchange will be home from 3/8-4/30 to a juried show of 16 local artists, who created works in answer to the question "You Good?" The show is presented by the Warehouse Arts District Association in conjunction with the Foundation for a Healthy St. Petersburg.
We've told you before about Gulfport artist Jane Bunker, who has auctioned off her gorgeous lily paintings to raise tens of thousands of dollars in scholarships for African-American high school students in St. Petersburg, in partnership with the Dr. Carter G. Woodson African American Museum. This year the Woodson Warriors Scholarship Fund Art Auction is going virtual (3/14), but it may be prove to be the biggest yet: It'll include not just Bunker's paintings but artwork by Mark Aeling, Steven Kenny, Duncan McClellan and Brenda McMahon. Register at qtego.net/qlink/woodsonwarriors.
And keep your art antennae tuned for ArtWalks in Seminole Heights, St. Petersburg and Gulfport (where they do two-count-'em-two walks a month).
To Market, To Market
St. Pete's outdoor market scene continues to thrive, albeit with changes due to the pandemic. The Saturday Morning Market has morphed into an online/outdoor hybrid; register at stpeteonlinemarket.org to place orders from Sunday-Thursday and pick up your purchases on Saturday mornings from 9-11 a.m. on 1st St. S. along the western edge of Al Lang Stadium. In February, the EDGE District introduced the EDGE Urban Market Place in the 1100 block parking lot between 1st Ave. S. and Central Ave., featuring two 40-foot cargo containers, each with curated food and beverage concepts by local chefs and courtyard seating.