Our homes are investments but they also speak of our private passions—they represent the life we want to live. It is where we entertain friends, indulge hobbies, and relax from a busy day. Today's most popular home improvements not only add worth but reflect our most important values.
Nancy Braamse, the owner of Olde World Cabinetry, Plumbing & Hardware, says this movement is driving the sales of newer kitchen must-haves. The Galley sink collection is a great example. These American-made kitchen workstations close the door on the idea of an open sink. Instead, the Galley Workstation blends entertaining and practicality through an innovative design that accommodates sliding cutting boards, fitted deluxe bowls and colanders, as well as dual tier drain racks and platforms. The one-to-three person workstations morph from food prep and clean up to party mode through just a switch of the utensils.
Cooking fans are indulging in ranges that produce restaurant quality results through a plethora of high-end features. BlueStar, an American company based in Pennsylvania, is in high demand, says Lynn Kislin, owner of the Appliance Gallery, Inc. BlueStar offers a fully customizable line of ovens featuring an open gas burner system that produces up to 25,000 BTU's of cooking power, provides a precise 130-degree simmer burner, and are available in more than 750 colors and finishes.
Viking's Professional 7 Series provides both Dual Fuel Ranges that combines electric and gas options while their French Door Double oven features an industry leading large capacity 4.7-cubic-foot oven available in seven finishes.
Stylish as well as functional, these new designs are capturing the hearts of individuals who really want to enjoy their kitchens, either for entertaining or for preparing chef-level meals, says Kislin.
For serious entertainers, today's hottest feature in upscale homes is a full chef's kitchen, explains Thomas Lamb residential designer and owner of Thomas Everett Lamb Design & Development Inc. The food is cooked in the catering kitchen and served in the show kitchen. This simple distinction allows parties to migrate as they always do—straight into thekitchen—without the host worrying about messy prep remains or lingering odors.
Families, too, are finding new ways for young and old to play together. John Russo's company, Elite Home Gameroom, sells classic pinball machines as well as out-fits homes with a full line of game room equipment and accessories. "Kids are now a generation removed and they marvel at the intricacy and mechanical complexity of the machines," he says. Multicadesare especially popular, as they offer a dozen arcade games in a single unit. Russo explains, "I can't tell you how many times I get a call from a customer saying: "I sold my house and the new owners won't let me keep the game room equipment."
Fine art purchases are creating unique statements as well. "It is an investment in the intimacy of your home," explains Louise Del Basso, owner of the Galleria Misto. Art reveals the owner's personality, draws the eye around the room,and, on a functional level, visually expresses a space's potential.
Exterior
Many people are learning to love the outdoors again and crafting spaces that are comfortable and practical. A-niks Outdoor Comfort Solutions is both a licensed full-service pest control company and licensed aluminum contractor. But their specialty is in creating outdoor paradises.
Owner Al Ertuck offers customers patio cooling systems engineered for Florida's humid weather conditions. The centralized systems drop temperatures as much as 20 degrees depending on conditions and can be designed with or without mist.
Clients can add extra outdoor living space with retractable awnings and roof systems as well as finish exterior kitchens and fire pits with permanent, rotatable louvered roofs. Automated insect control mist systems dramatically reduce the need for a screen in patio. "A lot of people are living outdoors now," Ertuck says and through these sorts of investments, they are finding it easier to enjoy their backyard all year long.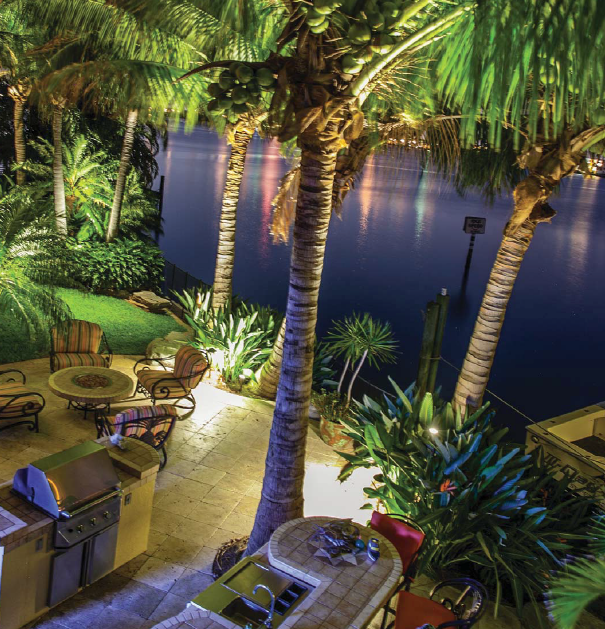 Pools, as well, are getting a remodel. Breaking away from the 80'smodel of a traditional six-foot deep pool, customers are going modern,often crafting smaller pools with shallower depths and more water features, such as swim jets, waterfalls, or a sun shelf, all of which allow them to use the pool more often, says Pat O'Connell, owner ofLandmark Pools. To ensure they can enjoy the view out the window each night, customers are illuminating the water by adding dimmer-controlled LED lighting as well as strip lighting along the perimeter.
For many homeowners outdoor lighting is one of the hottest requests right now, says Joe Argentine, owner of Argentine Landscaping Company, Inc. Accent lighting for specific specimens magnifies a beautiful entryway while architectural downlights direct traffic and helps individuals easily mingle during gatherings. Mood lighting dotted throughout the property provides a calming ambiance for homeowners who frequently only visit their back yards in the wee hours after a long day at work.
Throughout Tampa Bay, families are starting to recognize that indulging their own passions can turn into a value for someone else. All it takes is the opportunity to invest in what you love.