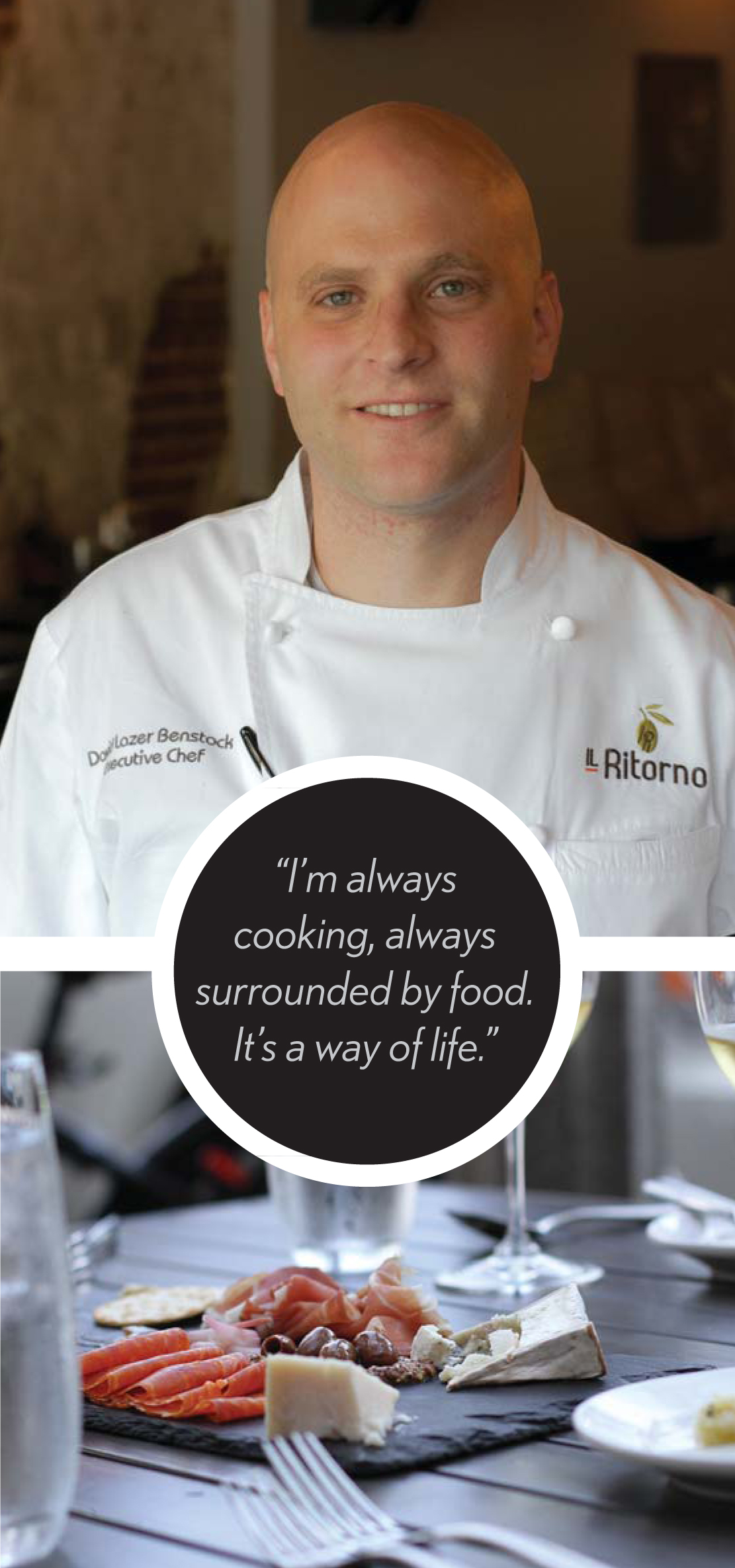 When David Benstock started busing tables at 14 at an Italian restaurant on Indian Rocks Beach, he had no idea that part-time job would turn into a full-time passion. While attending Florida State University, Benstock found his kitchen gig in a stir-fry restaurant was so fun that college classes took a backseat. In 2014, after a whirlwind culinary adventure, Benstock came back to his hometown to open IL Ritorno in downtown St. Pete. We caught up with Benstock to find out about his journey, his food philosophy and so much more.
So what did you do after you decided food was your passion?
"I went to Johnson & Wales in Colorado to start this new life and really focus on cooking. Then, I got the opportunity to work in Vale at the Ritz-Carlton for four years, and helped open Spago, Wolfgang Punk's fine-dining restaurant. Then, I went to New York for two years, spent six months in Italy, two months in Spain, a month in San Francisco and another three years in Miami. And I realized I can travel anywhere in the world and cook, and that's pretty amazing."
So why St. Pete?
"I was born and raised in St. Pete. It's always been a dream of mine to open a restaurant and I wanted to move back. About four or five years ago, I came back to visit and fell back in love with what downtown had become. It's really cool to see the town growing the way it is. It's so nice to see good
food being appreciated here."
What is your food philosophy?
"I keep it simple. A lot of chefs get to into recreating the wheel or creating something with 30 million flavors. I like to keep it to four or five components in a dish and let those speak for themselves."
What dish do you make at home most often?
"Pasta, because that's one of my wife's favorites and also a lot of chicken wings. My life has been surrounded by food in every way, whether I'm cooking meals for my son for the week or have some buddies over. On vacation, I'm always cooking, always surrounded by food. It's a way of life."
Where do you get your passion from?
"I'd say it's a little different now than earlier in my career. It used to be that the passion came from the people above me, ahead of me, better than me and what they were doing and what the possibilities were and how cooking is something you can never learn everything about. I will always keep learning. Now my passion comes from my kids. They kind of give me that mindset to keep pushing and making them proud."
How would you describe your food?
"Italian food: We use the classic flavor combinations but we do our own way with it. You are never going to see spaghetti and meatballs on our menu. We keep it light: fresh, simple and creative."
What are the most popular dishes at IL Ritorno?
The Hamachi Crudo is one with smoked tomato water, basil aioli, baby zucchini and watermelon radish. The charred Octopus Puttanesca is another favorite.
You're involved in giving back to charity. Why is that important for you to support professionally?
"When I was younger, I didn't have money to give to any charity, but since we've opened the restaurant, I've been able to use that to bring in money to charities that need support. Over the last two years, I've done dinners to support the Crohn's & Colitis Foundation of America. Two of my uncles have Crohn's and my sister and nephew have Colitis so it's really important to me. I've also hosted private dinners to support All Children's Hospital and other things as well."
What do you want to be known for in Tampa Bay?
"Probably as a chef that always trying to push to create new items and always trying to push to stay with the trend. I love collaborating with a lot of chefs and working to help create a successful community. That's what St. Pete is all about."