dR Daily 2/5: The Calidore String Quartet plays the Palladium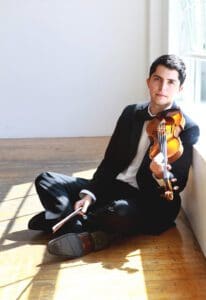 The chamber music series at the Palladium is a jewel in the crown of that invaluable St. Pete venue, and tonight's concert is particularly noteworthy. First, because the Calidore String Quartet is one of the most acclaimed young chamber groups in the world; second, because they're performing an all-Beethoven program in celebration of the 250th year anniversary of the composer's birth, playing music from three distinct stages of his compositional life; and third, because there's a strong local connection: Violinist Ryan Meehan (right) was raised in St. Pete's Allendale neighborhood, and the quartet, which originated in Los Angeles in 2010 when its members were studying at the Colburn School of Music, played some of their first concerts together on the Palladium stage. The name Calidore is an amalgamation of "California" and "doré" (French for "golden"), referencing the "golden state," California, where the quartet was born. We could make the argument that they might have gone for Floridore, but never mind; Calidore's their name, and we're lucky that they're returning to the Palladium. 7:30 p.m., Hough Hall, The Palladium, 253 Fifth Ave. N., St. Petersburg, mypalladium.org.
PS: Speaking of crown jewels, the so-called "crown prince of NY cabaret," Steve Ross, plays the Palladium's Side Door Cabaret tomorrow night. More details to follow in tomorrow's Weekend Top Ten, but if it's anywhere near as thrilling as Ann Hampton Callaway's concert in December, which inaugurated the Side Door cabaret series, it's going to be a must.