I've never been much of a fan of lilies. Beautiful, yes, but indoors their scent is invasive, the funeral association hard to ignore. 
But I may have to reconsider now that I've seen Jane Bunker's paintings. A nationally recognized artist who works wonders with light and color, she makes lilies seem at once voluptuous and evanescent.
From Feb. 4-28, Bunker's gorgeous blooms will be on display at the Mahaffey Theater in the second-floor gallery space curated by Galleria Misto. But that's just the opening act. On March 9 at the Dr. Carter G. Woodson African American History Museum in St. Petersburg, the paintings will be sold in a silent auction, the proceeds from which will go toward the new Woodson Warrior Scholarship for college-bound youth with at least one parent of African American heritage.
"When you only have two pennies left in the world," says a Chinese proverb quoted on the cover of the auction catalogue, "buy a loaf of bread with one and a lily with the other." Buy a painting from the Bunker Scholarship Auction and you will, in essence, be doing both: providing nourishment and embracing beauty.
Bunker, a sparkling, youthful 73, began painting at the age of 10 alongside adult students at the Farnsworth School of Art in North Truro, Mass., where her family summered and where she met her husband, photographer Mason Morfit. (Married 50-plus years, they both remember what the other was wearing the day they met.) The couple splits their time between homes in Gulfport and Cape Cod.
Bunker earned a degree in art at Stanford but, worried that she wouldn't be able to support herself by painting, got a master's in health education and a Ph.D. in counseling psychology. She only returned to painting after retiring from psychology 20 years ago, and since that time has been represented by galleries in Santa Fe, NYC, Aspen and Boise, and had a major one-woman show in 2013 at the New Britain Museum of American Art in Connecticut. She's particularly known for her haunting, seductively blurred landscapes.
I'd gotten to know Bunker and Morfitt through mutual friends, but until one Sunday afternoon last December I'd never had the chance to sit and talk with her at length. She'd been on her feet all day, having welcomed a stream of visitors to her home studio during Art Jones, Gulfport's annual studio tour. She was as relaxed and candid as ever; excerpts from our conversation follow:
DW: Talk about the intersection between being a psychologist and being an artist, and how they feed each other.
JB: I would say they're both based in love. And they definitely feed each other, in inspiring me to connect beyond the place where I have human patterns, where I go deeper into a sort of soul place, and that's what inspires my art — so that I can be in that place of oneness and truth and love that allows me — did allow me — to be a better therapist, and also it's what I want my paintings to be about. So they're very inter-connected. And another way they're connected is that when I was a therapist, I worked in East Palo Alto in the black community — that was part of the volunteer work that I did, doing empowering work for women. And I got to be connected with a lot of the young people, as well as the children of these women. That inspired me to want to come and connect with the African American museum here — it's sort of in my blood, part of what I really, deeply care about. So that got me thinking, how could I do what I love in painting, and also be in service? And that's how the auction idea came about. So I think my work as a psychologist and my work as a painter really have fed each other in helping me learn about who I am and what matters most to me. And realizing that to be the kind of therapist I wanted to be, and the kind of artist I wanted to be, I needed to clear away my own junk, basically get out of my own way — so that I could let the paintings paint themselves, and really be able to see clearly what was going on with the other person, and come from a place of love.
How did your subject matter evolve when you returned to painting after so many years?
When I knew that I was not going to be working as a therapist anymore and I was finally going to get to paint again, I was somewhat paralyzed. 
I'll bet.
I thought, omigod, now what am I gonna do?
I've got the chance, oh, no!
Really. I was paralyzed. So I thought about Vincent Van Gogh and how he just painted his shoes — and I thought, you know, this doesn't have to be anything amazing, just paint anything in the house. So I started out painting pots and pans — little still lifes. And actually my earlier training had been in still life back when I was 10, 11, 12…
That sounds so funny to say you trained in still lifes when you were 10. Do you still have any of those? 
We do — on Cape Cod.
Are they good?
Mason Morfit ( who's been listening to our conversation): Yes, they are.
JB: And I only was allowed to use a palette knife in the beginning.
Wow — not a brush?
No, because my teacher was sure that I would get all the paints all muddied up together and wouldn't clean the brushes well enough. So the palette knife kept everything much cleaner, with the colors all separate. So for about the first three or four years I was at the art school, I was only allowed to use the palette knife.
That's interesting, because one of the things that's striking about a lot of your work is that the colors do blend into each other.
But not muddy. They don't get muddy. That's what they were worried about in the beginning. I mean, I was little, and I was in an adult art school. Everybody else was an adult, so I was kind of a novelty.
A prodigy, it sounds like…
Some people said.  But the teachers were like my grandparents, so that's why I was allowed to go there. My dad had gone there when he was a boy, and Mason's mother had gone there when she was a girl. And you know, that's where we met, when I was 17, at that art school. And Mason was 19.
MM: I was training to be a painter and she brought her boyfriend to the art school at 10 o'clock at night to show him the school.
You met while she was showing her boyfriend the school? You weren't her boyfriend at the time? Tell us about that moment.
JB: You know, it's funny I don't have the greatest memory and I certainly don't remember what anybody I ever met in my life was wearing when I met them, but I remember exactly what he was wearing. Now, we're talking 1962…
DW: What was he wearing?
He was wearing a faded stretched-out reddish turtleneck and sort of off-white dirty chino pants, no socks, and dirty white sneakers.
MM: You want to know what she was wearing? Pedal pushers with daisies on them.
DW: Even then a floral theme…
JB: So  I went from pots and pans basically to landscape. I had never really done much of landscape before, but Santa Fe was where we were living when I started to paint again, and it was just so magical. The light was incredible. But ever since I started working on this auction show a couple of years ago, I've only just been doing this work because each painting takes a long time.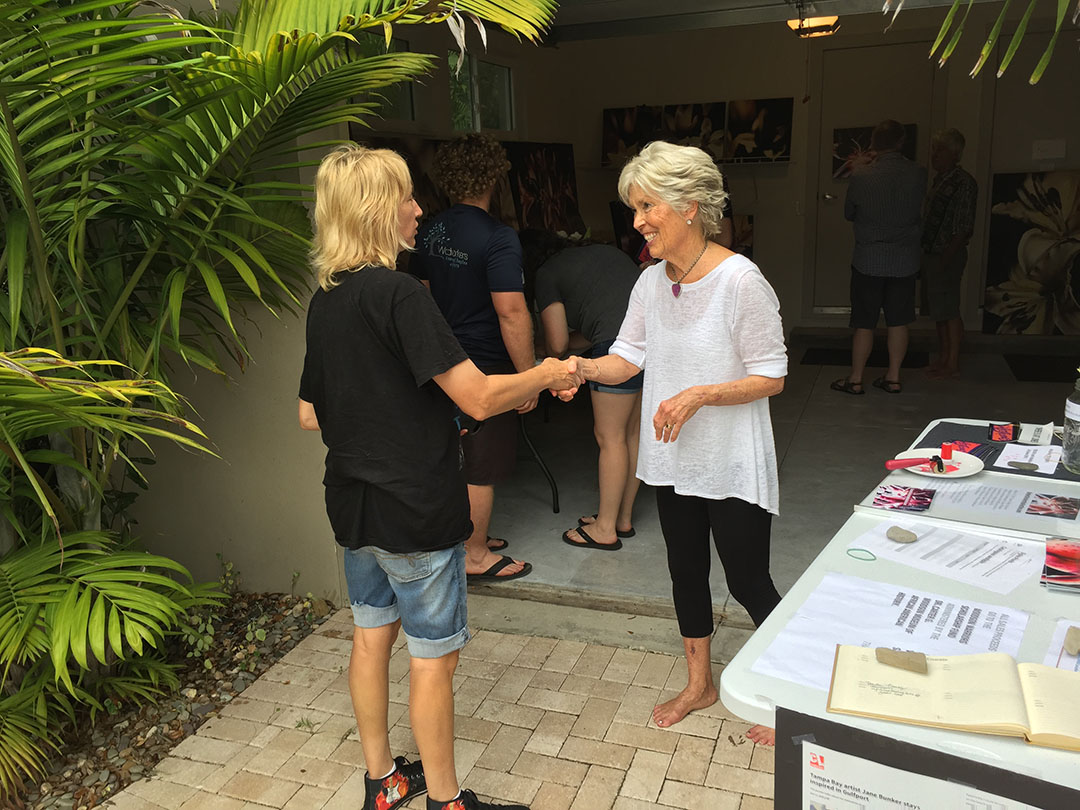 One of the things I find beautiful about your work is that there's some mystery to it. The landscapes dissolve before your eyes, there's a glow to the flowers. How do you do that?
A lot of people asked me that today — I had many, many guests in my studio. I don't mix any turpentine or any oil with the paint, it's just pure paint that goes on the canvas. I use a scumbling technique with the brush. Instead of painting big strokes, it's sort of like a feathering. The paint goes on quite thinly, and then I build up multiple layers. The very fine texture of the paint catches the light, and because there's multiple layers it creates a sort of depth and a luminescence of many colors together.
I thought when I first saw your paintings that this is the way a myopic person sees the world, because I am a myopic person. Everything that I saw before I got glasses in the fifth grade had a glow around it.
Well, so, that is exactly what it was like when I first started to paint. Because nobody knew that I needed glasses. So I am severely myopic, and I thought the world was gorgeous… I mean, spiritually, you know, there are no boundaries, there are no borders, there is no separation, and everything kind of flows into everything else, and that was how I saw the world. And as I got older and appreciated that idea from a more mature perspective, it really seemed perfect for me in the way that I wanted to paint.
So you've been able to recapture the way you saw the world when… 
…when I was little, yes. This art, the flowers are more defined than a lot of my landscapes. There is still a softness to them, and a luminescence to them, but they're less out of focus than a lot of the landscapes.
How did people react to them today? 
Well, if I really needed to be patted on the back, I should do Art Jones all the time. People were amazing. They just were full of 'wows.' We gave out cards for the auction – and most people said they were going to come to the auction, and we told them that bidding would start at half the listed price of the paintings. The price point [between $2,000 and $5,000] came from when I was in a number of galleries before the one-woman show at the museum in Connecticut.
Tell me more about the auction and the scholarships. 
Terri [Terri Lipsey Scott, executive director of the Dr. Carter G. Woodson African American Museum] will put out a proposal to Pinellas County high schools. Students will have to have at least one African American parent and have a certain GPA [see full proposal below] but they don't have to be superstar brilliant  — she's interested in good citizenship and community caring and involvement. She wants to wait until we know how much money we make before she decides how many students we're going to choose and who they're going to be. At this point with contributions and pre-sale of two paintings we've already made $10,150. 
Even at this point, and the auction isn't even till March 9… 
It's good to know we have a little money. That's why I decided to let some people buy ahead of time. And one thing I wanted to share with you… When I first was thinking about this idea, I was not in the greatest place with my health, and we'd had some financial things happen, and I was kind of feeling in a place of "lack" — and I don't like living from a place of lack, I like living from a place of abundance. And it occurred to me that if I gave everything away, that's what people who feel abundant do, they give stuff away — because there's always more. And so it worked. In no time I just felt happier and more at peace, and it's kind of been like the paintings have painted themselves. This body of work is not like any other I've ever done before, and it felt a little more joyful and less of a struggle, less times of feeling that a painting's not working and I don't know what to do. That expression of getting out of your own way, and just letting whatever this creative force that's in the universe that we all can tap into, let it come through and just enjoy being there and being able to be a vehicle — that's kind of how it felt. My health and the financial stuff, it all came together eventually anyway, it's all good, but I think the most important thing was that I just immediately felt way better because of doing this idea.
Why flowers?
That's a good question. I think that flowers have a special spiritual place in my heart. In the history of art, particularly Christian art, the Madonnas, there's often lilies. I'm not a religious person, but I care deeply about the spiritual way that we all connect with each other. And I think that lilies particularly are very sensuous — they're almost like a woman's naked body, just the curves, the softness, the luminousness. When I take pictures that I work from, I set up lights, I do this at night often, so that I can get the light coming through the petal, and then I photograph it. I like the drama of the lilies, I like the light… I've always thought the main thing I liked to paint was the light, but if I go even deeper than that, I want to communicate the experience of falling in love with the image. And that's what makes me want to paint. If somebody else can look at it and feel the connection — that's what really makes me happy.
The auction will be a public event, right?
Yes. It'll be a silent auction and there will be somebody at each painting to help you bid [in increments of $100] beginning at half the listed price. There will be food and alcohol served.
There should be plenty of alcohol…
Loosen up people's pocketbooks… And there are ways people who can't come can bid ahead of time, and you can also buy the auction items at full price — contact me at BunkerScholarshipAuction.com. And there's one other little piece… We go to the symphony all the time, and we always see the paintings up there at the Mahaffey. Even before this project, I'd thought I'd like to have my paintings there. Then when we decided to do this project, I thought a lot of people haven't even heard about the African American museum, and I want the biggest representation so people will know what we are doing. So I looked at the labels under the paintings to find out how these artists got there and saw the Galleria Misto label and found out that the gallery had contracted the space for five years. But a family member said, "Don't get discouraged, just go to the gallery!" So Mason, bless his heart, put together a proposal and drove it up there to Belleair Bluffs and told Louise Del Basso what we were doing and asked can we have the space for the month of February – and she said, "Yeah, I love the idea!" So she gave it to us! She's going to curate whatever's going up at the Mahaffey and then she said she would take it over to the Carter Woodson and help with the installation. She's been fabulous!
Bunker Scholarship Auction: Sat. March 9, 5-8 p.m., Dr. Carter G. Woodson African American History Museum, 2240 9th Ave. S., St. Petersburg, BunkerScholarshipAuction.com.
Galleria Misto Preview: Feb. 4-28, Mahaffey Theater, 400 1st St. S., St. Petersburg, galleriamisto.com. 
100 percent of proceeds from the sales of Jane Bunker's paintings will go directly to college-bound students via the museum. Bidding will begin at half the listed price of the painting; paintings may also be pre-bought any time at full price and will be shipped immediately. For more information on Jane Bunker's work, go to JaneBunkerArtist.com. For more information on the museum, go to woodsonmuseum.org.
About The Woodson Scholarship Fund
A statement from Terri Lipsey Scott
Executive Director, Dr. Carter G. Woodson African American Museum
Annually, countless disadvantaged students are denied a higher education.  For good students who are high academic achievers, they have enjoyed access to a variety of merit-based awards.  However, average students with nominal resources are met year end, and year out with their faces pressed against closed doors.
For many, attending college and completing a degree are very important academic goals. Unfortunately, "there is a pronounced racial gap in enrollment rates at top colleges and universities around the country. Data from the National Center for Education Statistics reveals that fewer than 65% of African American high school students attend college."
The Dr. Carter G. Woodson African American Museum recognizes the racial disparity in education and funding and with the help of a brilliant local artist, a partnership has been formed to raise scholarship funds for deserving high school seniors within our community.  The idea was given life by nationally recognized artist Jane Bunker, a recent northern transplant who is determined to impact the lives of area youth aspiring to attend college.
The Woodson Warrior Scholarship is available for graduating high school seniors who have at least one parent of African American heritage. Selection is based on strength of character, financial need, community involvement and a desire to give back to society. 
Applicants must submit a maximum 300-word essay describing a special skill, talent, or interest that helps them stand out from their peers. A minimum 2.0 GPA is required. Further details to be announced at woodsonmuseum.org.