I guess I forgot how good crêpes are. They've always been an occasional thing for me. I can go years and years without — which is kind of odd 'cause I've by and large liked them. Still, I may have never thought of crêpes for a Friday Food Fight if not for the timely suggestion of a co-worker.
That led me to two crêpe-focused restaurants in downtown St. Pete: The Wooden Rooster, which has been around for about six years, and Flip, open six months.
For this Food Fight, I tried a savory crêpe and a sweet crêpe at each place. I wanted them to be as similar as possible, so I went with ham-and-cheese (with French names) and strawberries-and-cream.
We visited the restaurants back-to-back on a bright Tuesday afternoon.
THE WOODEN ROOSTER
This place is located amid a group of nondescript storefronts across from Sundial. Inside, though, it's a real charmer — the roomy space is all decked out in wooden tables and trim, with a wooden counter where you order. A small couch and coffee table sit cozily in the middle.
You can get salads, sandwiches and other stuff at The Wooden Rooster, but the crêpes is their thing.
Appearance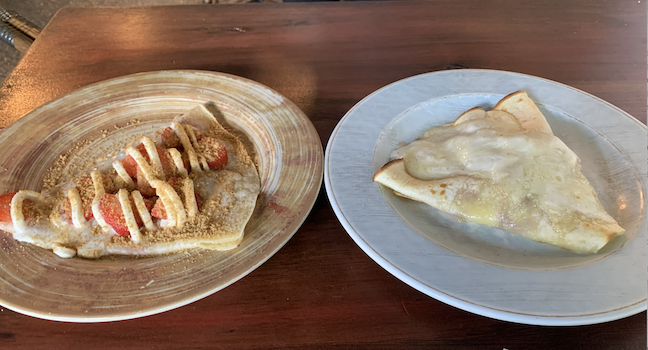 Both crêpes were triangularly shaped — like a slice of pizza, or pie.
The Strawberry Cheesecake looked salivation-worthy, with lines of cream-cheese icing atop fresh strawberries, all sprinkled with graham-cracker crust.
The savory Monsieur looked plain. Turns out the it was just playing possum.
Texture and Taste
Monseiur: Man, was this terrific! (How's that for erudite analysis?) The velvety crêpe (the thin pancake part) was layered with a smooth Béchamel sauce, which added the slightest hint of sweetness.
But the biggest reward was inside, starting with a thick stack of Black Forest ham, which anchored the dish with a rich, smokey flavor. The meat blended beautifully with the cheese, and those two meshed with the rest to offer up one sublime bite after another.
This was the best of the four crêpes we tried. It also was the first one we tried, and even though I knew I should've held back and saved some stomach space, I demolished it.
Strawberry Cheesecake: The Monsieur was a hard act to follow, but I was ready for some dessert. And this crêpe delivered. Most of the house-made cream cheese was liquified, oozing all over the fork and into my mouth.
The tartness of strawberries mixed nicely with the sweetness of its fellow ingredients. If anything, a few bites were a bit too sweet, akin to strawberry jam.
FLIP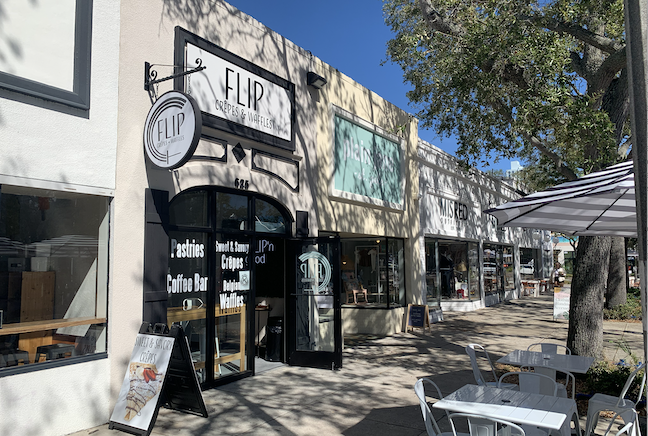 This small eatery on the tree-lined north side of the funky 600 block of Central Avenue is owned by Leana Monzrael, who during our visit spoke French with her gregarious father (he commented on my John Coltrane T-shirt) and accent-less English to us.
The narrow interior is functional, with light-colored walls, a handful of tables and a counter. The only pizazz was just inside the front door — a neon sign on the wall that read "So Flip'n Good."
Whereas The Wooden Rooster serves on real plates and silverware, Flip uses paper plates and plastic utensils.
Appearance
These crêpes looked considerably different than their counterparts — especially the Parisian, which was large and square-ish, with two sides folded over. The Strawberries + Cream was more pie-shaped, and came with a generous dollop of whipped cream.
The crêpe itself was a shade or two darker than The Wooden Rooster's.
Texture and Taste
Parisian: More rugged than its competitor, this crêpe came up short on complexity, with basic ham and Swiss cheese that was a tad too sharp and dominated the flavor. In all, though, it was tasty, and there was plenty of it — enough to make up a full lunch.
Strawberries + Cream: The hearty crêpe was stuffed with ultra-fresh strawberries and luscious cream, and sprinkled with powdered sugar. It had a rustic quality that took me to a farmhouse in the French countryside. And, like Flip's savory crêpe, there was a whole lot of it.
The whipped cream was an ideal accompaniment, adding some extra sweet to complement the tart.
And the Winner of the Colossal Crêpe Contest Is …
Ladies and Gentleman, we have a split decision!
The savory crêpe winner is … The Wooden Rooster!
The sweet crêpe goes to … Flip!
I said at the beginning of this column that I'd forgotten how good crêpes are. Maybe I was wrong. Could be that these crêpes were several notches above the ones I've had in the past.