Eastern Mediterranean foods are not only good for you, they're fun to say out loud. And that makes them fun to order. Tabouleh. Mezze. Kebab. Couscous. Baklava. Tzatziki. And the ultimate: Babaganoush. I try to say Babaganoush a few times a week, for no reason other than it makes me smile. 
Try it yourself.
Falafel belongs on the fun-to-say list, too. And that's one (small) reason I chose to feature the chickpea-based fritters on this week's Friday Food Fight. That, and they're meatless and healthful and delicious. Well, not always delicious. Sometimes they taste like bark from a 100-year-old oak tree.
I chose two Mediterranean restaurants in St. Pete for our showdown: Mio's Grill & Cafe near Sundial downtown; and Cedars Grill, just west of Kenneth City.
MIO'S GRILL & CAFE
This small eatery tucked into a stretch of storefronts is owned and run by Chef Bora Caliskan, a native of Istanbul who's been in the States 11 years and founded Cafe Mio in 2019. Bora told us that he and and he alone mans the kitchen, and that includes washing dishes.
The restaurant's small interior is basic and comfortable, with a few Turkish-inspired touches and tchotchkes.
We arrived just after 1 p.m. on Tuesday, and had a seat in a booth. Our server, a gracious fellow who didn't say much (could've been a language barrier), wore all black accented by colorfully patterned suspenders. It worked.
Appearance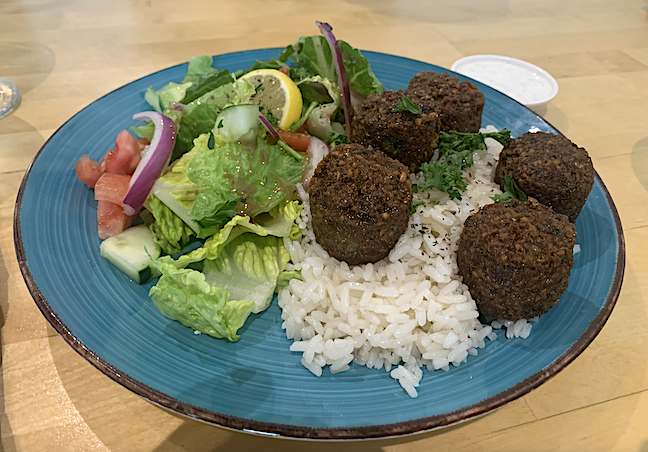 The attractive platter ($17.95) had smallish pieces of falafel arrayed on a bed of rice, next to a Mediterranean-style salad.
One aspect set off little alarm bells: The falafel was a dark, dark brown, browner than most versions I've seen. Could that mean that eating it would be like gnawing on hockey pucks?
It took some fork force to split one in two, and I was pleased to see that the innards were vibrant green. Another encouraging sign: It didn't crumble.
Texture and Taste
These fritters had the ideal balance of hearty crust on the outside and moist mash on the inside. When dipped in the smooth, restrained tzatziki sauce, the bites offered contrasting textures — crackly-meets-smooth, crispy-meets-moist — that tantalized my mouth.
As falafel goes, the Mio's version was mild and light. Not overly spiced, so the chickpea flavor really shone through. The moistness was due in large part to the inclusion of imported Turkish olive oil, Chef Bora said, as he showed us the small bottle.
The full-bodied rice provided a nice accompaniment. The salad was a tad disappointing. While the dressing was fine, the onions were on the bitter side and the tomatoes were mushy. (I pause here to acknowledge that it's almost impossible to find a good tomato around here.)
Bonnie and I split the dish, and as we walked back to our car I said, "How 'bout that? We just ate a healthy vegan lunch. I'm no longer hungry but I'm definitely not stuffed." It felt like a win. She agreed.
CEDARS GRILL
A whole bunch of online reviews rave about this place, calling it a hidden gem. I like a good discovery, especially when it comes to ethnic food, so we ventured west on 54th Avenue and found Cedars just past the Kenneth City border.
It was located in a dilapidated strip mall along a stretch of dilapidated strip malls. The restaurant's vinyl sign that hung above the entrance was faded and flat-out tattered in places. But we forged on, clinging to the notion that you can find really good food in dilapidated strip malls.
When we entered the boxy, bland interior around 2:30 on Thursday, nobody was there. "Well, we're already here," I said to Bonnie, halfheartedly, and she shrugged, halfheartedly. We sat at a table and waited for a few minutes until finally I walked into the back and caught the attention of a woman.
She emerged, gave us menus and summarily disappeared into the back. It was apparent she spoke virtually no English, so no chit-chat. When she returned a few minutes later, we ordered a Falafel Plate ($8.49), a Fatoush Salad ($6.99) and Basmati Rice ($4.99), doing our best to mimic the meal we had at Mio's.
Appearance
The four pieces of falafel were joined by tomatoes, onions and thin slices of dill pickle (the owners are Lebanese, so maybe it's a Lebanese thing). A small bowl of thick Tahini sauce sat in the middle.
The array looked appetizing enough. The salad — a mixture of chopped lettuce, tomatoes and green peppers — was covered in thin, dark chips, which turned out to be fried pita bread. The seasoned rice came in a separate bowl.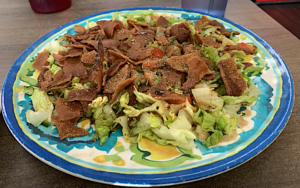 Texture and Taste
I fork-split a piece of falafel and it revealed a rich, green interior. I dipped a piece into the sauce and took a bite.
Sorry, nope.
The exterior crust didn't have enough crunch. The chickpea mash inside was mushy. The gooey Tahini didn't help.
The taste — I can't adequately explain in words its unpleasantness, other than to say it was something like smokey, or even burnt (although the falafel was not, in fact, burnt). Putting it objectively as possible, this falafel was not for me. I slowly ate two of the four pieces — including a slice of pickle helped — and retired. (For the record: Bonnie took a couple of bites and found it okay.)
The salad was serviceable, although the pita chips were too predominant and the sweet-ish pomegranate dressing was overly thick. The seasoned rice was decent.
And the Winner of Falafel Kerfuffle Is …
Mio's Grill & Cafe.
[Insert your own "duh," "really?" "no kidding" what have you.]
This wasn't by unanimous decision, but first-round knockout. And it's not only because Cedars was such a disappointment, but because Mio's' meal was really good, and the falafel was some of the best I've had.
In hindsight, choosing Cedars was a bad idea. And staying rather than leaving was probably a worse idea.
We won't be dining in shabby restaurants in dilapidated strip malls any time soon.
Here's a link to the Mio's website: https://www.miosgrill.com/