Sorry, Grandma.
I'm puttin' on airs — sittin' down to a fancy-shmancy dish that consists of … raw beef. It's nothing like your pot roast.
Okay, so Grandma Snider is long deceased and I don't recall ever apologizing to her in the grave. But I can hear that pinched voice and Ohio accent wondering what on earth I'm doing eating something called Carpaccio. "Look at you, puttin' on airs."
I generally eat my beef cooked, medium. But many years ago, the South African couple who owned a (long-defunct) restaurant in downtown St Pete urged me and Bonnie to try Carpaccio, despite our resistance to raw beef. We were surprised how much we liked it, and had it several more times. Two years ago, we ordered Carpaccio at a posh restaurant called Slightly North of Broad (S.N.O.B.) in Charleston, S.C., and were so enamored that we wondered if we should order another plate and cancel our entrees.
Even though the dish was invented at Harry's Bar in Venice, Italy in 1963, and named after 15th/16th-Century Venetian painter Vittore Carpaccio, it's not strictly the province of Italian eateries.
I chose two non-Italian places a couple of blocks from each other in downtown St. Pete — Parkshore Grill and Bacchus Wine Bistro — mostly because their menu descriptions looked inviting.
PARKSHORE GRILL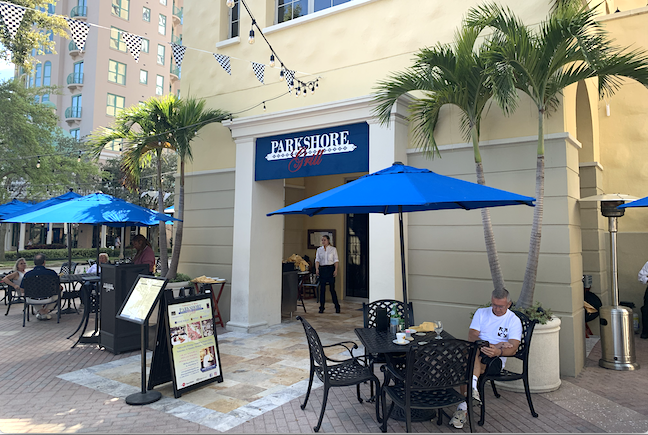 Parkshore Grill has been located on Beach Drive since before it was, y'know, Beach Drive. The pricey New American place has a lunch menu, but offers its dinner menu — which includes Carpaccio — all day.
We sat at one of the Parkshore's sea of sidewalk tables at 3 p.m. Wednesday. Eighty degrees, sunny with some wispy clouds, and a refreshing breeze. Thinking that downtown would be jammed, we grabbed a parking spot on 4th Ave. N. and hoofed it a half-mile. When we arrived at the restaurant, there was a spot directly across the street on Beach. My creaky knee was mad at me, but all was forgiven when we sat down at a wrought-iron four-top.
We ordered "Peppercorn Seared Prime Beef Carpaccio, Shallots, Capers, Truffle Oil, Sea Salt, Parmesan" ($22).
Appearance

The dish was artfully arrayed on a large white plate. The beef looked nicely marbled, with the peppercorn crust visible on the edges. Compared to my previous Carpaccios, though, there wasn't a whole lot going on: A dozen-plus thin, silver-dollar-sized slices of raw beef with some garnish. It looked kind of paltry. Definitely an appetizer.
Texture and Taste
The beef was tender, as expected, and had a hint of spicy heat courtesy of the peppered edges. We gladly scarfed it up.
The delicate onion paired well with the meat, but the little wedges of parmesan proved somewhat overbearing. The truffle oil was barely noticeable.
My biggest issue with Parkshore's Carpaccio was the size of the portion. It was more snack than appetizer.
BACCHUS WINE BISTRO
Bacchus, which has been open four years, is situated a half-block west of Beach Drive on 2nd Ave. NE. The restaurant has outdoor tables, but its sidewalk footprint is not as large or scenic as Parkshore's.
It was 3 p.m. Thursday, an identical postcard day to the previous one. We sat at a high-top table that was too high. The top came up to my chest, which was a mild annoyance. For Bonnie, it was borderline uncomfortable. But we are restaurant troopers, and we soldier on through First World problems.
Bacchus's cuisine is decidedly French. When I used the restroom I heard "My Baby Takes the Morning Train" — sung en français. Cute, but thankfully the restaurant did not have outdoor speakers pouring French tunes onto the sidewalk.
Most of the menu items are mid-priced. But not the Carpaccio. The "Wagyu Beef Carpaccio: filet mignon, crispy shallots, parmesan crisp, citrus aioli, balsamic glaze" cost $25.
Appearance
Crowded onto a smallish white plate, the helping appeared larger than the competition's. The slices of beef were thinner and not as clearly cut. The dish was topped with hefty shavings of parmesan and plentiful sprigs of arugula.
But the most welcome surprise? Toast! Made from slices of a house-made baguette.
Texture and Taste
The Texas Wagyu beef came apart with the slightest tug of a fork. A good sign. Not such a good sign: My first bite was worrisomely chewy. A good sign: The remainder was not. This beef wasn't spicy like Parkshore's, but it had a heartier taste. The balsamic and aioli added moistness and complexity to the flavor.
The ideal bite was to pile the beef, cheese, sauces and arugula on a small piece of toast, which was crunchy but not tough or dry. These two-biters were agreeably sloppy.
This Carpaccio was pretty substantial. It was all we ordered, and we didn't leave hungry.
And the Winner of Our Carpaccio Contest Is …
Bacchus.
Its version had more going on, all of it good, and there was more of it. The toast tilted my decision even further.
I plan on recruiting some fellow restaurant troopers for an al fresco happy hour, which Bacchus runs daily from 3-6 p.m. You should too.