Friday Food Fight: Bánh mì, Vietnam's National Sandwich, Enters the Arena
Is it me, or is Bánh mì having a moment? I've been hearing more and more about the delectable sandwich, Vietnam's elegant answer to America's chunkier sub (aka Hoagie). My first experience was about a decade ago, and I was instantly charmed.
A Bánh mì (Bon-me) is made with a French baguette, and is usually more compact than a sub. The sandwich includes Vietnamese cold cuts, and often uses a light coating of pâté instead of mayo or mustard.
For me, the most appealing aspect of Bánh mì is the vegetable mix that goes on top: a fusion of cucumber, cilantro, pickled carrots and daikon (from the radish family). Jalapeños (optional) contribute an element of heat.
The topping adds delightful crunch and a zingy sweetness that — to my tastebuds — has more character than the standard lettuce/tomato/onion found on most American subs.
To choose our competitors, we looked toward a section of north St. Pete along 34th Street and onto Park Boulevard in Pinellas Park, where at least 10 Vietnamese restaurants are clustered. We selected Thuy Cafe and Saigon Baguette, about a mile apart on 34th.
We brought our sandwiches back to the FFF Lab.
THUY CAFE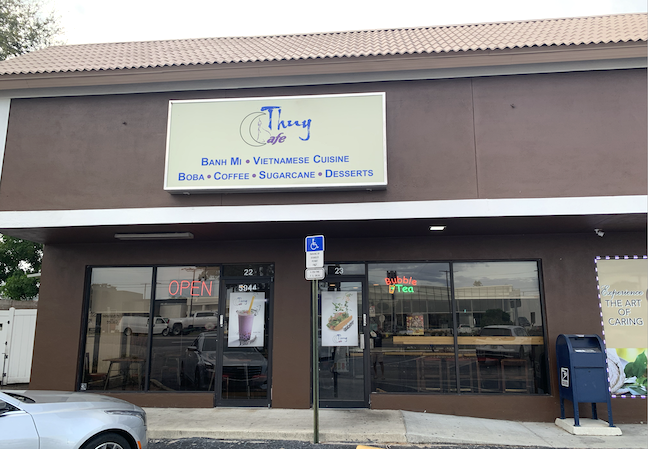 The small place is set in a strip mall that takes up a couple of blocks on 34th Street just south of 62nd Avenue, where nearly every business is a Vietnamese one. Julie, our ebullient young counter woman — part of the family that owns the business — told us that the center has Vietnamese owners, and that a lot of Vietnamese-Americans live close by.
The restaurant's interior is unfussy, with a few tables. I got the sense that a lot of its business is takeout. So takeout is what we did.
Appearance
Julie told us that Thuy Cafe gets its baguettes delivered daily by a specialty French baker. These rolls certainly looked the part. The Bánh mì was not overloaded with meat, which is customary and sets it apart from American subs.
The colorful veggie mix looked altogether inviting. We asked for the jalapeños on the side.
Texture and Taste
The hearty crust of the bread gave way to its soft interior, followed by the sweet crunch of the vegetables, then the savory meat. Just how they drew it up.
No one flavor dominated. Each complemented the other. The textures flowed — crispy, fluffy, crunchy, dense. Each bite of the Bánh mì ($5.50) was exquisitely balanced.
SAIGON BAGUETTE
While the exterior of this strip-mall place looked less than inviting — the windows could use washing — the interior was surprisingly cozy: well-lit, with Halloween decorations, a black couch and loveseat in the middle of the space — and … a foosball table.
Appearance
Saigon Baguette's Bánh mì ($7.50) was longer — by a couple of inches — and thinner than its counterpart. Big slices of jalapeño laid on top. Despite the restaurant's name, the bread looked more like a sub roll than a classic French baguette. The meat was noticeably thicker than Thuy Cafe's.
Texture and Taste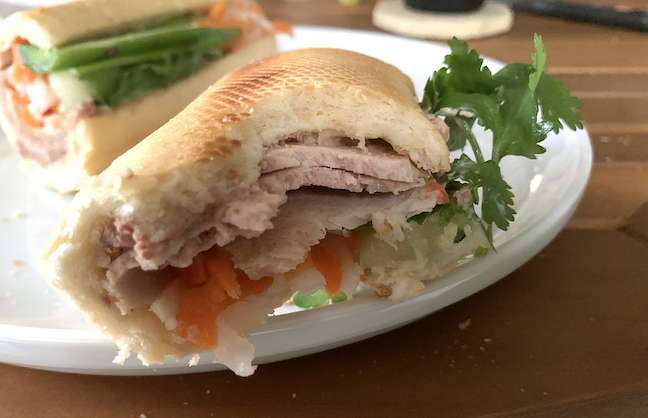 I don't know this for certain, because I didn't ask (there was a language barrier), but it seems as if Saigon Baguette's Bánh mì recipe was designed to appeal to American tastes. The volume of cold cuts was more akin to that of a sub.
This wasn't necessarily a good thing, because the thick-cut meat dominated the flavor, muting the veggie mix and rendering the pâté undetectable. 
The bread was denser, lacking Thuy Cafe's rustic crust and airy insides. It tasted — no surprise — more like a sub roll.
And the Winner of Our Bánh mì Bout Is …
Thuy Cafe — in a TKO.
I'm always hoping for surprise reveals, but I've been running into some mismatches lately.