What goes better with bacon, lettuce, tomato, bread and mayonnaise than … chicken salad?
I was in the FFF Lab researching restaurants for this week's edition featuring the iconic BLT, hoping to find a couple of contestants that took a more interesting approach than your usual diner style. Nothing much stood out. 
As I scrolled and clicked, I came across two places that combine their BLTs with chicken salad. Sounded promising. I dig both.
Our Food Fighters are: Chicken Salad Chick and Datz. 
CHICKEN SALAD CHICK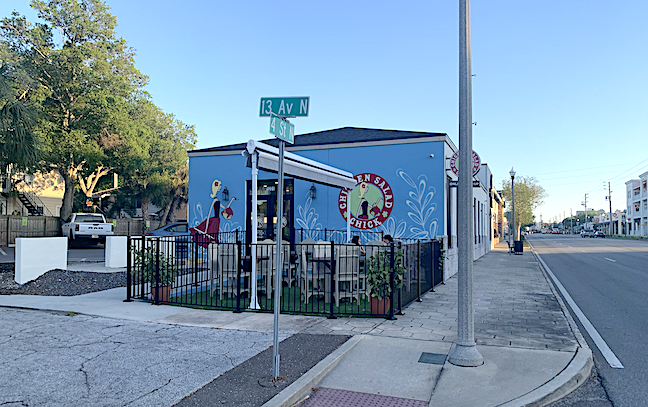 I've driven by the location on 4th Street in St. Pete dozens of times, and the name has always furled my brow. Seems like there should be a "The" before "Chicken." But what do I know? The fast-growing Alabama-based chain is closing in on 250 stores.
Chicken Salad Chick's novel concept offers a dozen different types of chicken salad in the categories of Traditional, Spicy, Savory, and Fruity and Nutty. You choose a scoop (or more) and eat it by itself on a bed of lettuce, with a salad or in a sandwich.
I ordered the Chicken Salad BLT ($10.49), with Olivia's Old South, traditional chicken salad with sweet pickles and egg. (The counter person graciously gave me samples of two flavors to help make my choice.) A side came with it, so I opted for Pasta Salad.
Appearance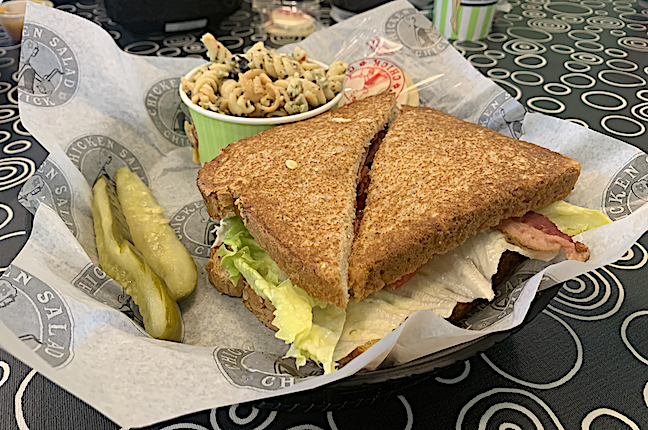 A consummately fast-casual presentation, right down to the plastic fork wrapped in cellophane, pasta salad in a paper cup and two limp-looking dill pickle spears.
Texture and Taste
The bacon was an afterthought. That's largely because Chicken Salad Chicken doesn't do any cooking in-house, so its bacon is pre-cooked and microwaved. The meager strips was crackly and didn't have much of a bacon taste. I pulled out a small piece to sample. It crumbled like sand in my mouth.
The whole wheat-bread was run-of-the-mill. The thick slices of tomato were pretty flavorful. The lettuce was requisitely crisp. Where this sandwich made its bones was the chicken salad (which stands to reason).
The chicken itself was minced, not chunky — which is how I like it. The chicken-to-mayo ratio was just right — not wet and messy, but not dry either. The pickles added some down-home sweetness.
DATZ
Located on Central Avenue downtown, in the same building as the James Museum of Western and Wildlife Art, Datz has a comfy vibe inside, and there's even a "living room" next to the main dining area.
We arrived at 6 on Wednesday and settled at a two-top indoors, next to a window. Bonnie and I had the place all to ourselves. We felt pretty special. The humdrum modern rock on the sound system was a tad too loud, so I asked our server if someone could turn it down a notch or two. He told us no, politely, and explained that the volume is controlled at the "corporate office." Take from that what you may.
I ordered the Birds of a Feather ($16): house-made chicken salad plus the BLT stuff, on "ancient grain bread." I wondered how old it was — and if it was moldy. With a straight face, I asked our bearded waiter about it, and he quickly deadpanned me back. I sensed that it wasn't his first time engaging in allegedly clever banter about ancient bread.
I got fries on the side.
Appearance
The glistening slice of bacon jutting out from the bread and beyond the plate's edge was an encouraging sign. A small piece of cranberry — or was it a grape? — and chunky chicken, not so much.
Texture and Taste
Datz lists Birds of a Feather under "Handhelds." This was more like a handful. The chicken salad was over-mayo'd, which resulted in a sandwich with shaky construction. It started to disassemble when I first picked it up. Then I bit into a chewy piece of bacon, tugged slightly, and it fell apart altogether.
The thick bacon slices were cooked just right, with nary a hint of crispiness, and the flavors melded together well. But consuming this sandwich was work. One of the expected joys of eating a sandwich is being able to pick it up and nosh without worrying about sticky fingers and gooey stuff dripping into your hand, not to mention having to put it back together repeatedly.
A word about the fries: They're breaded, which served to make them unnecessarily dry, and muted the potato flavor.
And the Winner of the Battle of the BLTs + Chicken Salad Is …
Datz.
A close one. Ultimately, Datz's sandwich, while an unholy mess, was more legit, mostly due to the juicy, cooked-in-house bacon.
Candidly, if I'd have known that Chicken Salad Chick used microwaved bacon, I would have chosen another restaurant. Too late.
However — kudos to the Olivia's Old South chicken salad.  I'll probably return to CSC to give some of the other recipes a try. Hold the bacon.