Chicago-style and German-style enter the ring.
Who knew there were so many types of cheesecake? Not me. According to one reputable website, there are more than a dozen. Like most of you, I know cheesecake as those dense triangular wedges named after the Big Apple that you can get anywhere from white-tablecloth restaurants to corner grocery stores.
So in the interest of expanding my (and your?) horizons, this week's FFF will compare German-style and Chicago-style cheesecake, neither of which I had previously heard of, let alone tried.
I'm veering away from this column's apples-to-apples concept (same dish, two restaurants). We are featuring cheesecake, yes, but two fundamentally different types of cheesecake.
I'll pick a winner, but it'll be even more subjective than usual.
Our two contestants: Cafe Mozart, a 24-year proudly German bakery at 4th Street and 67th Avenue in St. Pete, and six-year-old Southern Bay Bakery, located in a building that's part of the Sunken Gardens complex.
I picked up a slice at each place on a Wednesday morning and brought them back to the FFF Lab.
SOUTHERN BAY BAKERY
When the counter person said that Southern Bay makes Chicago-style cheesecake and I started asking questions, baker Maria Flores, who's from Ecuador, emerged from the back and was happy to answer.
The main difference between her's and NY-style, she said, is the use of a "water bath" during baking, which I won't explain here, but suffice to say it's not dumping the ingredients into a bathtub. The technique is essentially used to make the dessert smoother.
The only cheesecake available that day had raspberry woven into the top. I was definitely good with that.
Appearance
Further distancing itself from its New York counterpart, Southern Bay's cheesecake was square and thin, with an artful red design courtesy of Maria and the raspberry, which was from France, she said, and seedless. A sliver of black on the bottom suggested Oreo crust.
Texture and Taste
The water bath must've done its job, because this was some of smoothest and creamiest cheesecake I've ever eaten. It lacked the firmness that you usually encounter in the New York version.
And it was very rich, so much so that the seemingly small portion would likely be more than enough for most people. The Oreo-esque bottom crust added a welcome bit of texture to each bite. All told, Southern Bay's was a nice introduction to Chicago cheesecake, even if it was perhaps a tad too sweet for my taste.
CAFE MOZART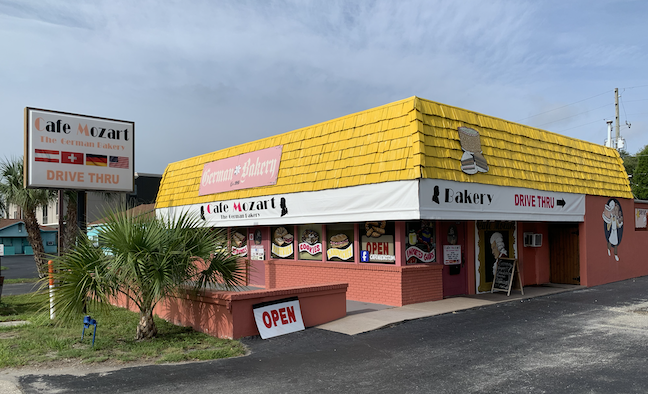 I've driven by this place thousands of times — I don't think I'm exaggerating — and often mused, "I should pop in there." I finally did on Wednesday. It has a few tables in one corner but is more a counter bakery than a sit-down/hang-out cafe. The cheese Danish were so alluring that I considered ordering one, but passed, sticking to the mission.
When I called earlier to ask if Cafe Mozart had cheesecake, the woman on the phone explained — more like warned — that it was specifically German-style, and that meant it was not as moist and not as sweet as what I'm probably used to. It's made by owner/baker John Hipfl, who emigrated from Austria in the late '90s.
To keep the comparison as close as possible, I order cherry cheesecake.
Appearance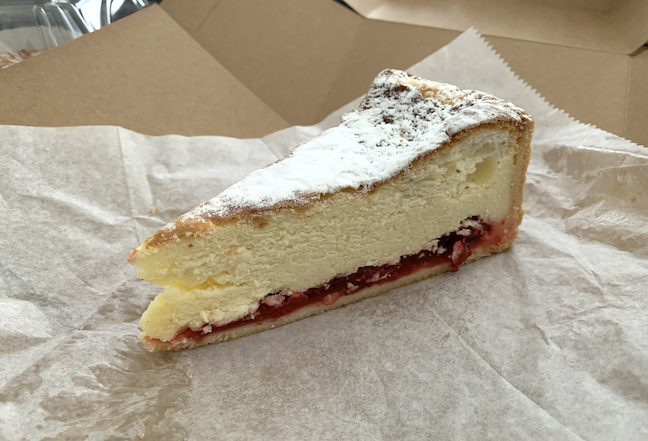 This was the biggest wedge of cheesecake I've ever seen, 22.31% larger than a standard New York slice. It looked more cake-y, too. Topped with powdered sugar, with the cherry filling on the bottom, this promised to be a far different taste experience.
Taste and Texture
Emphasis on the "cake" in cheesecake. It was fluffy, not the least gooey or creamy, or even moist. And, as promised, it was far less sweet. I found that I liked it best when the bite was about evenly split between the cake and the cherry jam.
Candidly, it was hard to know what to make of the Mozart version, so different was it from any other cheesecake I've had. I enjoyed it, but it was no sweet symphony.
Bonnie, my wife and FFF partner/driver, liked it a lot, and chose it over Southern Bay. I, however, have the final say, and therefore:
The winner of the Cheesecake Contest is …
Southern Bay Bakery.
In fact, let me amend that: Instead of declaring it the WINNER, let's just say it was my preference.