Will one barbecue restaurant smoke the other?
When I sit down to a helping of barbecue ribs, they'd better be falling off the bone. You can keep all that gnawin'. After I'm finished, I want to towelette my hands, look at my plate and see a pile of naked bones.
I'm good for ribs maybe three or four times a year. I love 'em, but can't see making them a habit — for a number of reasons, the four-figure calorie count and all that fat being foremost. Another is that I tend to overdo it and my ribs meal turns into a gut-bomb of my own doing.
I've had my share of disappointing ribs around Tampa Bay — at one place, which will remain nameless (okay, it was called Luckie's, many years ago), I swear it was like they were boiled. So I had to choose the contestants for this FFF wisely.
They are: 4 Rivers Smokehouse in South Tampa vs. Urban Brew and BBQ in St. Pete's Grand Central District. Both serve pork ribs St. Louis-style, so I was glad to know that it would be a fair fight.
4 RIVERS SMOKEHOUSE
When 4 Rivers, which was founded in Winter Haven, opened in South Tampa in 2015, 'cue fiends were doing cartwheels down MacDill Avenue. The restaurant's rep was that good. As far as I know, it still is, but — seven years later and with two locations in Tampa — folks are probably taking the place for granted.
We ate there on a Monday around 6 p.m. It wasn't crowded. Hmm, What's this? 4 Rivers is serving meals cafeteria-style?
There seemed to be something inherently wrong about walking down the line and getting a half-rack plus two sides in about two minutes flat. I had expected more of a restaurant experience.
Would 4 Rivers still live up to its stellar rep?
Appearance
The quick-serve concept notwithstanding, the paper-covered metal tray crowded with the half-rack and paper containers of coleslaw and BBQ beans ($18.99) looked mighty appetizing. And it was a hefty portion. I picked up a rib, held it vertically and poked it with a plastic fork. The meat started to crumble off the bone. We were off to a good start.
The no-frills meal presentation and upscale lunch-room environment told me that 4 Rivers' top priority is … the food.
Texture and Taste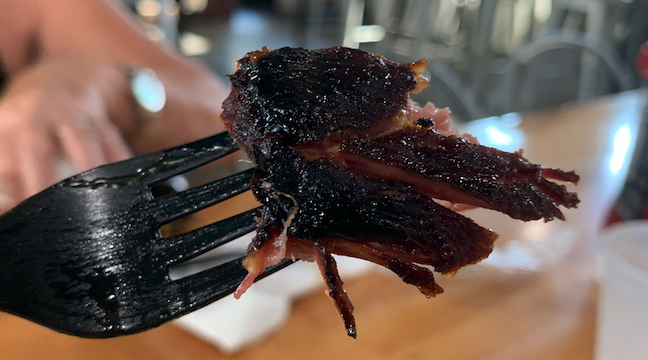 In a word: succulent. In another word: delicious. The outer char, which was a deep brown and outright black in places, provided an ideal crispy prelude to the moist meat inside. They blended together beautifully, making for sublime mouthfuls. A pervasive but subtle sweetness added extra mmmHMM.
I tried the ribs with the house BBQ sauce and without, and ultimately didn't have a preference either way. So I alternated bites. Forking in a bit of the excellent, crunchy-not-soupy coleslaw added an extra dimension.
If my high school cafeteria served this stuff instead of tree-bark Salisbury streak, I would have never packed a lunch and probably graduated weighing close to three bills.
Bonnie and I split the meal. Not evenly, of course. I had more of the ribs, she cornered the beans and I hogged all the slaw. The point is that the 4 Rivers half-rack meal turned out to be just the right amount of food to feed both of us.
URBAN BREW AND BBQ
First opened in 2013 in a small storefront on Central Avenue, Urban Brew and BBQ now resides in a revamped '50s-era Standard Oil station. It offers indoor dining but the real draw is the covered open-air space.
We chose to sit inside. Hey, it was August. At 3 p.m. On a Thursday.
We had the place to ourselves, and ordered at the bar from a friendly fellow named Ben, a transplant from Minnesota. You'll never guess … he got sick of the cold up there. And he doesn't mind the mid-summer heat. Give him time.
We ordered a half-rack with coleslaw ($17.25) and had to pay an extra $4.25 for baked beans.
Appearance
Like the competition, the food came on a paper-covered metal tray with no plate. Ben did bring us two smaller metal trays and actual knives and forks for splitting purposes.
I'm not qualified to say which of our contestants' ribs was more authentically St. Louis, but they did look considerably different. The Urban Brew ribs were a uniform dark brown, with little trace of char. The rub looked more prominent. These ribs were not as instantly alluring as 4 Rivers', but I was more than ready to attack.
Texture and Taste
They were not quite fall-off-the-bone, but I sure could eat them off the bone, so all good on that count. There was no crust to bite through and the brown exterior offered little resistance to the lusciously tender meat within.
These ribs were smokier and spicier than their counterparts. They weren't as fatty, either, and therefore not as moist. A bit of peppery heat lingered in my mouth, which I liked. I ordered the sweet sauce — instead of tangy or hot — and it turned out to be too sweet and too thick, so I put it aside. That left me to really ponder these tasty, interesting ribs as I chewed my way through them.
It seemed clear to me that Urban Brew and BBQ was really taking chances, going for a signature style. We couldn't quite finish our meal, but made sure we boxed up the last rib to take home.
I must add that the made-in-house slaw was a disappointment. Way too runny, robbing me of the crunch that I like to complement my ribs.
The Winner of the Ribs Showdown Is …
4 Rivers Smokehouse
Permit me a short preamble. This rib battle came down to adventure (UB&BBQ) vs. comfort (4 Rivers). I really dug both, but got more sheer enjoyment out of the 4 Rivers meal, so therefore this week's winner is:
4 Rivers Smokehouse
This was the closest call I've had during my FFF tenure. Enthusiastic kudos to both restaurants.