Comparing the ultimate comfort food at two popular chains as the storm approaches.
Neither rain nor heat nor wrath of hurricane stays this scribe from the swift delivery of his Friday Food Fight.
Courageous enough, for ya?
I write this on Tuesday morning under cloudy skies, nonstop storm news squawking from the TV in the other room.
The approach of Hurricane Ian caused an abrupt change of plans for this week's edition. Because there was doubt about whether restaurants would be open on Tuesday, we ran out late Monday afternoon and picked up chicken pot pies, to go, at two chain restaurants that tout them as specialties, then brought them back to the FFF Lab.
Our appointed rounds: Metro Diner on 4th Street in St. Pete, and Cheddar's Scratch Kitchen in Pinellas Park.
Is chicken pot pie good pre-hurricane food?
Yes and no.
CHEDDAR'S SCRATCH KITCHEN
Storm clouds seemed a fitting backdrop for our first stop. A long and wide-ranging summer storm would kick in soon enough.
Appearance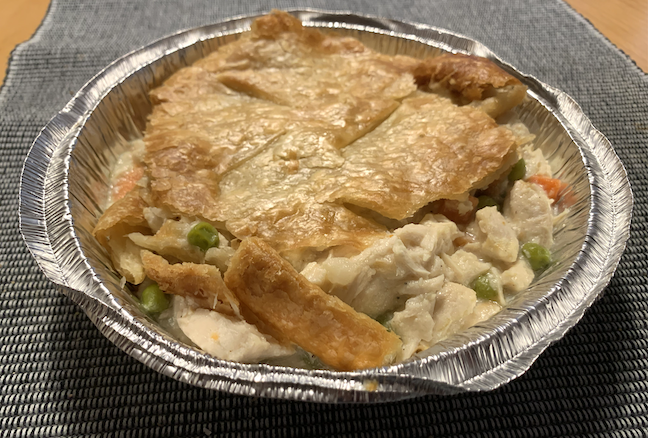 When I removed the aluminum dish from the bag and opened it, the pot pie ($11.49) was pretty disheveled. Part of the insides — chicken, peas, carrots, gravy — were visible. That made it somehow more appetizing, and comforting.
Texture and Taste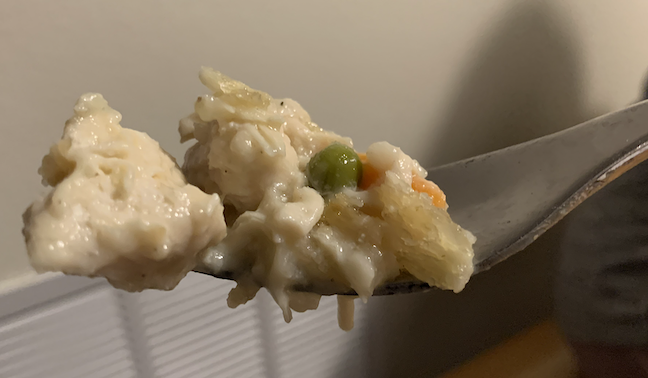 My first bite was dominated by a large chunk of chicken, which took considerable chewing and even a chaser of Virgil's root beer to wash it down. Not an auspicious start.
But the eating quickly evened out, as that familiar and velvety combination of ingredients joined in harmony. The crust gave way easily, and melded with the other stuff. The ratio of gravy to meat and veggies was just right.
If anything, some of the chicken chunks were a bit dry, but on the whole, Cheddar's' pot pie made for an enjoyable meal. The restaurant also added to the order a small Caesar salad and a large, honey-coated crescent dinner role, the latter a nice but ultimately redundant gesture — which is to say, I took only one bite.
METRO DINER
We drove through a driving rain to stop and pick up our Metro pot pie and then headed the mile or so back to the Lab. Nature was playing a cruel joke: a persistent rainstorm just a few short days before the scheduled arrival of a hurricane.
Appearance
This one was puzzling. The crust didn't look like a crust as much as a protective shell. The gravy on the sides appeared congealed. Would a fork suffice, or would I need a chisel?
Texture and Taste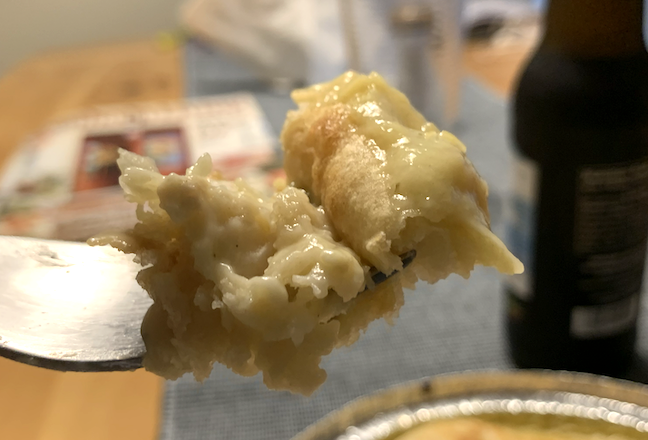 Unfortunately, this pot pie ($12.49) tasted the way it looked. The top crust — indeed a shell — consisted of about a half-inch of heavy dough that was devoid of flakiness or taste. It took some extra fork work to pry it open.
The insides were hardly better. The gravy was thick and gummy, the vegetables minimal (string beans vs. peas, not good), the shell did not blend with the rest. And, yes, there is such a thing as too much chicken in a chicken pot pie.
The gravy had an odd tang to it, and there was a vaguely unpleasant aftertaste.
I simply did not understand this chicken pot pie, and ate only about a quarter of it for due diligence's sake. The charitable view is that this particular Metro Diner had a bad night under pre-hurricane conditions.
And the Winner of the Chicken Pot Pie (Hurricane Edition) Friday Food Fight is …
Does it even need saying?
Cheddar's Scratch Kitchen.
Let me add one final caveat: Bonnie Snider, my wife, makes such an exquisite chicken pot pie that both of these restaurants versions were bound to pale in comparison.
I hope everyone came out of the hurricane okay. (Friday, Sept. 30)