Friday Food Fight: Pad Thai — Thailand's National Dish Enters the Ring
A long-standing corner Thai restaurant takes on a popular Pan-Asian place.
Pad Thai is the second most popular Asian noodle dish in the world, according to the International Noodle Institute, behind ramen and ahead of chow mein, which it eclipsed in 2003.
Okay, I made that up, but it sounds kinda true, right?
Regardless, it's time we got an Asian dish into Friday Food Fight. This week's contestants are Hawkers, a popular restaurant in St. Pete's Edge District specializing in a wide array of "Asian street fare," and Thai Am, a small, long-standing Thai eatery on 4th Street just south of 62nd Avenue.
I decided to pick up the two Pad Thais and bring them back to the FFF Lab. Thai Am's dining room remains closed, and seeing as this was a Saturday night, I didn't feel like breaking out my concert-tested earplugs to dine at Hawkers. If you've been there, you know how loud it is.
Eating them side-by-side in the same environment seemed the fairest.
THAI-AM
I've gotten (mostly) takeout from this restaurant for decades. It's "family owned and operated," almost certainly by Thai-Americans and/or immigrants. They make Thai food tailored to American tastes. I usually get the Panang Curry and don't recall ever trying the Pad Thai.
I ordered mine with chicken, and mild, not wanting to risk too much heat.
Appearance
Presentation is irrelevant here — a plastic container — but I did immediately notice that this Pad Thai had a homogenous appearance: noodles with matching pieces of scrambled egg, chicken and bean sprouts, and a couple of green scallions peeking out.
No other vegetables livened up the party, when those ingredients are often found in American-style Pad Thai. To be fair and accurate, the recipe consists of "small rice noodles, egg, ground peanuts, bean sprouts & scallions."
Texture and Taste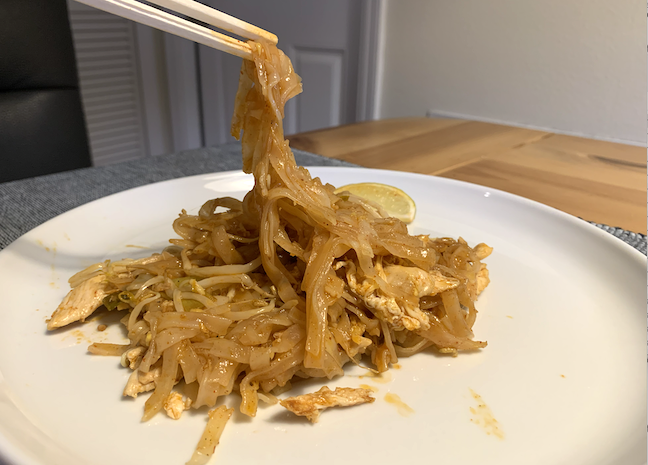 The Pad Thais I've had often carried a hint of sweetness. Thai-Am's borders on candied. Maybe I could've mitigated this too-sweet aspect by adding some spiciness — turning the heat up to, say, medium. (Just a theory.) But again, caveat emptor: the menu promises a "sweet & tangy homemade sauce." Sweet? Definitely. Tangy? Maybe a little.
The white-meat chicken was moist enough — I've had it other places where it was like cardboard — but it didn't add much flavor. For my palate, this Pad Thai could've use more crunch. In fact, this Pad Thai could've used more stuff overall.
HAWKERS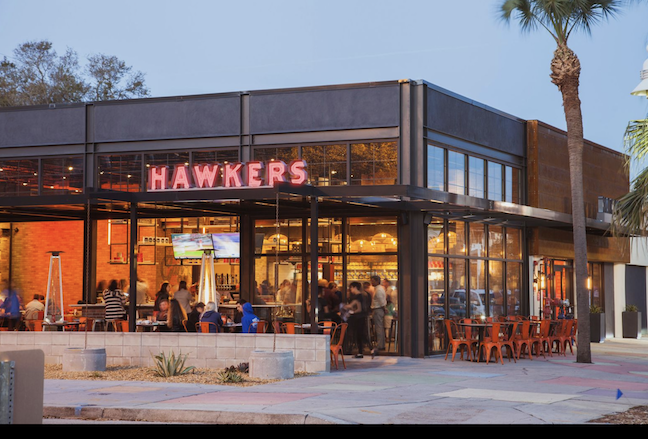 The place was boomin' on an early Saturday evening, and I mean that both metaphorically and literally. I was in and out quickly enough that earplugs weren't necessary.
Appearance
It was instantly obvious that this Pad Thai had plenty of stuff, certainly when compared to the competition. A couple of plump shrimp stood out. The chunks of chicken looked hearty. A nest of peanuts promised crunch. Most important, I could detect bok choy, carrot slivers and onions — and their might've been some other veggies, too. This Pad Thai looked altogether appetizing.
Texture and Taste
Hawkers does not give you a choice of spiciness, but its version does provide a bit of heat, which I welcomed. For someone who doesn't care for shrimp, I must say they were tender (and tail-less). I could detect no sweetness, and the dish might have benefited from just a smidge of it. In all, the flavor was more complex than Thai-Am's.
The Winner of this Pad Thai Showdown Is …
Hawkers. In all, it was a more substantial dish, with a wider array of flavors that integrated nicely.
Before I Go, a Few Words About Value (or: The Magic of Volume)
Everyone values taste, but do you also value volume?
Thai-Am's was was a loaves-and-fishes serving of Pad Thai. We forked a bunch out onto a plate and ate it. Then I ate some more out of the container. Even then, it looked as if we hadn't made a dent. Bemused, I measured the container: 9 inches long, 6 inches wide, 1-3/4 inches deep. Thai Am must have have used a hydraulic press to stuff the Pad Thai in there. I consider weighing it on the bathroom scale, but who needs the mess?
If you want a nice helping of Pad Thai for one or two, I'd recommend Hawkers. If you want to feed a family of four for I-don't-know-how-long, then Thai-Am is the choice. I purposefully disposed of Thai-Am's container without ever reaching the bottom.
I want to believe in magic.