Two classic steakhouses — one in Tampa, one in Clearwater — vie for the prize(s).
You can't eat just a pork chop. I mean, you can, I suppose, but the meat really needs partners. So for this week's FFF, I'll rate pork chop meals at two venerable steak joints: Charley's Steak House in Tampa and Bascom's Chop House in Clearwater.
The chops will be joined by Caesar salads, as well as potatoes — au gratin at Charley's, scalloped at Bascom's. Close enough.
I'm also going to do something a little different for the moment of truth at the end — pick a winner each for salad, potatoes, pork chop and, finally, for the overall.
CHARLEY'S STEAK HOUSE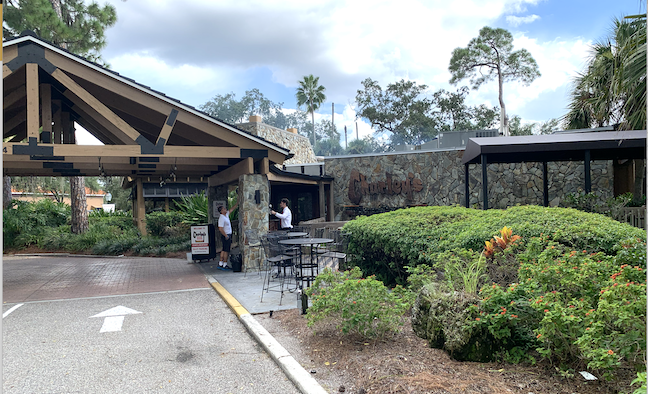 If you've lived in these parts for any length of time, you've seen the Charley's sign from I-275. Turns out, the restaurant has been in that prime spot since 1997. Congrats, Charley's, on 25 years.
From the dark lobby and bar area, to Sinatra singing "Luck Be a Lady" on the sound system, Charley's is every bit the classic American steakhouse. I half expected to see a hat rack draped with fedoras and a cigarette girl making the rounds.
We arrived at 5:15 on Tuesday and were seated next to a window in a dining room bathed in natural light. A rainstorm kicked in and added a bit of cozy ambience. I knew I should've ordered an extra-dry martini (gin, of course), but opted instead for a house-made strawberry lemonade ($6). Don Draper would've given me a withering look.
The drink was really good — just the right balance of tart and sweet.
Our servers — Lisa and Adonis — were efficient, friendly and fun, plus their knowledge of the food was first-rate.
Caesar Salad
The Caesar ($16) came out pre-split for Bonnie and me. Maybe it's because I'm of a certain age, but I don't understand how an individual would want a salad this voluminous — to start the meal. For us, half was just right. (My guess is that the salad is meant to be split.)
Hefty chunks of romaine lettuce and the obligatory croutons (pushed to the side) were graced with a dressing that did not overpower, and had nary a trace of anchovy (thank you). I like my Caesars liberally dosed with shaved parmesan, and Charley's delivered.
I inadvertently okay'd an add-on — bacon lardons ($5), square-ish chunks that were fatty and chewy and added bursts of smokey flavor. They turned out to be the Caesar's secret weapon.
The Chop
A slab of parsley butter was melting all over it and down onto the plate. Lisa split the bone-in pork chop ($27), cooked medium, at the table.
Charley's cooks its meats over a wood-fired grill. Ours was a porterhouse cut, so it had a small filet, which I hogged for myself. Ultra-tender, it exuded a natural smokiness. The rest of my portion was coarser, but in no way tough, just different. The half-chop proved just the right amount for an early dinner. I demolished it.
Potatoes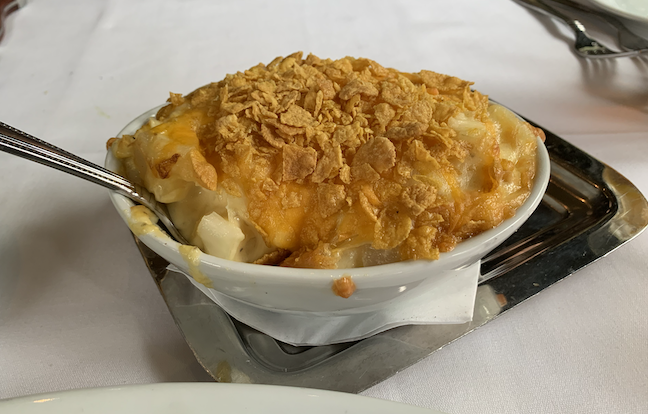 The potatoes au gratin ($14) were covered in cheese and corn flakes. Seeing as this was not breakfast, I essentially ignored the cereal and dug for some saucy potatoes and cheese.
The potatoes, which had an agreeable firmness, were cubed rather than sliced, making them easy to fork into my mouth. The sauce was subtle, and the cheese added a bit of boldness.
BASCOM'S CHOP HOUSE
Bascom's is an institution on the busy Ulmerton Road corridor just west of Feather Sound. The restaurant celebrated its 20th anniversary in December. Congrats, Bascom's.
We arrived at 6:15 on Wednesday and could hardly find a parking spot. The joint was crowded. They seated us at a two-top in a narrow, low-ceilinged dining room with servers bustling through the aisle, some holding packed trays aloft. It was loud, but not so loud that it got on my nerves.
We got spoiled the night before at Charlie's — in a big, airy room with comfortable lighting and very little noise.
In all, though, it was encouraging to see Bascom's doing robust business mid-week.
Our server, Lindsay, was efficient and knowledgable. And busy. Friendly — but not a lot of time for chit-chat.
Caesar Salad
It came out in about five minutes, which we appreciated, 'cause we were hungry. It was a notably smaller portion than the competition's, and the lettuce was skimpier (although the salad did cost $10.40 compared to $16).
The dressing had a bit more tang, and the parmesan was integrated into it. There were no shavings sprinkled on top. I'm not a crouton man, but I gave one an honest try. I'm still not a crouton man. Way too salty. I enjoyed the little parmesan crisp, though.
The Chop
What a handsome slab of thick, hearty, bone-in pork. This chop, brined and broiled, didn't just get by on its looks. Each bite was consistently outstanding: tender, tasty and — probably most impressive — wonderfully juicy. The outer crust added a subtle crunch and touch of bonus flavor.
The accompanying tangle of thin onion rings were not just for show. They gave the meal an extra bit of zest. We finished 'em off.
Potatoes
These scalloped potatoes came shaped in a kind of cube, tucked into a small cast-iron crock — quite the contrast to Charley's au gratin. The slices of potato, layered with cheese and cream, melded together, almost mash-like in places.
Lindsay rattled off how they were made, and I didn't catch it all — my note-taking skills have atrophied — but I'm pretty sure it includes four cheeses and does a little time in the broiler.
This was one of those dishes that initially looks kind of puny, but as you eat it, and eat it some more, it proves far more substantial than you originally thought.
Okay, Time to Pick the Winners …
Salad — Charley's. Just more substantial, with more stuff, and more of it.
Pork Chop — Bascom's. A superstar chop — the second best I've had after a place in Chicago whose name is long forgotten.
Potatoes — Bascom's. The layered cube of goodness was more complex than its counterpart.
Overall — Bascom's. The stellar chop put it over the top.
But wait! I've added a supplemental award:
Vibe — Charley's. The vaulted ceilings, the natural light, the quiet, and our witty repartee with the servers provided a more relaxed experience than the somewhat cramped quarters, bustle, and din of Bascom's.