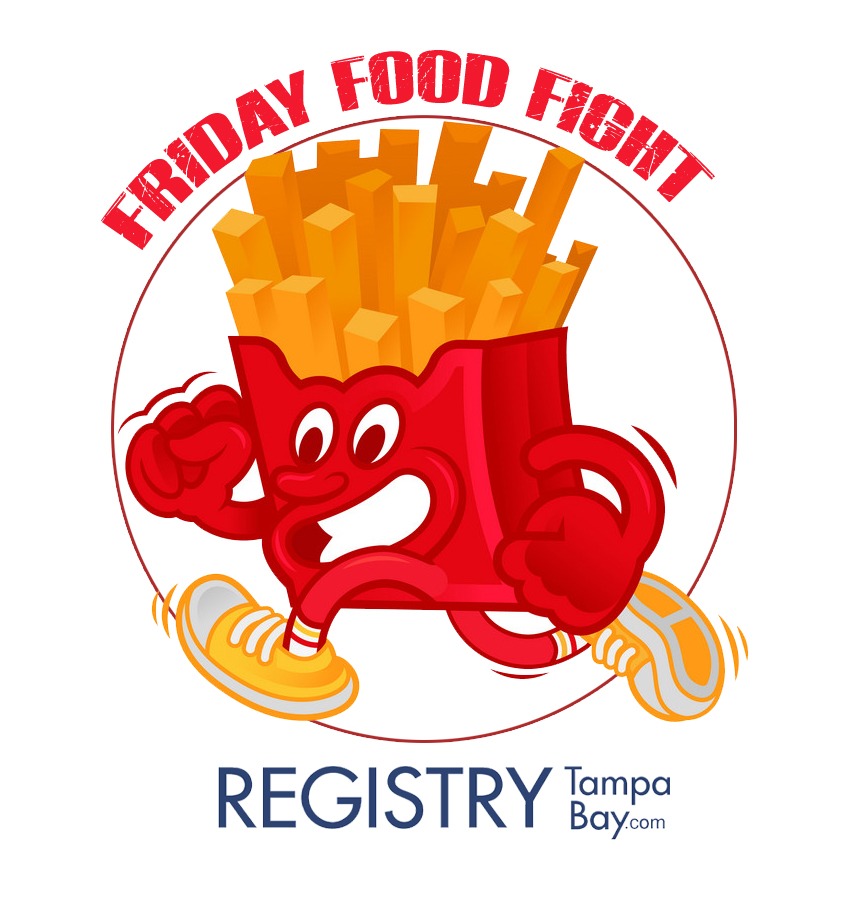 Ramen, ramen everywhere.
In bulk at Aldi's. In mom-and-pop ramen-yas tucked away in shopping plazas. In rave-reviewed, chef-driven destination spots.
A staple of Japanese cuisine (with origins in China), ramen is now ubiquitous around the world.
So what's the appeal? Well, to start with — noodles. Oodles of wheat noodles in a savory broth. What could be more comforting? Shades of mom giving you chicken noodle soup when you were sick.
And, if you're going the quick-from-a-box route – just add boiling water and a "flavor packet" – it's a quick 'n easy meal. (An actor friend of mine swears by it as the perfect pre-performance nosh.)
But there's so much more to ramen. So many variations, so much good stuff you can add to the broth, and so many tasty items you can add besides noodles.
For this edition of Friday Food Fight, we decided to pit east against west, sampling mushroom ramen (with an appetizer of pork gyoza, or fried dumplings) at two restaurants with "ramen" right there in the names: Buya Ramen in St. Pete and Ichicoro Ramen in Tampa.
Why these two? Because chef Noel Cruz launched the gourmet ramen-ya trend in the Bay when he opened Ichicoro in Seminole Heights in 2015, and Buya owner Michael Sponaugle followed quick on his heels, opening his izakaya (translated roughly as small-plate restaurant or tavern) in 2016 in the EDGE District.
And why mushroom ramen? Because I love, no, lurv mushrooms in all forms. (One of my lifelong regrets is that I never got to visit Joe's, the all-mushroom restaurant in Reading, PA, before it closed.)
Let the slurping begin!
BUYA RAMEN
Ambience: The catchphrase on Buya's website sets a definite  tone: "Japanese soul food. Punk rock attitude." There's also this: "Izakaya meets sophistication. Come indulge." That must be why the interior is all dark woods and dim lighting, so you feel like you're in a nightclub even on a sunny day. But it's just as sophisticated outside, where on a perfectly temperate afternoon a Buya sidewalk table is the perfect perch from which to watch the parade of EDGE District denizens. I like the design touches in the dishware, too; drinking glasses with a hand-blown feel, a Tiki-god chopstick-and-spoons holder. Our server, Sara, was friendly and helpful, even advising us on the proper way to transport our leftovers (broth in one container, noodles in another so they don't turn into mush). 
Pork gyoza: The fried-dough casings slid off as you ate them, revealing little sausage-like cylinders of pork. They tasted OK, if a bit greasy, and were much improved by a dunk in the dipping sauce.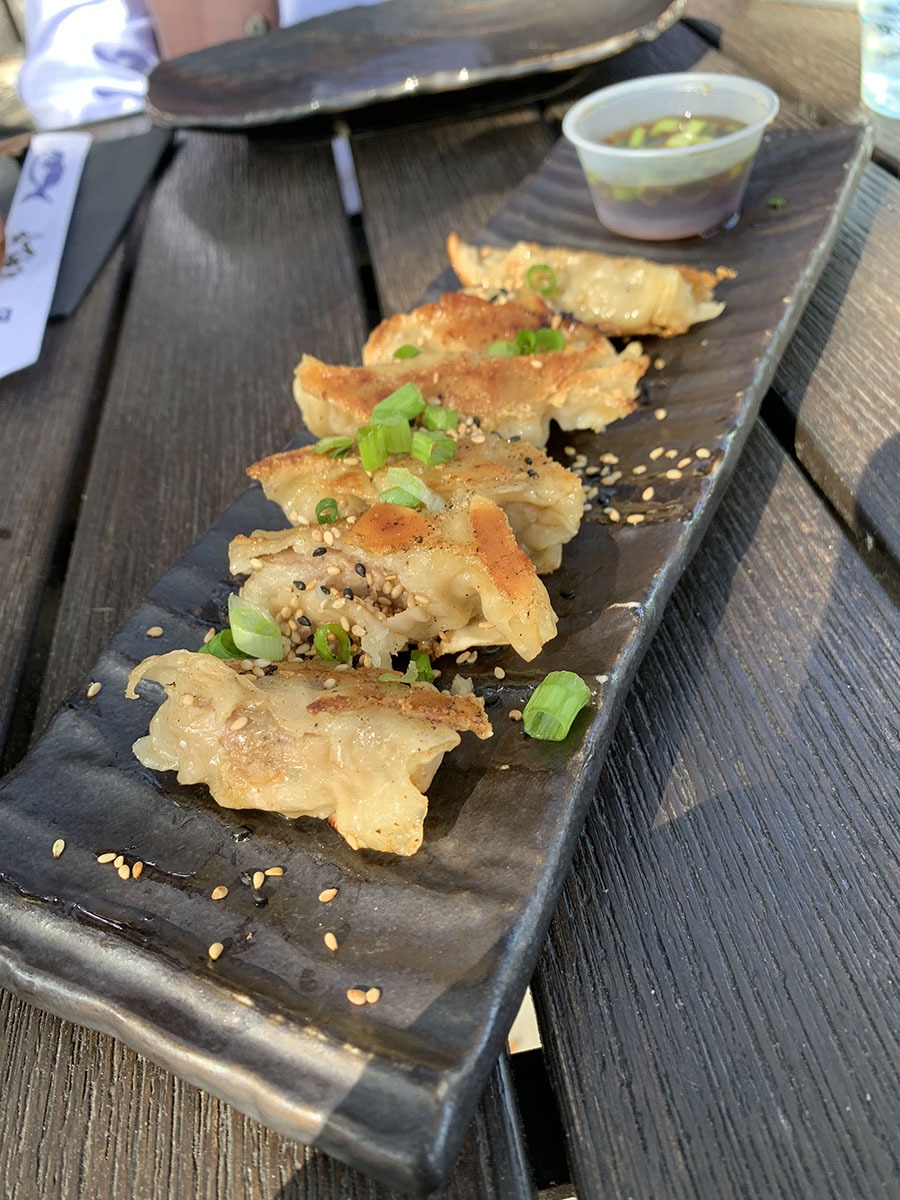 Noodles: A hearty portion, if a bit clumpy toward the bottom.
Mushrooms: So many mushrooms! And so much variety! Shiitake, miyake (a variant of maitake, maybe?), oyster… and each one a different adventure in texture, from chewy to smooth to almost chicken-y.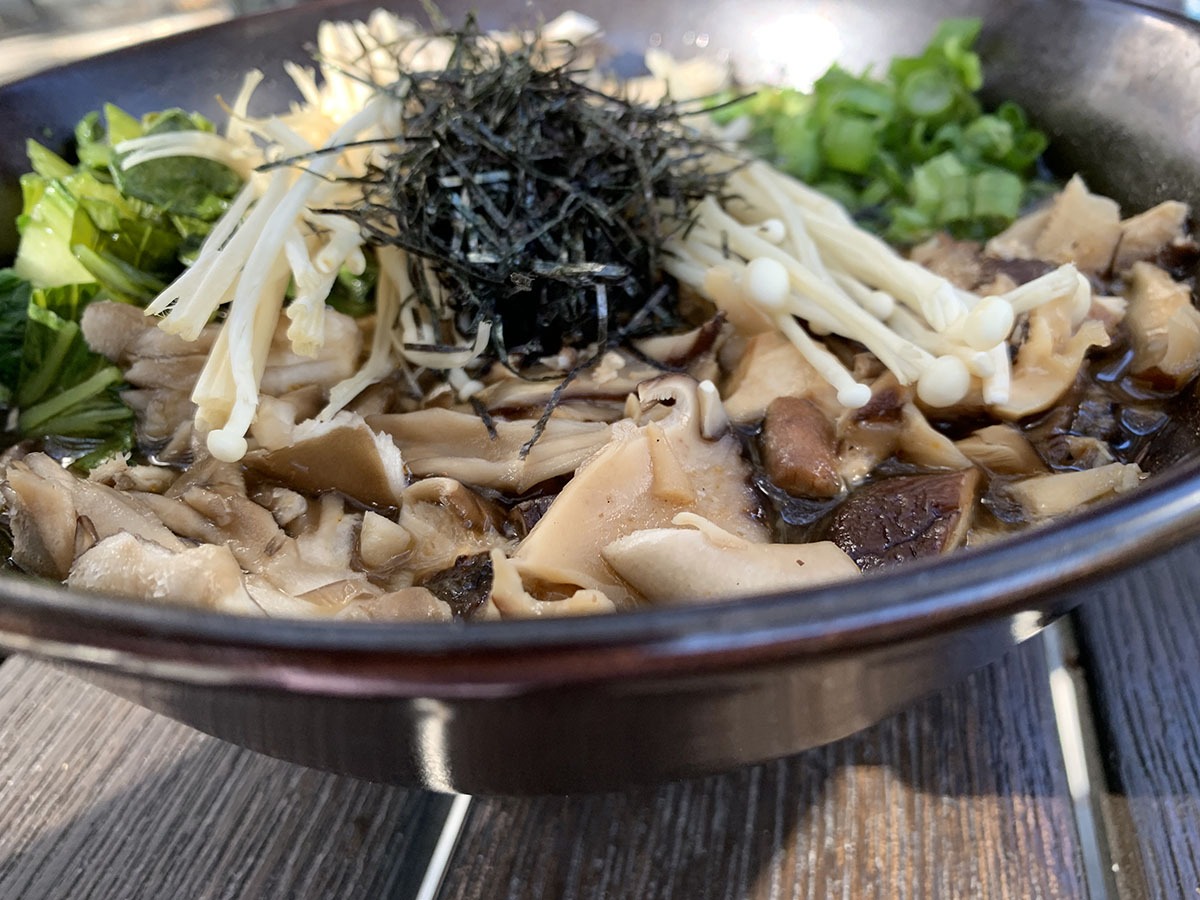 Broth: For all the mushrooms in the bowl, the broth wasn't all that mushroom-y in flavor. It had more of a vegetative, miso-soup quality, augmented by the thatch of shredded nori on top.
Another dish: My husband tried the grilled chicken ramen. He said it tasted "old."
Japanese whisky, anyone? Buya carries close to 50 brands.
Overall: I wished for more 'shroomi-ness in the soup, but it nevertheless left me with that warm, contented feeling only a ramen soup can provide. The outdoor seating was a pleasant plus. 
Buya Ramen, 911 Central Ave., St. Petersburg, buyarestaurants.com.
ICHICORO RAMEN
Ambience: If it's been a while since you've been to Ichicoro, you might not recognize the place. Due to the exigencies of Covid and the expansion of the kitchen, the already-small dining area was cut to about half what it was; the long row of tables along the front wall is no more, replaced by a few two- and four-tops. There's also seating at the bar, but as the website warns, the seating is very limited. Which means that in order to have even a chance of sitting down, it's recommended that you call the restaurant an hour ahead of your expected arrival time in order just to land on the waiting list.
But you know what? We did just that, and even though we were late for our 6:30 p.m. time slot, having traveled through the gates of hell (aka Dysfunction Junction at rush hour), we still didn't have to wait long and got two seats at the bar under the solicitous care of servers Malika and Nicole. The intimacy of the space actually reinforces the room's sense of urban chic, with its wood-slat screens and Japanese-character mural behind the bar.
Pork gyoza: Perfectly crisp little hot pockets full of a delicious mash-up of pork and spices. No slippery casings here; these dumplings were all of a piece.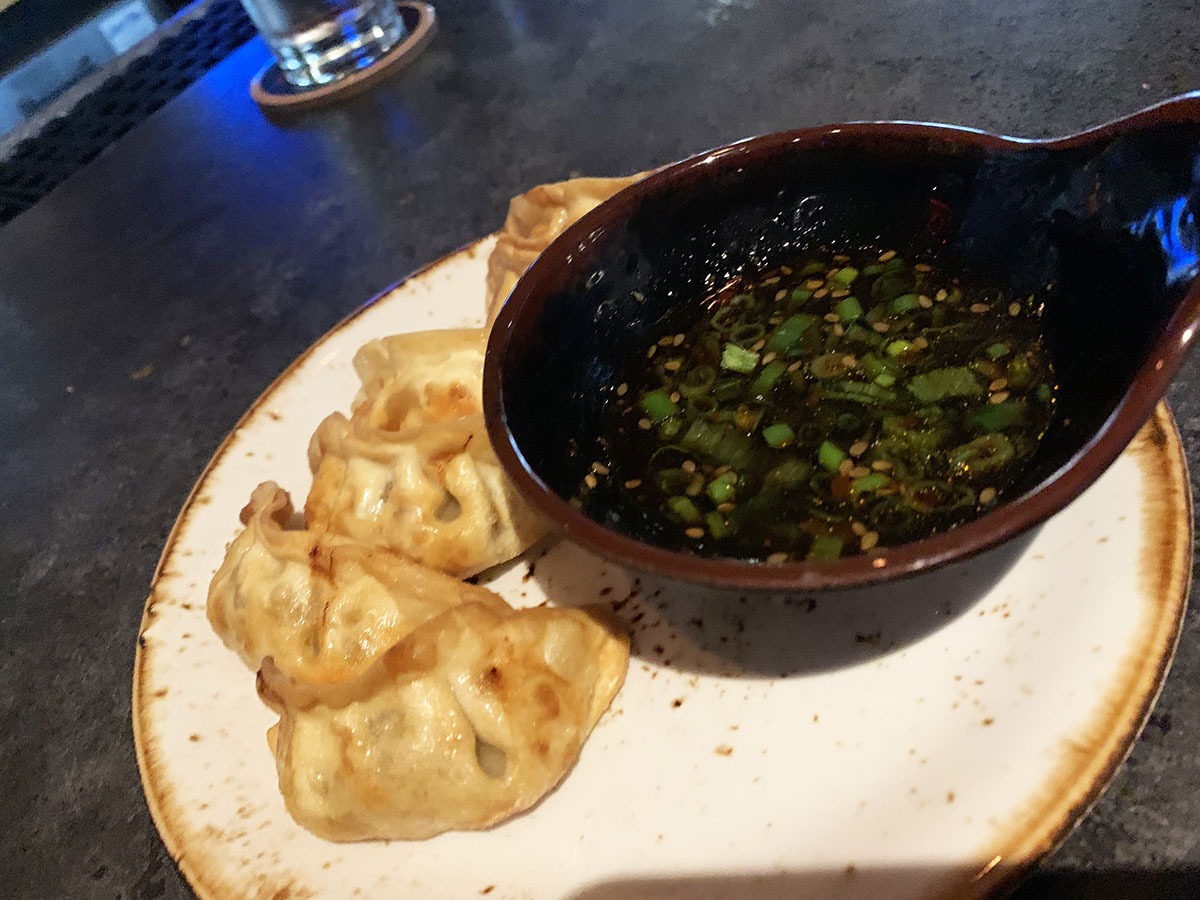 Noodles: Wonderfully chewy and definitely slurp-worthy. I yearned for more, but that was OK because I could have made a meal out of just the…
Broth: Wow. If Malika asks if you want your mushroom ramen to come with truffle butter (no extra charge), say YES, a thousand times YES. And if she then asks if you want to add a bowl of sauce ($1), say yes again and choose the Sichuan style, which is rich, flavorful and sneaky – as in, it has a sloooow but significant burn. So I shouldn't have dumped most of the sauce into my soup, if only because it undermined just a bit the sheer wondrous mushroominess of the broth. This satisfied my mushroom jones, as did, of course, the…
Mushrooms: Shiitake, kikurage (wood ear), portobellos, beech — the flavor of each distinct and enhanced by the broth, which was also dotted with bright bits of scallion and wakame seaweed that punctuated rather than overwhelmed. And even after the shrooms were all gone (trust me, my chopsticks found them all), I still just kept spooning up the broth. It was that good.
Another dish: Larry had the Chasyu pork belly bowl. He said he would be happy to come back every week and order it again — it was that good.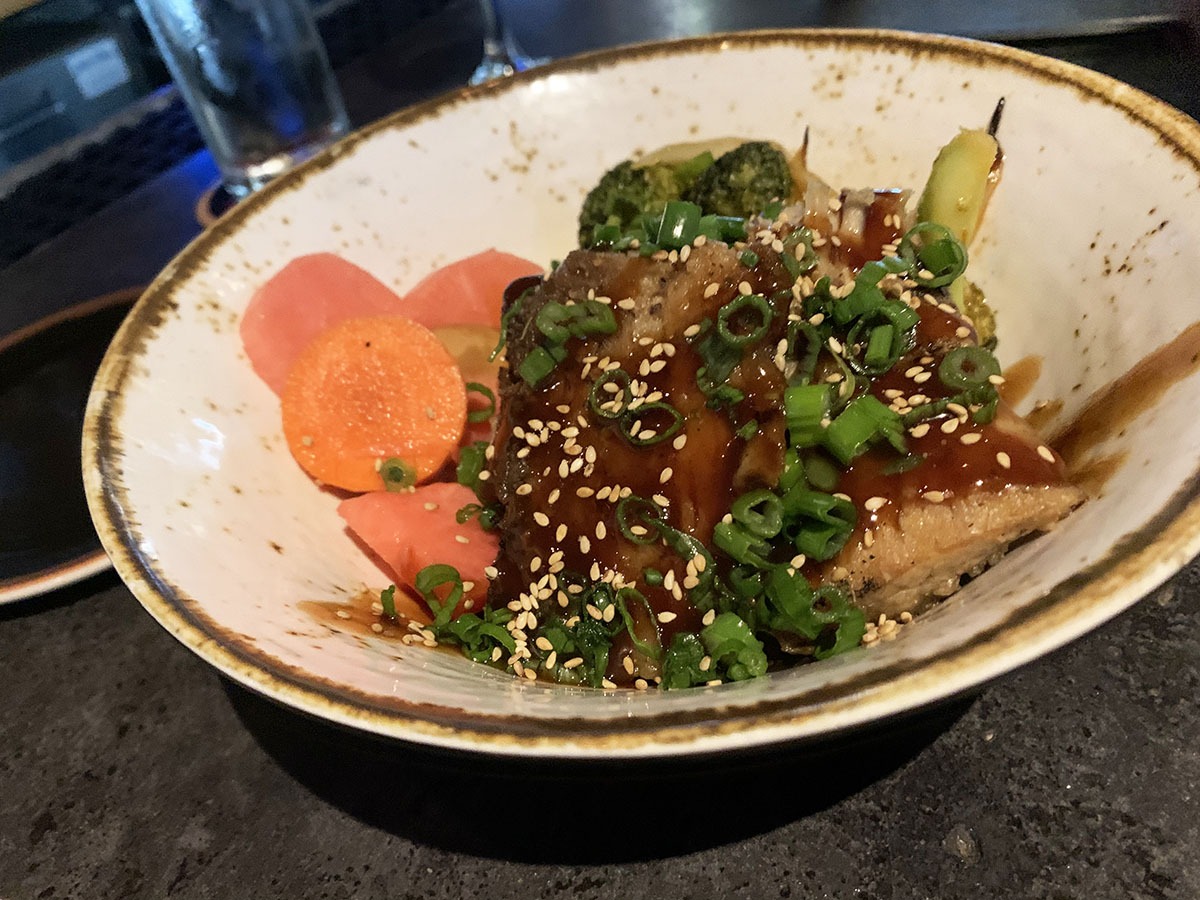 Sake, anyone? They have it by the shot, by the cup, by the small and large bottle — over 70 offerings by my count, and all with evocative names like "Otter Festival" or "Chrysanthemum Meadow" and menu descriptions that could get you high just reading them.
Overall: It may be a bit of a pain to get a seat at Ichicoro, but every effort is worth it. 
And the winner of this Friday Food Fight is…
ICHICORO RAMEN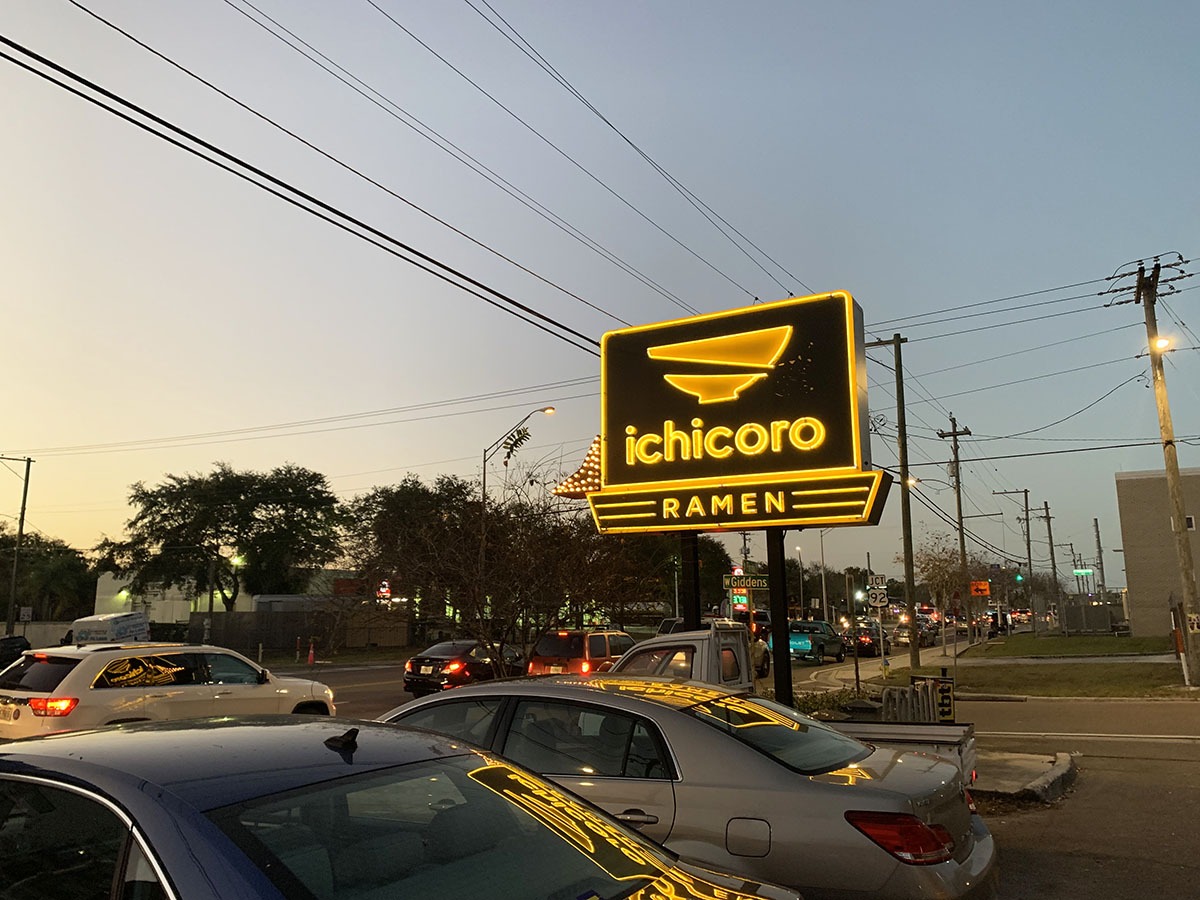 Look for the bright yellow-and-black neon sign near Florida and Hillsborough avenues. Let it be a beacon to a bowl of mushroom ramen you won't forget.
Ichicoro Ramen, 5299 N. Florida Ave., Tampa, ichicoro.com.