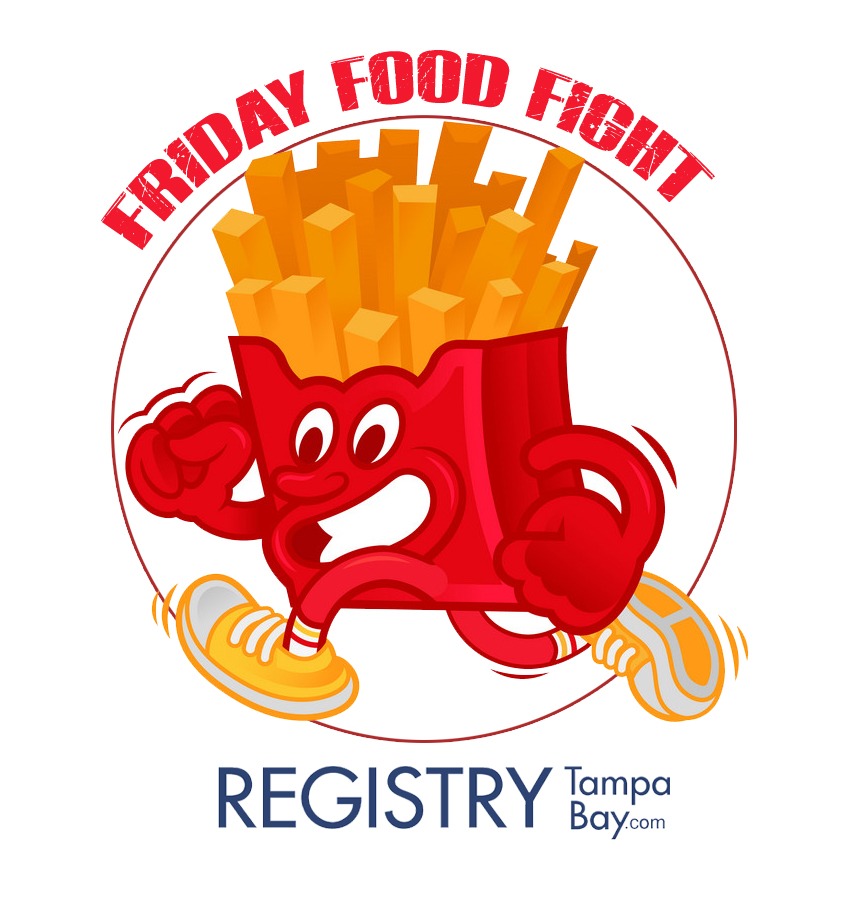 We crossed the borders to taste-test tacos at Tampa's beloved Taco Bus and Sarasota's new(ish) Circo.
A new Mexican restaurant, the romantically named Tacos My Love, had its grand opening yesterday in St. Pete. While it's too early to give the place a review visit, its arrival got me thinking about… tacos. That — and well, Cinco de Mayo, of course.
So Friday Food Fight this week is taking on the taco. We decided to make this a border war — a comparison of the O.G. of Tampa Bay taco spots, Taco Bus, with the newfangled "Taco & Bourbon Joint," Circo, in Sarasota.
Which one made us say "Olé?"
Let's taco about it!
TACO BUS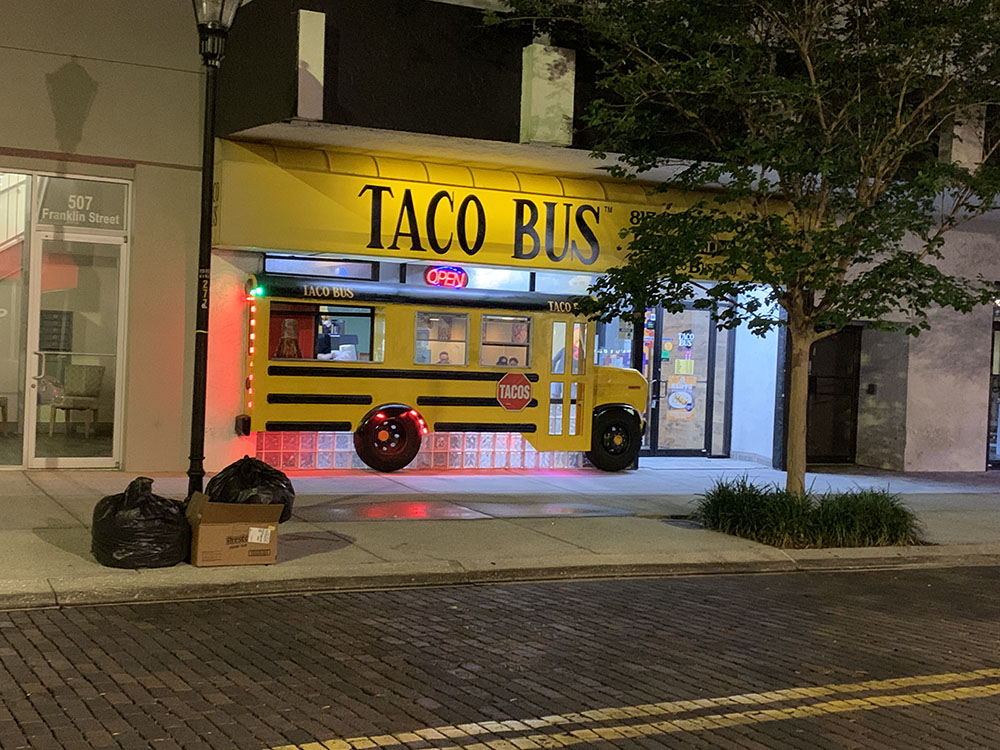 Remember when there was just the original Taco Bus, Rene Valenzuela's headline-making food truck turned destination restaurant that opened in 1996 on Hillsborough Avenue in Tampa? I fondly recall standing in line for fresh-made tacos and burritos and consuming them in the charmingly scruffy garden, back when I first started working in Tampa at The Weekly Planet in the early 2000s. Multiple Best of the Bay awards and national kudos later, including TV coverage on The Food Network and The Travel Channel, Taco Bus has expanded to locations all over the Bay area, from Lutz to Lakeland, from Treasure Island to Sarasota.  
For our taste test, we visited the Downtown Tampa location, in which the Bus seems to have been implanted into the 500 block of Franklin. You can step up to the bus window or place your order at the counter inside, where there's plenty of seating, a clothesline of papel picado (the perforated paper sheets familiar from Mexican folk art) and a big inflatable cactus, plus a refrigerator case full of Jarritos Mexican sodas. We stopped by after a show at the Straz (another plus for Taco Bus — it's open late), and while it wasn't hopping, there was a steady stream of college bro's, late-night office workers and neighborhood condo denizens chowing down or getting takeout. A single efficient Latina was working the counter, taking our orders and shouting out when they were ready. We opted for a fish and a carnitas taco, plus a quesadilla, and couldn't resist a large Agua de Piña, one of their fresh-made-daily Agua Frescas.
The tacos: The beer-battered grouper in cream sauce in the fish taco found a nice balance between crisp and moist, and the serving was generous. We went with the "everything" order, so it was blanketed in fresh queso and diced tomatoes — I might go for a thinner blanket next time. The carnitas — shredded and seasoned slow-cooked pork — was fine, but the flavor lacked dimension. I might order the Marinated Shredded Pork (Cochinita Pibil) next time, which follows an ancient Mayan recipe involving achiote, bitter orange and smoking in banana leaves.
The quesadilla: Again, an ample portion — more than enough for two. We ordered the grilled chicken as our protein, and while there were many big, delicious chunks of chicken, they tended to get drowned out by the gloppy, almost soupy cheese, which also undercut the crispiness of the grilled tortilla wrapping. (You'll definitely require a fork.) However, dip it into the tasty red and verde hot sauces provided for free in small plastic cups and it all goes down easy.
The Agua de Piña: It's "pineapple water," and it's addictively yummy.
The prices: $7.99 for the two tacos (including a $1 add-on for the fish); $7.99 for the chicken quesadilla; $3.99 for the large Agua de Piña.
CIRCO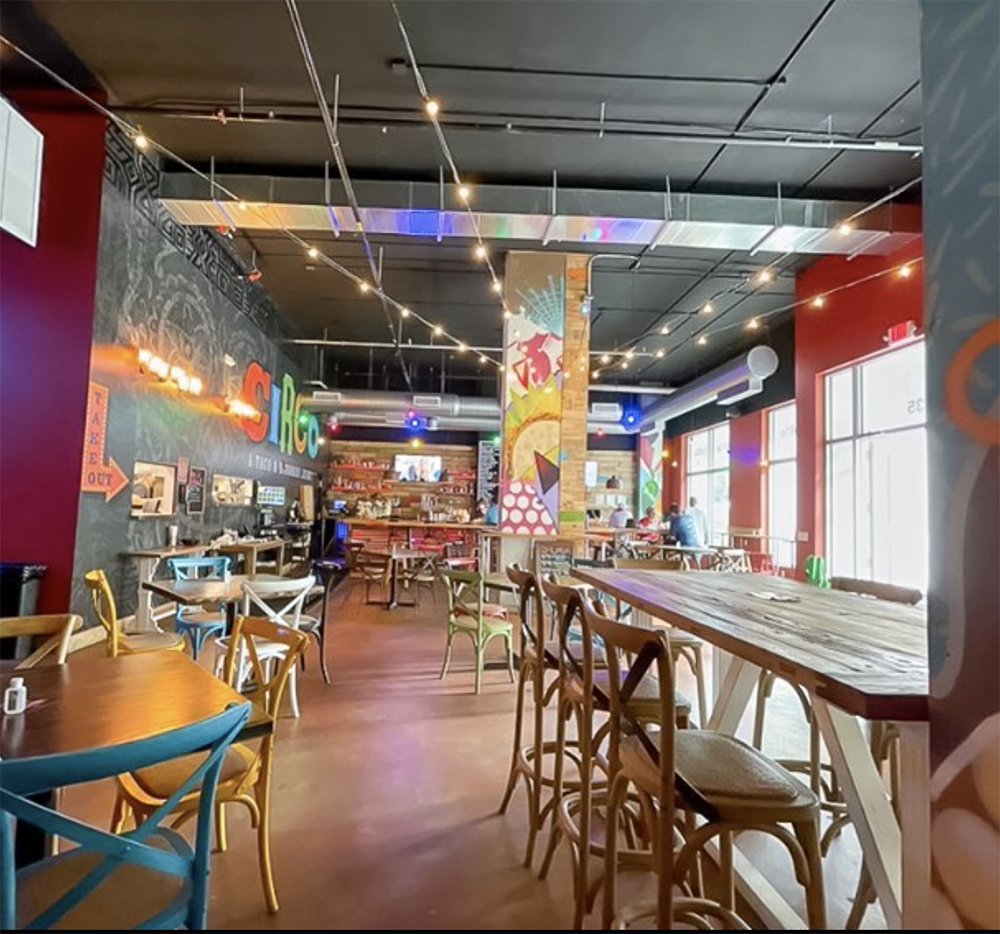 We discovered Circo at the recommendation of a Sarasota Magazine story when we were looking for a nosh before a show at Urbanite Theatre, which is half a block away. Opened shortly before the pandemic in 2020 (oops), Circo has attracted a boisterous following for its creative takes on Mexican cuisine and its excellent cocktails. "Cuisine" may be too hoity-toity a word for Circo, though, which has the free-wheeling, unpretentious party vibe you'd expect from a self-described "joint." And yet…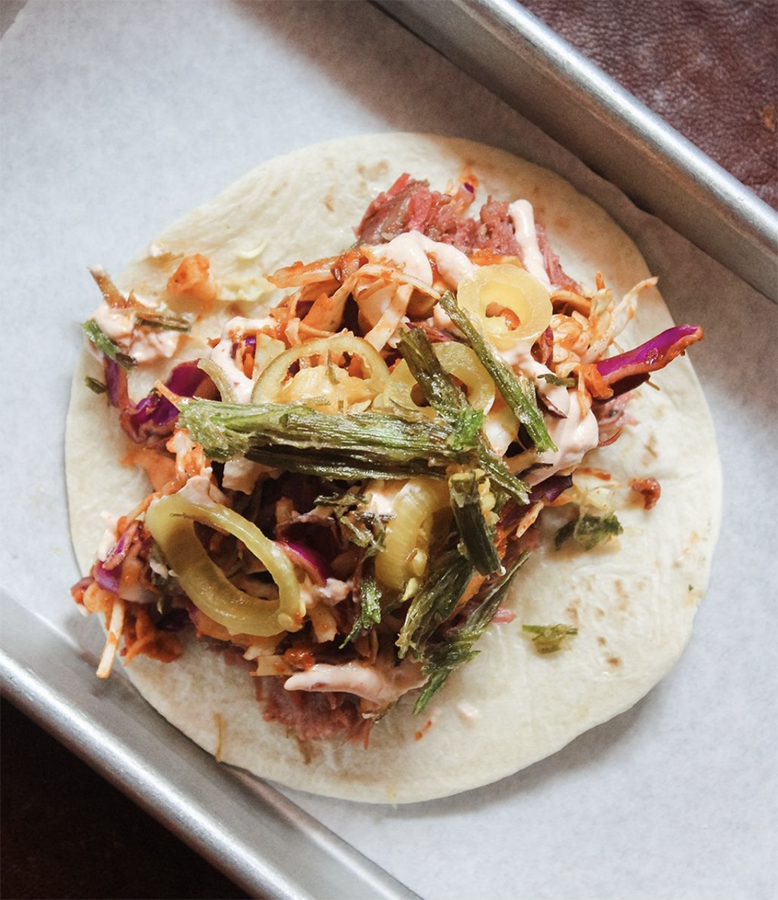 The tacos: Someone in the kitchen is going beyond the "joint" ethos to invent delicious but not outlandish flavor combinations which make each taco you order an adventure. Their pork and seafood tacos are cases in point. We tried the Korean (shredded pork with "angry" crema, kimchee slaw and pickled peppers) and the Thai shrimp (tempura flash-fried shrimp, honey-sambal aioli, Napa slaw, mango salsa, pickled peppers, cilantro, and tempura scallion threads), and you can tell from those ingredients that these ain't no ordinary tacos. They taste as good as they sound, complex and delectable.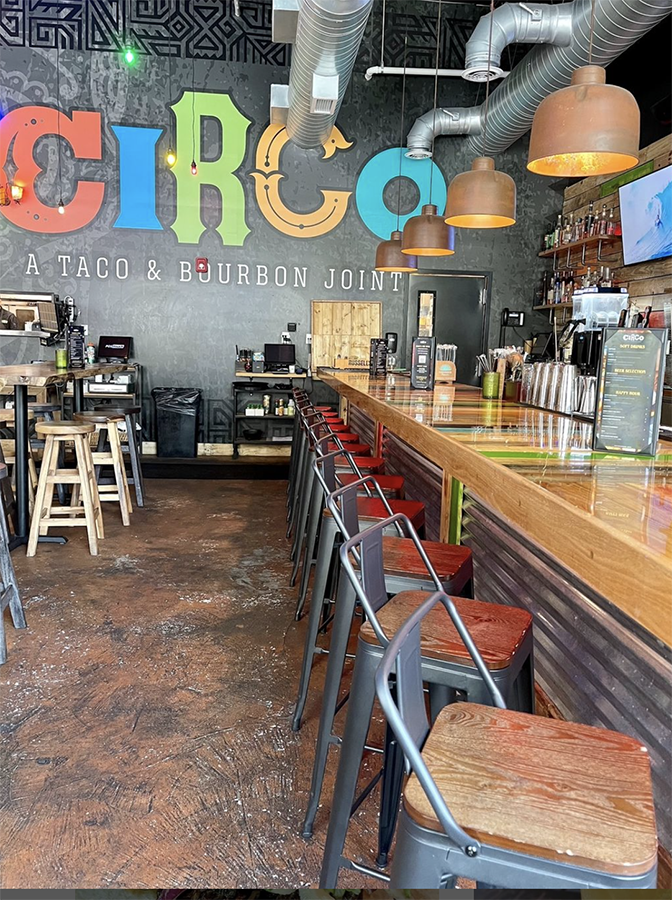 The cocktails: Deee-licious! I highly recommend the G&Tea (Bombay Dry Gin, lime, hint of sweet, basil, Marley's CBD Infused Honey Tea), which is one of the better gin concoctions I've tasted. The Bourbon Peach Punch (Wild Turkey, grapefruit, pineapple, lemon, Peach Schnapps, hint of sweet) is a tad too sweet, but there are multiple brilliant "BYO" (choose-your-own-ingredients) versions of Old Fashioneds and Margaritas and numerous other libations, including non-alcoholic offerings like Thyme for Strawberry (strawberry, lemon, thyme, soda), which seem pretty irresistible.
The prices: Korean taco, $4.80; Thai Shrimp taco, $4; cocktails, $8-$11, with up-charges for certan add-ons to the BYO cocktails.
And the taco place that placed on top was….
CIRCO
Taco Bus is absolutely a great option for classic Mexican, especially for a quick lunch or late-night chow-down, but for an extra dose of unexpected flavors in a fun, relaxed environment, head south of the borders to Sarasota's Circo. (And go to a show down the block at Urbanite — you will not be disappointed.)