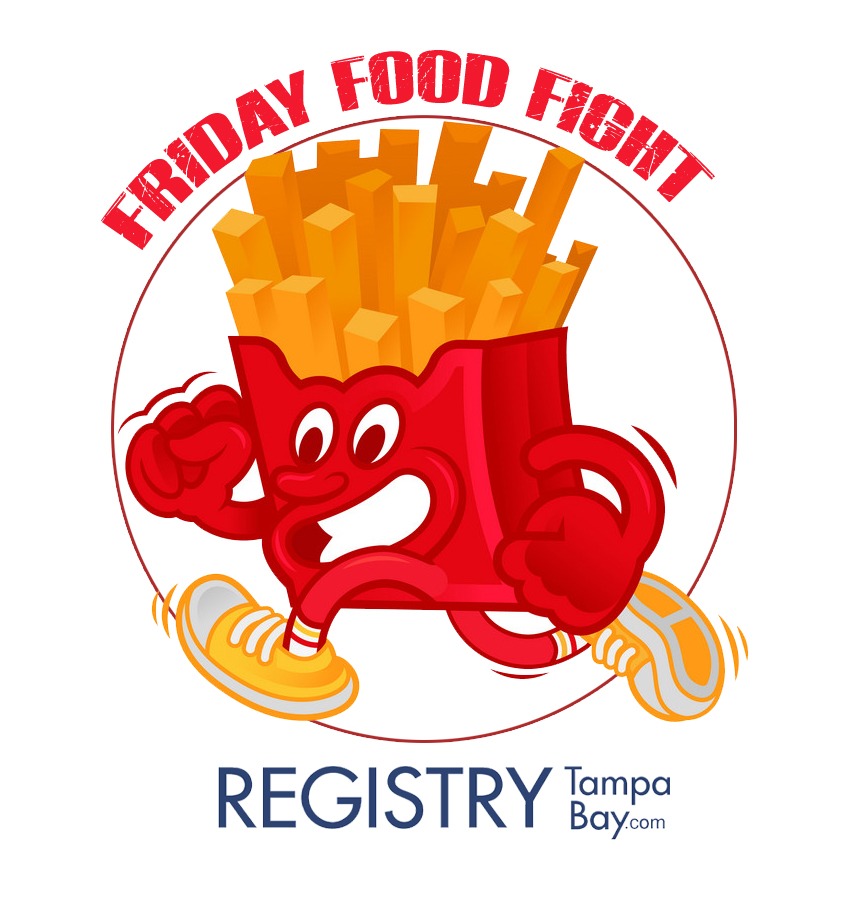 Welcome to the Clubs: It's a bite to the finish in a battle between two top contenders.
In honor of this weekend's Valspar Championship, we devote the Food Fight to clubs.
Club sandwiches, that is — not golf clubs or country clubs, although the name of the sandwich is thought to be rooted in the latter.
That's one theory, least — that this multi-tiered sandwich of bacon, lettuce, tomato and turkey on toast first found popularity on the menus of exclusive country clubs.
Another theory: CLUB is an acronym for Chicken and Lettuce Under Bacon. But that has to be wrong, as everyone knows turkey is the poultry of choice in a real club sandwich.
Etymology aside, we decided to compare the club sandwiches in two vaunted restaurants: Wright's Gourmet House in Tampa and The Library in St. Pete.
Which one hit the clubs the hardest?
Let's eat!
WRIGHT'S GOURMET HOUSE
I don't know how long it's been since I last visited Wright's Gourmet, but it must have been years ago. The small sandwich shop I remember has expanded to mammoth proportions, stretching from Dale Mabry down Watrous with a huge open kitchen, multiple dining rooms, event space and a seating capacity of 225.
Opened by Marjorie and Pete Wright in 1963, the restaurant became a South Tampa institution, beloved for its cakes and piled-high 'wiches. The Wrights' grandson, Jeff Mount, bought the business in 1980, expanding it over the years to its current 17,000-sq-ft space but sticking with his grandparents' emphasis on consistency and quality, as encapsulated in catchphrases like "We're only as good as our last sandwich."
Meats: Order a Club Sandwich at Wright's and you get ham as well as turkey. That's what my co-taster, Larry, ordered, but I went with the Turkey Club, which is, surprise, turkey only. In either case, you'll get a sandwich that's stuffed with meat — not turkey slices à la the deli counter but breast meat that looks like it was carved from a roast, fresh, moist and delicious. And the bacon, an ample serving, added just the right notes of crunch and smoke.
Cheese: A thick slice of Jarlsberg added another level of taste and texture.
Veggies: Thickly cut bright red tomato and crisp lettuce.
Bread: The Clubs at Wright's are usually served on pumpernickel, but they were out the day we visited. No matter: I ordered what I believe to be the only proper bread for a turkey club: white toast. (Larry ordered wheat bread, untoasted – sacrilege!) Wright's makes its own secret-recipe Bucket Bread, and while I can't be sure that was the bread I was eating, it was utterly delicious – toasted just right, with a fluffy texture and just a touch of sweetness.
Freshness: Everything in the sandwich tasted super-fresh, which is quite an achievement considering this is a place that churns out hundreds of thousands of sandwiches a year.
Flavor: "The secret to a great sandwich? Spreads to the edge." That's one of the slogans on the Wright's website, and I'm not sure if it refers to the over-stuffed meats or Pete Wright's Mustard Sauce, which is both tangy and slightly sweet and transforms an ordinary sandwich into something you can't stop eating. Either way, Wright's has found the secret for sure.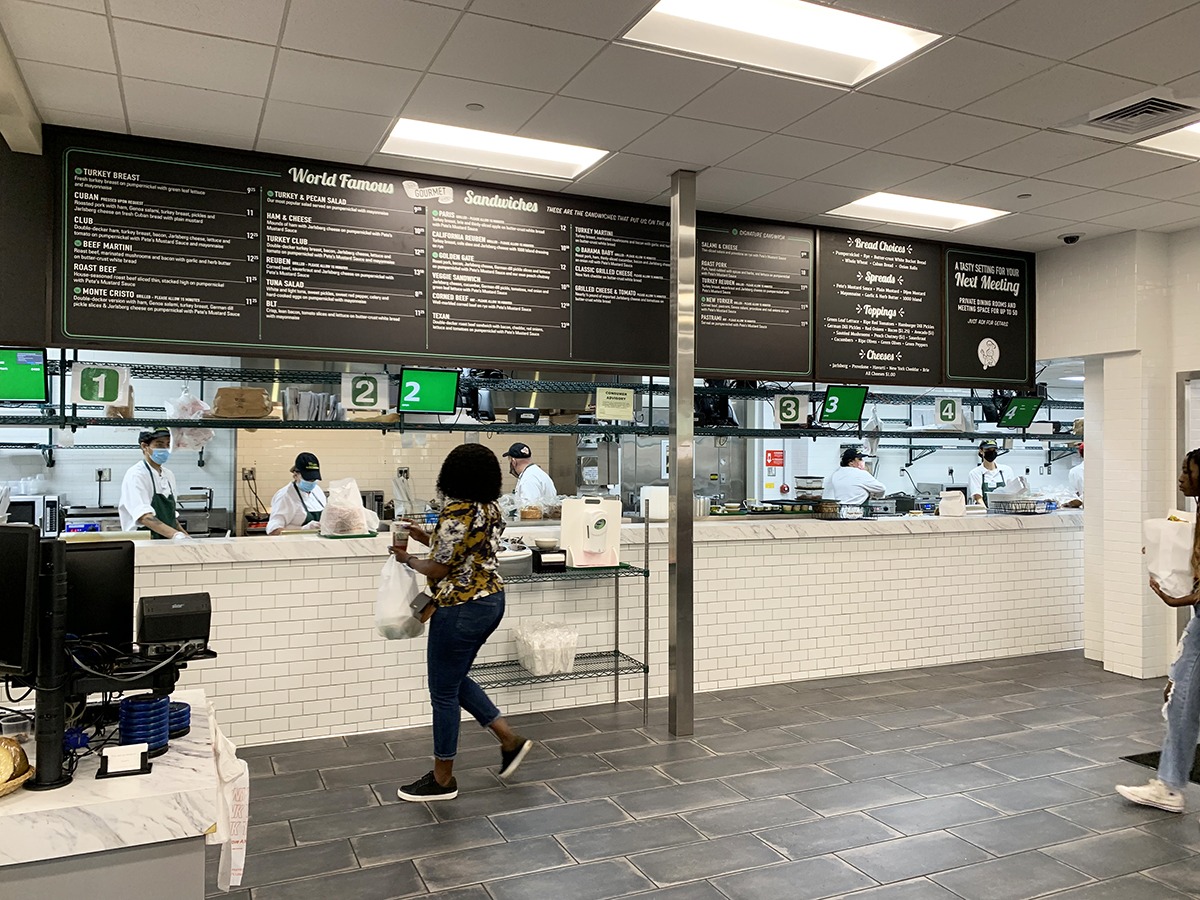 Ambience/Service: The history of the shop is emblazoned on the walls, with enlargements of vintage menus, recipes and family photos. It provides a lively backdrop for the families, co-workers and friends who happily chow down on cakes and sandwiches at the many booths and free-standing tables, or who stop by to place orders for cakes and catering (a huge part of the Wright's Gourmet business). We were there on a weekday mid-afternoon, so there was not much of a queue (though the number of stanchions in place suggested that lunchtime lines must be very long). Our cashier was brusque but efficient, and the sandwiches came out to our table with surprising speed.
Price: $12.25 for the Turkey Club; same price for the Club.
THE LIBRARY
When the design-savvy owners of Tampa's Oxford Exchange opened The Library nearly four years ago on the Johns Hopkins Children's Hospital campus in St. Pete, they called it The Peabody, reflecting its design inspiration: the George Peabody Library at Johns Hopkins University in Baltimore.
Renamed The Library in 2019, it nods to the name with wood paneling, tall bookshelves lined with blue-covered volumes, and playful touches like delivering your check inside a book. But it's also a quintessential contemporary restaurant, filled with the buzz of conversation and flooded with light from two-story windows.
At lunch, which is when we've eaten there most, you will likely see more than a few doctors in scrubs among your fellow diners, giving the place the aura of a very high-end hospital cafeteria. But there'll be local foodies and culinary tourists there, too; when a restaurant's executive chef (Rachel Bennett) wins a James Beard nomination in only its first year of existence, word tends to get around.
Meats: The Library's Turkey Club is a turkey/ham combo, the same as the Club at Wright's Gourmet. The meats are tasty, though not as thickly carved or as plentiful as they are at Wright's. The bacon is thick-cut and superbly cooked.
Cheese: Swiss, and unlike Wright's, nicely melty.
Veggies: Bibb lettuce, bright red tomato and a bonus — avocado, adding to the textural variety. Plus, The Library's Club comes with an ample serving of crisp fries.
Bread: Without my stipulating, the sandwich came out as a club sandwich should — on white (or perhaps sourdough) toast. It was toasted maybe a shade darker than I like, but tasty just the same.
Freshness: The sandwich was served perfectly fresh and hot.
Flavor: A garlic aioli added a touch of piquancy.
Ambience/Service: As I've said, the indoor atmosphere is unique and fun, but we ate on the outdoor patio, which is a fine locale for fresh-air people-watching. Our server was affable and efficient. And I should add that my dining companions both had the spinach salad, which came with big hunks of chicken breast, dried cherries, goat cheese, carrots, apples, and pumpkin seeds in a lemon poppy seed vinaigrette. It was about the best version of a spinach salad I've ever tasted, and big enough to require a to-go box (so I got to enjoy it for lunch the next day).
Price: $17 for the Turkey Club w. fries; $19 for the salad.
And the Club that hit a hole-in-one was…
WRIGHT'S GOURMET HOUSE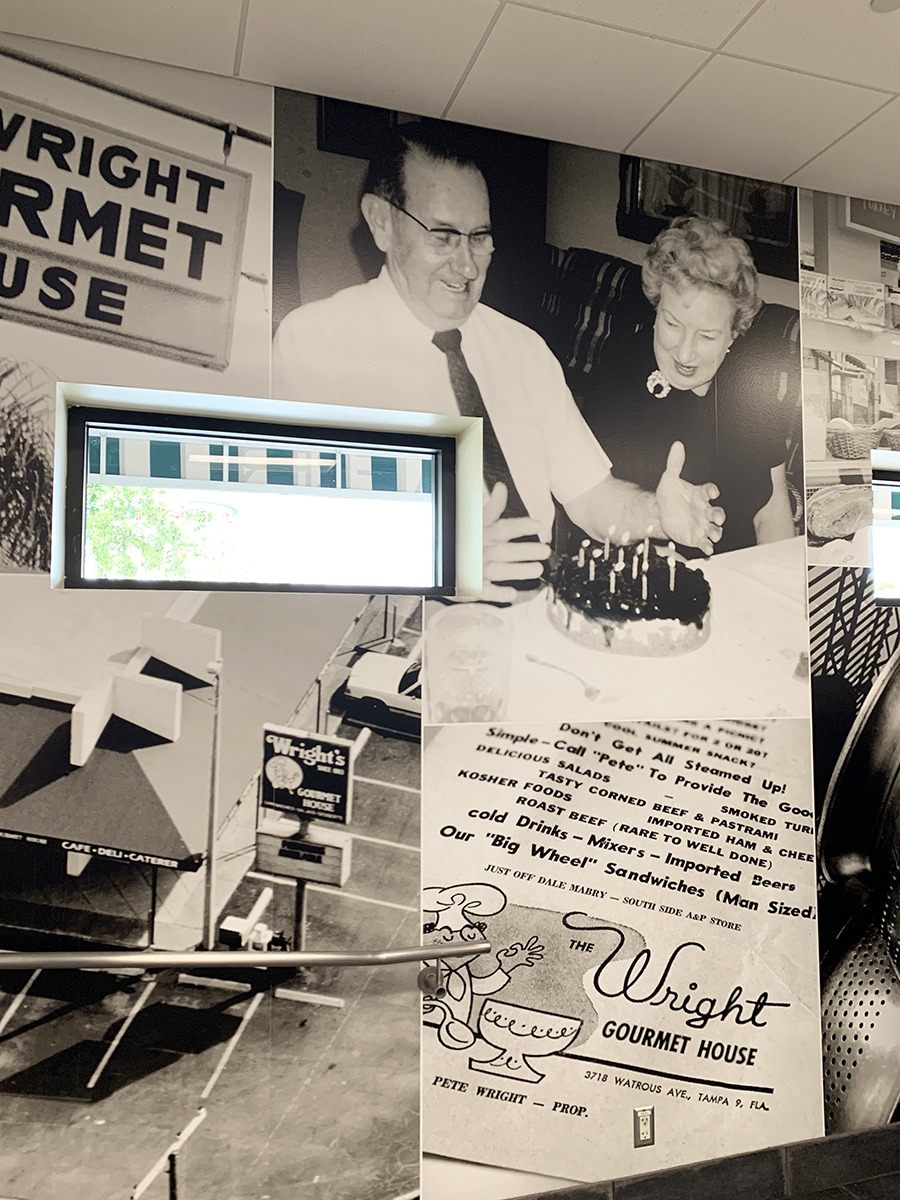 Believe me, The Library is a terrific restaurant that does just about everything right. But Wright's Gourmet House does the Turkey Club sandwich better. It's bigger, tastier (love that Pete's Mustard Sauce!) and a classic example of what a club sandwich should be. No, it didn't come with fries, but at almost five bucks cheaper than The Library's version, it's also a better deal.