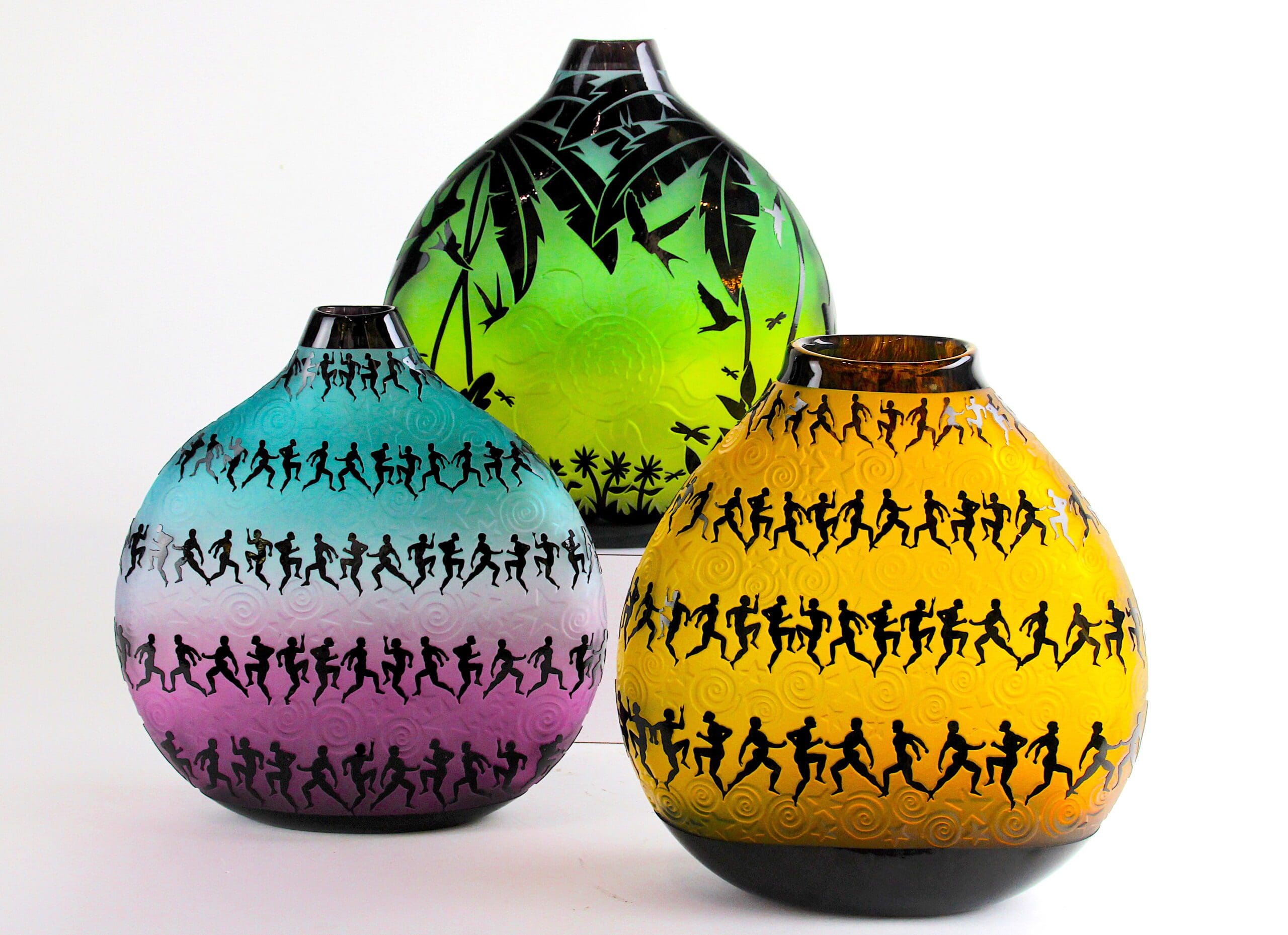 8 Museum Gift Shops & Gallery Hops in Tampa Bay
For the discerning gift giver, a museum shop or a gallery hop can yield great finds.
Seriously — you could finish up your entire holiday shopping list at area galleries and museums. Bonus: What you'll find there is much more likely to be unique and well-crafted than something dropped off by an Amazon drone. Here's a sampling of the treasures we found.
1. Florida CraftArt
501 Central Ave, St. Petersburg, flordacraftart.org
A nonprofit devoted to Florida artists in glass, ceramics, wood, fiber, and more, CraftArt runs a gallery on St. Pete's Central Avenue that's a browser's paradise. The annual Holiday Boutique exhibition is open now through Dec. 31, and on Nov. 23-24 craft artists from all over the nation will be selling their wares up and down Central during FCA's CraftArt Festival 2019. Mariel Bass glass bowls, $400-$600 each; David Calvin game table, $1,400; Art by Mele's PIGGY in wood, fiberglass, and resin, $87; William Kidd ceramic flora, $2,500.
2. The James Museum of Western & Wildlife Art
150 Central Ave., St. Petersburg, thejamesmuseum.org
Much has been made of Tom and Mary James's vast (if in some eyes controversial) collection of Western art, the stunning design of the museum by Yann Weymouth and its thought-provoking special exhibitions. But if you go, don't overlook the gift shop, where you can find pieces by some of the same contemporary Native American artisans represented in the museum's Jewel Box gallery. Sterling silver and coral bolo tie, $4,950, and belt buckle, $4,000, by Navajo artist Vernon Haskie, whose pieces are also found in the Jewel Box. Hand-thrown, hand-etched pots with turquoise accents by Eric Tafoya, $825 (left), and his aunt, Gwen Tafoya, $1,300, both from Santa Clara Pueblo. The museum opens a special exhibition of works by Santa Clara artist Helen Hardin on Dec. 21.
3. Morean Arts Center
719 Central Ave., St. Petersburg, moreanartscenter.org
There's so much to the Morean — the clay center, the glass studio, the Chihuly Collection — and the main HQ on Central. So that means there are ample gifting ideas, too. Arrange a glass-blowing session for you and a date or a private "blow" with 50 of your closest friends. Give a gift certificate for a class taught by a top local artist. Send the kids to art camp, where they can experience the joy of getting their hands dirty with no complaints from grownups. Or give the very special gift of a VIP Shopping Spree, new this year, in which guests hop a golf cart for stops at all of the Morean locations and treats along the way. Hot Date in the Hot Shop, $135 per couple ($125 for members). Art classes and camps' winter sessions begin in January, pricing varies. Call for info on enrollment, gift cards, private glass-blowing sessions, and the VIP spree at 727-822-7872.
4. The Dalì Museum 
1 Dali Blvd., St. Petersburg, thedali.org
It'd be a shame not to ascend the spiral staircase to see the amazements in The Dali's collection of works by the world's most infamous Surrealist (and the new Midnight in Paris: Surrealism at the Crossroads exhibition), but you could be forgiven for being sidetracked by the museum store. Exquisite reproductions of Dalì's own jewelry designs, pieces by similarly inspired contemporary artists, and even a line of Dalì-created fragrances in bottles whose shapes echo his paintings are among the store's multiple enticements. Ruby Lips Pin: Ruby red Austrian crystals and faux white pearls set in gold plated brass, a 1949 Dalì design inspired by Mae West, $250. Eye of Time Pin/Watch: Sterling silver set with cubic zirconium, the most celebrated of Dalì's jewelry designs can be worn as brooch or pendant, $495. Sculpted wire and glass jewelry by Paris designer Sandrine Girard, $195.
5. Duncan McClellan Gallery
 2342 Emerson Ave. S., St. Petersburg, dmglass.com
The man who pretty much single-handedly jump-started the glass art scene in St. Petersburg, Duncan McClellan is a master of the medium. His sprawling Warehouse Arts District gallery/hot shop is ablaze with wonders of his own creation and works by other renowned artists, and his bowls and vases are among the most coveted gifts on anyone's list. Hand-blown glass vases with sandcarved overlays by Duncan McClellan, 10-12" high and 8-10" wide, $950.
6. ARTicles Art Gallery
1445 Central Avenue, St. Petersburg, articlesstpete.com
Leslie Curran's indispensable EDGE District gallery is chockablock with top-tier artists, including Nathan Beard, Akiko Kotani, Steven Kenny, and Carol Mickett & Robert Stackhouse. Two in particular create work that seems uniquely well-suited to gift-giving: Sarah Hull, whose aerial-view seashore scenes incorporate nautical hues without lapsing into hotel-art territory, and Irina Moldovan, whose gold-leaf checkerboard-patterned paintings glow so richly you won't even have to wrap them up. Gold leaf paintings by Irina Moldovan in a variety of sizes, $300-$1,800. Altitude series by Sarah Hull, Elevations no. 77 ($2,500) & 86 ($4,000).
7. Tampa Museum of Art
120 W. Gasparilla Plaza, Tampa, tampamuseum.org
The Tampa Museum is turning 100 next year (yep, 100, through various names and incarnations), so it seems apt that the featured item in their sleek, chic gift shop this season is something from another venerable institution, the slightly younger (by nine years) Museum of Modern Art in NYC. MoMA's famous design store is the source for a new line of fanciful glass trees, each lit from within by strings of tiny battery-operated LED lights. LED-lighted trees, in various sizes and colors, $25-$40 each.
8. Dunedin Fine Art Center
1143 Michigan Blvd., Dunedin, dfac.org
There's a riot of arts activity happening on any given week at this multi-faceted, multi-campus center, including a raft of classes for all ages, from calligraphy to clay, from fiber arts to food arts — and you can give gift certificates to all of them. The Gallery Gift Shop at the Michigan Boulevard campus carries juried works by more than 100 locally, nationally and internationally known artists, including DFAC faculty. And when it comes to DFAC's excellently curated exhibitions, serious collectors can literally take home the work that's on the gallery walls (as long as they wait till the show's over) — like the extraordinarily detailed figures in the current show, Holly Wilson: On Turtle's Back (through 12/24/19), an enthralling mixed-media installation that explores notions of family and recalls the elongated figures of Giacometti. Pictured (from Holly Wilson: On Turtle's Back): "Bloodline," bronze, patina and locust, $120,000.