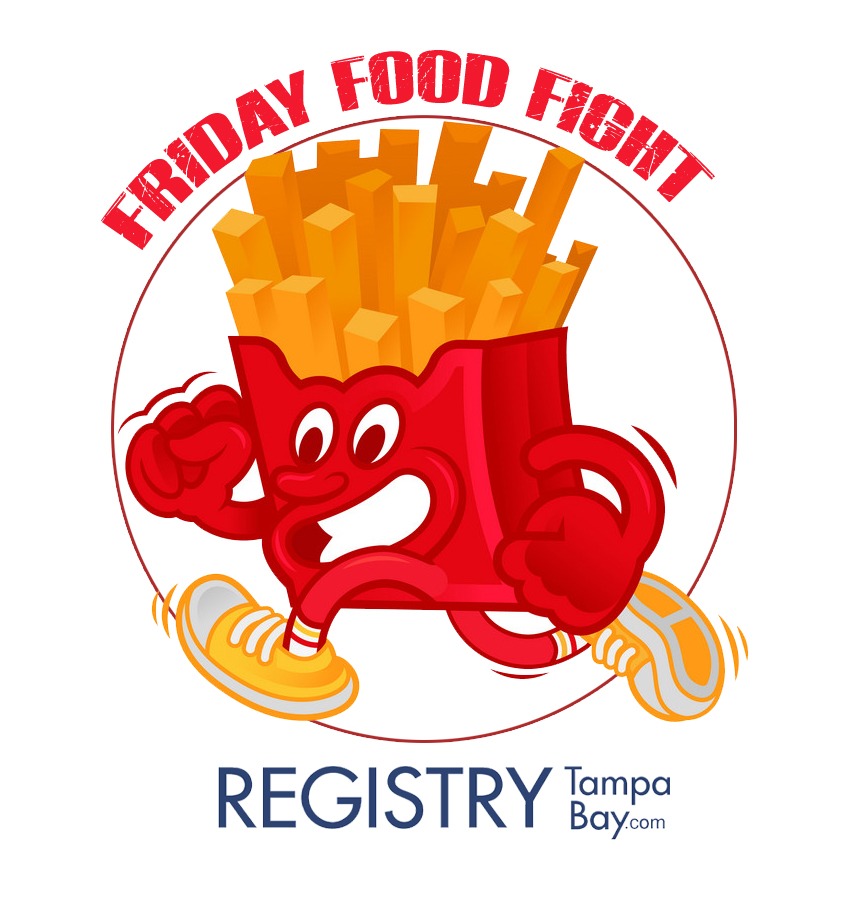 Two iconic eateries, two iconic sandwiches. Which does the best Chicago dog and Italian beef?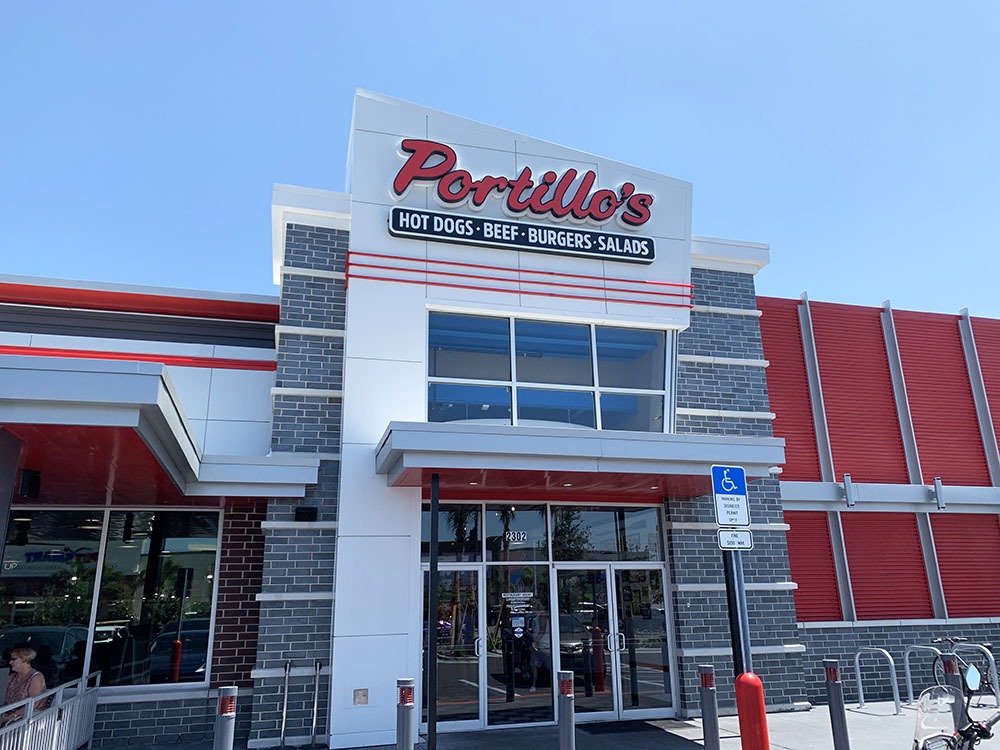 When news broke that Portillo's was finally coming to St. Petersburg (following openings in Brandon and Tampa in 2016), fans of the Chicago-based chain went wild, as the drive-thru lines demonstrated when the restaurant opened adjacent to Tyrone Square Mall earlier this month. The chain, which began life as "The Dog House" in 1963 in a small trailer in the Chicago 'burbs, was later renamed for its founder, Dick Portillo, and now has more than 60 locations across the country.
Mel's Hot Dogs is as much an institution in Tampa as Portillo's is in Chicago. Owned and operated by Mel Lohn and family since 1973, it's a destination for locals and visitors alike — a culinary landmark that's so close to Busch Gardens that you can see the amusement park's roller-coasters from its parking lot.
Both Portillo's and Mel's are known for one iconic sandwich: the Chicago-style hot dog. Lohn, a Chicagoland transplant and former musician, couldn't find a restaurant serving hot dogs in Tampa when he was touring Florida with a rock band in the early '70s, so he teamed up with a friend and opened one. Mel's has remained family-owned and operated ever since.
What makes a hot dog "Chicago-style"? Well, the baseline is that it's gotta be made by the Chicago-based manufacturer Vienna Beef — the brand both Portillo's and Mel's boast about using. Then there's the poppy seed bun (steamed) and the very specific mix of piled-on condiments: yellow mustard, onions, relish, pickle, tomatoes, celery salt and hot sport peppers. Portillo's, being from Chicago, calls their version, simply, "Hot Dog," while Mel's makes sure to call theirs the "Chicago Style Hot Dog" to distinguish it from the 14 other hot dog styles on their menu.
But neither Portillo's nor Mel's (despite its name) is a dogs-only place. They both do Italian sausages, chili, tamales, burgers and chicken sandwiches, and Portillo's also does salads, pasta and ribs. And… they both have to do the Italian beef sandwich, or as Mel's calls it, Chicago Beef. Their versions differ slightly: Mel's uses a steamed hoagie roll and Portillo's uses French bread, but the two most essential ingredients, besides the thinly sliced roast beef, are the "jus" ( the broth made from the beef's juices) and the "giardiniera" — the spicy mix of peppers, carrot and celery bits the sandwich is topped with.
The Ambience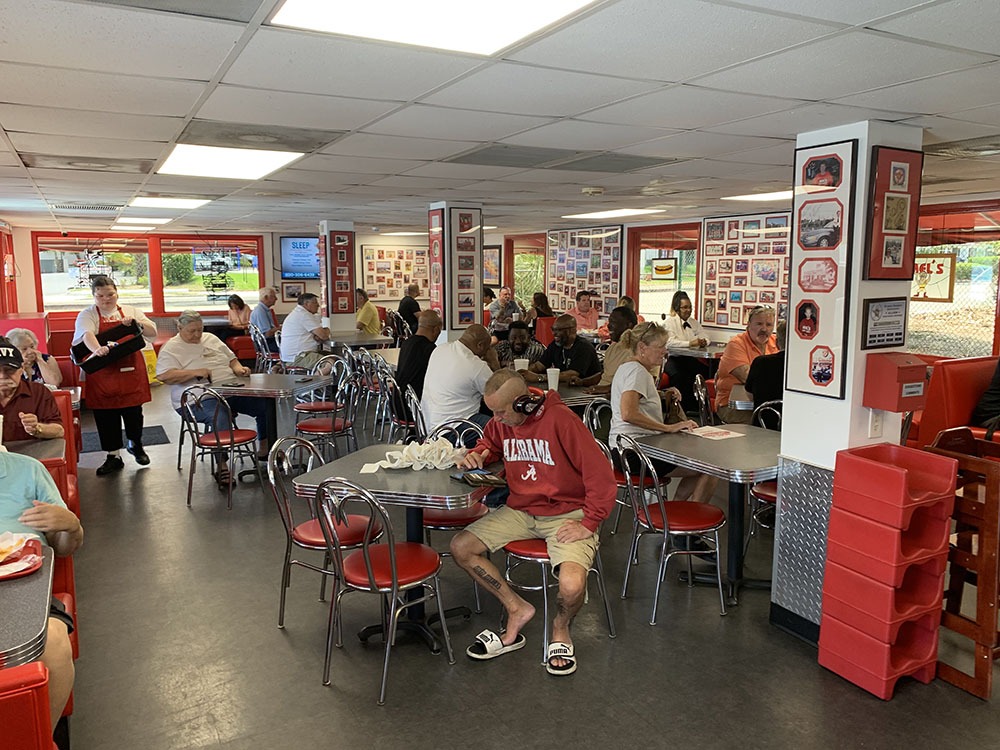 Mel's may be next door to an amusement park, but it's got a homey neighborhood vibe and a sense of lived history: newspaper clips and framed photos of customers and family on the walls, red vinyl booths and Formica tabletops, and lots of hot dog-shaped neon signage.
You place your order at the counter (there'll usually be a line), then wait (and wait) to hear your name called, and the counter folks will hand over your food with a big smile.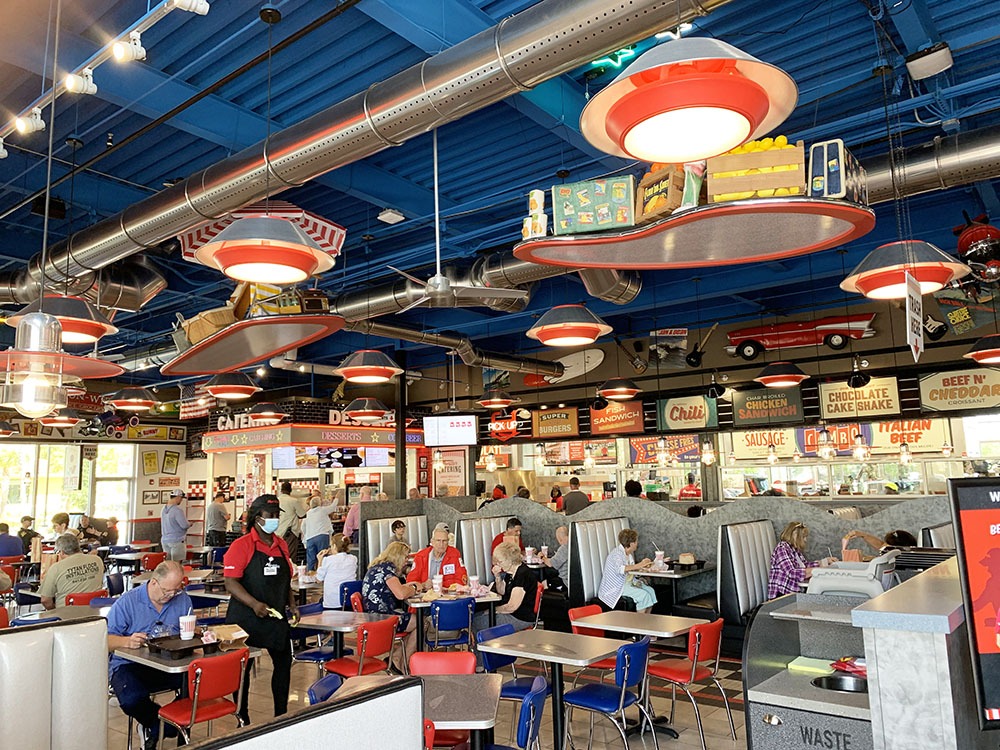 Portillo's, on the other hand, feels like an amusement park itself, kind of the big corporate equivalent of Mel's. It's a carnival of color and noise — think 1950s Florida diner on steroids, with tall booths, lots of tables indoors and out, a riot of signage and memorabilia and stacks of chocolate cakes and giardiniera bottles to take home.
The lines are long (especially in the drive-thru), but the process is efficient. Here, when the order is ready, you wait to hear your number, not your name – but on the day we visited, the caller gave each number a personal touch by adding a rhyme, as in "3-4-zero, you're my hero!"
The Dogs
Bite into a hot dog at either Portillo's or Mel's and you know immediately why they both use Vienna Beef — its dogs have just the right degree of snap. Both restaurants' Chicago dogs are deliciously "dragged through the garden," as the saying goes in Chicagoland, and both benefit by the piquant taste of celery salt and poppyseed buns.
The top dog?
For whatever reason, the hot dog at Mel's was more flavorful than Portillo's, with a spicy depth that sang out amidst all the ingredients of "the garden."
The Beefs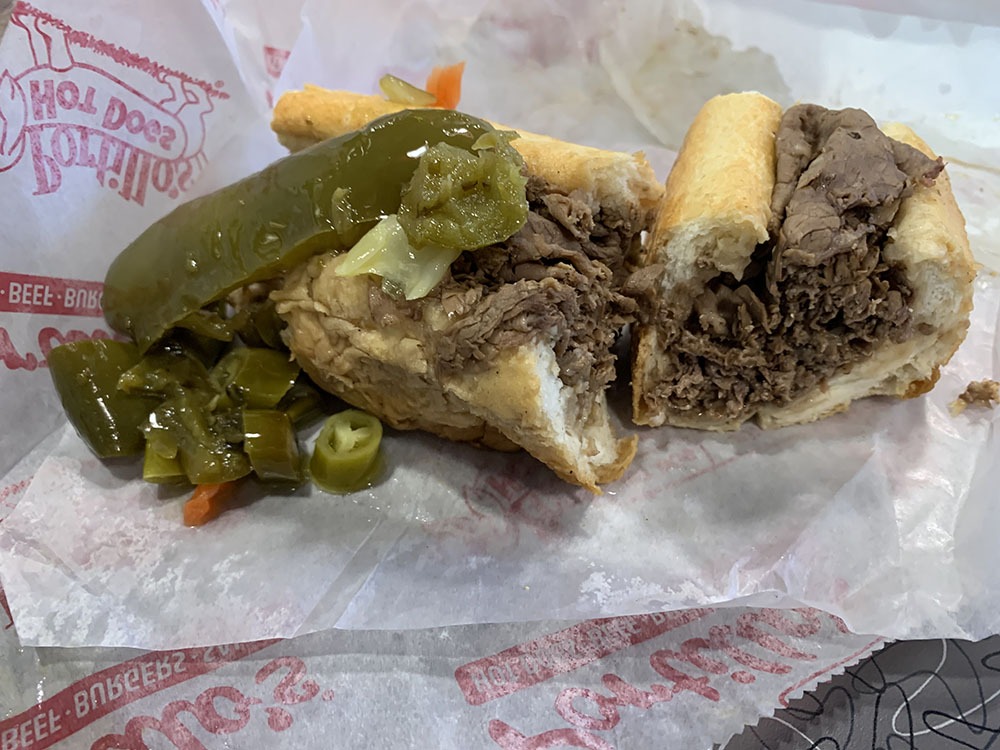 The Italian beef sandwiches at the two establishments also mirror one another, with one distinction: Portillo's offers four variations on its "Standard (Slightly Wet)" version: Dipped, Extra Gravy, Extra Dipped or Dry (to which I would say "Why?"), or you can opt for gravy on the side. At Mel's, a side of gravy arrived along with the sandwich without me having to ask for it. The giardiniera came on the side, too.
The tastiest Italian?
This one was close. I give a slight edge to Mel's for serving a side of jus without my having to ask for it, but since that's an option at Portillo's I give them the benefit of the doubt. I preferred Mel's steamed hoagie roll to the French bread at Portillo's, because — unlike, say a Philly cheesesteak, where you want the bun to maintain its holding power — part of the joy of an Italian beef is that the beef juices and all those veggies turn the whole sandwich, bread and all, into a delectable mush. Which is what happened with both of these beefs, but Mel's was somehow delectabler.
The Fries
I'm a fan of crinkle cut fries, which is what's served at Portillo's in a generous portion. But…
The hottest potatoes?
… the standard-cut fries at Mel's — crisp and hot, with a fresher potato flavor — were so good we couldn't stop eating them.

And the winner is…
Don't get me wrong, I would gladly return to Portillo's — it's a whole lot of fun, and I understand why people were excited about this Midwestern contender coming to town. But fact is, Tampa already has the Chicago market cornered. Our Chicago dog/Italian beef champion is…
MEL'S HOT DOGS