Plus cats, and a flying pig: Dunedin Artist Anna Hamilton Fields explains
The mural on the side of Skip's Bar in downtown Dunedin wasn't always an homage to man's best friends. It used to be a "regular mural," says artist Anna Hamilton Fields, one that featured imagery typically associated with Dunedin: the Pinellas Trail, the marina, a bagpiper (in recognition of the town's Scottish heritage).
But in 2009, the wall started cracking at about the same time the economy did, so Anna got together with bar owner Skip French to figure out a way to raise money for a new wall and a new mural. Inspired by their mutual love of dogs, Anna came up with a plan to keep the mural funded and to make it a community fundraiser for Dunedin Doggie Rescue, from which they both had adopted pets.
Anna started out in 2010 with just three dogs as her subjects, plus a sign inviting people to make a donation to get their pets included on the mural, too.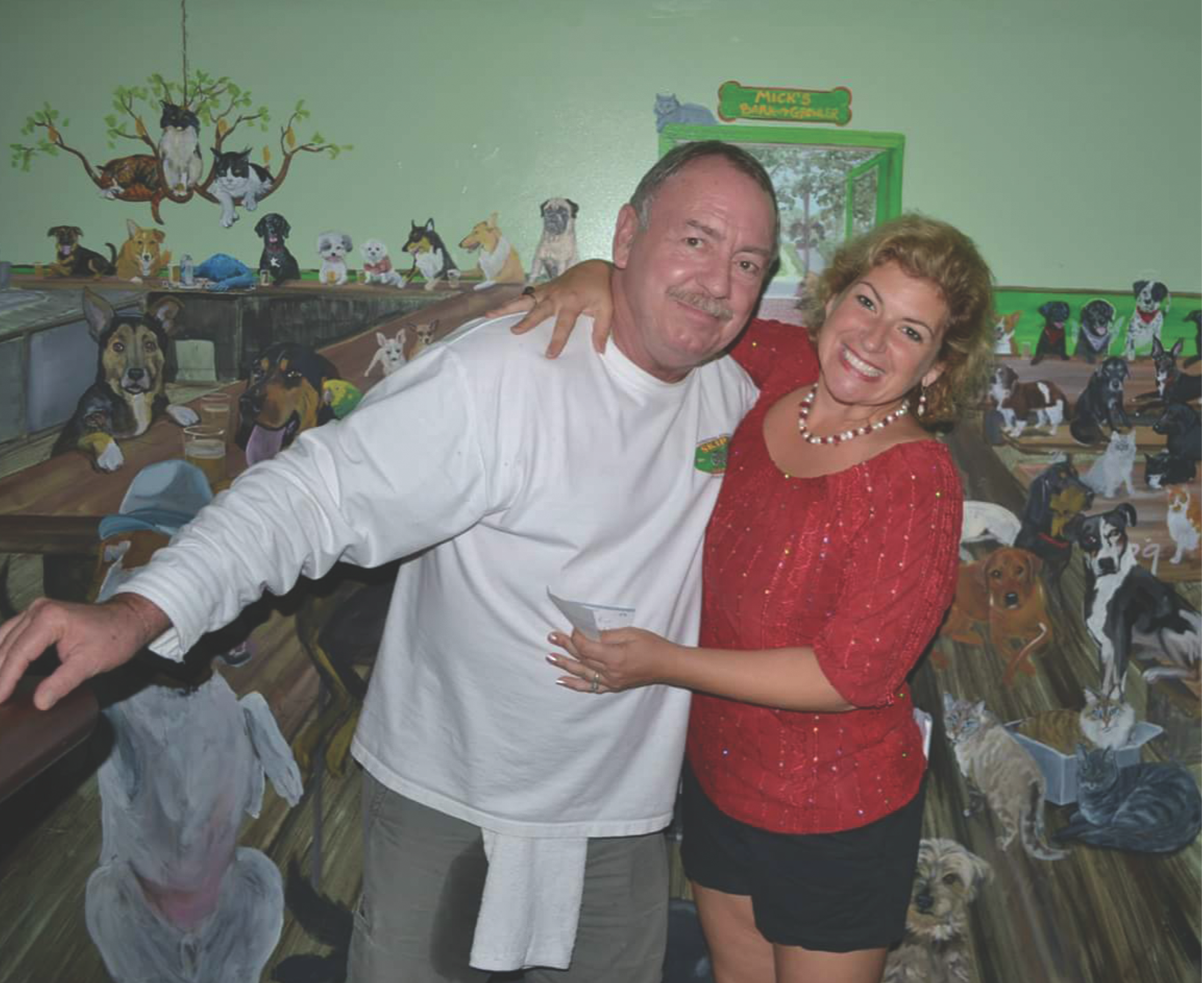 Now the wall is crowded with well over 1,000 animals, using photos provided by owners. And not just dogs: Cats got in on the action, too, as did a handsome pet pig (perhaps jealous of the mural's now-famous banner, "Welcome to Dogedin").
Now that the mural's been up eight years, some of its subjects, inevitably, are no longer with us. "I see it all the time," says Anna. "People take pictures of their dogs that have passed."
Although she has stopped adding dogs to the Dogedin wall, she hasn't stopped making murals. She began a nonprofit, Murals for Mutts, to continue raising money for pet rescue, spaying and neutering, and her dogs now occupy, among other places, the "House of Dogs" mural at the Dunedin House of Beer; Christie's Coastal Properties in Dunedin, where their habitat changes with the seasons; and Gaspar's Grotto in Ybor City, where they sail aboard a pirate ship.
Anna is good friends with Dunedin's other famous muralist, Steve Spathelf, who's responsible for the town's ubiquitous oranges (inspired by the labels on vintage citrus crates). Both have done murals on many other subjects, but their identity is forever fixed. "People will say there's the orange guy and the dog lady," she says.
Which is ironic, considering that Ann's first love is cats.
"If I didn't have a husband I'd probably have 20 cats," she says. "We're at the five-cat limit."
That's right. The doyenne of Dogedin is really — a cat lady. Don't tell your dog.