Interview: Artists Carol Mickett & Robert Stackhouse on their new show, "Expanding Waters"
When I visit the Tarpon Springs studio Carol Mickett shares with her husband and creative co-conspirator, Robert Stackhouse, ice cube trays are everywhere — the old-school metal kind, with levers to pop out the cubes. They're on a table, in sketches, in a painting hanging on the wall, and they figure prominently in the creative duo's latest installation, "Expanding Waters," at the Creative Pinellas galleries in Largo through June 13.
The trays, Mickett tells me, serve "as a symbol of mitigation," and as we walk through the studio together we talk about the themes underlying every artistic scrap we see: water and climate change.
The paintings lining the walls and a massive walk-through aluminum-and-paper sculpture called Breath of Influence will address global concerns about warming seas. In the gallery, the installation will merge environmental themes with the performing, literary and visual arts.
Paintings of gnarled live oaks and red mangroves with tangled roots will exist side by side with those metal ice cube trays. As carbon dioxide warms our oceans and bays, those knurled branches and tangled pneumatophores work, hidden in plain sight, to cool our waters.
"One of the things art can do is it can make the invisible visible," Mickett says. "Expanding Waters" hopes to illuminate not only the problems of climate change but a path toward healing.
The follow are excerpts from my conversation with the two artists.
What people will see first when they move through the gallery is the painting "First Moon" and the installation "Breath of Influence." Its title is similar to that of other installations you've created, like "Breath of Cypress Moon." Why did you choose "Influence" for this work?
CM: For one, the moon is an influencer. It influences the tide…
RS: …it influences our language.
CM: The moon, in this installation, is looking out over everything. It's casting light, and in that way it influences. Also, the paper in the installation moves, like the breath, and that's an influencer. It influences the environment; perhaps subtly, but it's there.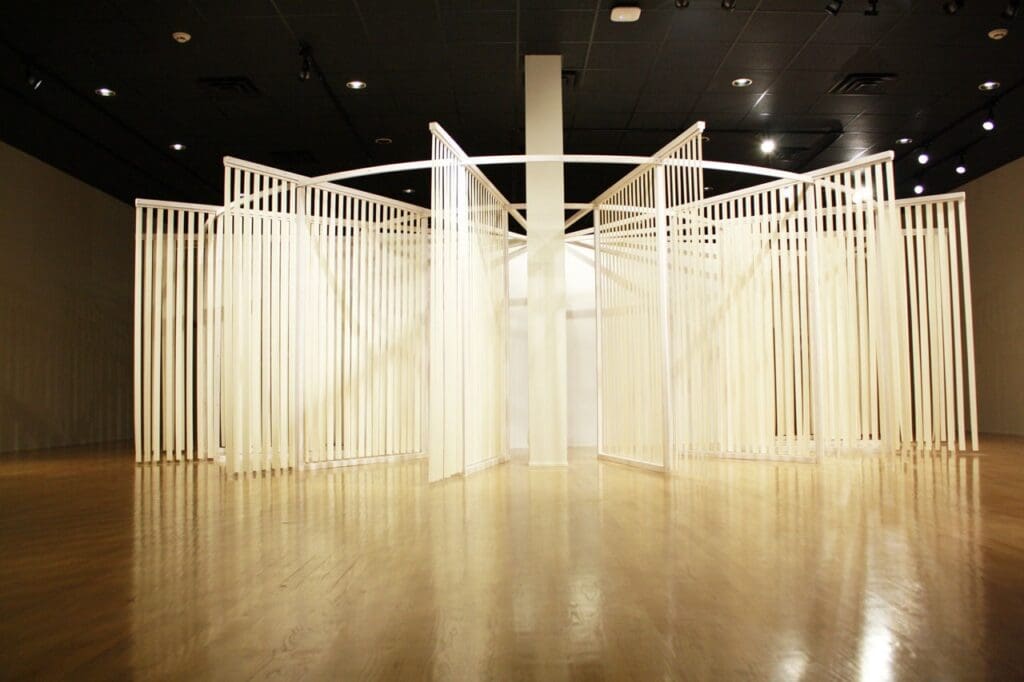 Talk about the Shakespeare component being provided by Tarpon director Dee O'Brien and her actors.
RS: Having Shakespeare spoken to the sculpture itself, as if it's a player [is important] – it's not a proscenium and it's not a stage. We designed it to be a purposeful, freestanding piece of art.
How will the dancers – including Helen Hansen French and choreographer Paula Kramer – interact with Breath of Influence? 
CM: We're just providing them with a place and a context.
RS: We said to [Paula], "This is not a static stage." I know that they're going to deal with how to make the sculpture dance with them. They're not going to dance around it; they're going to dance with it.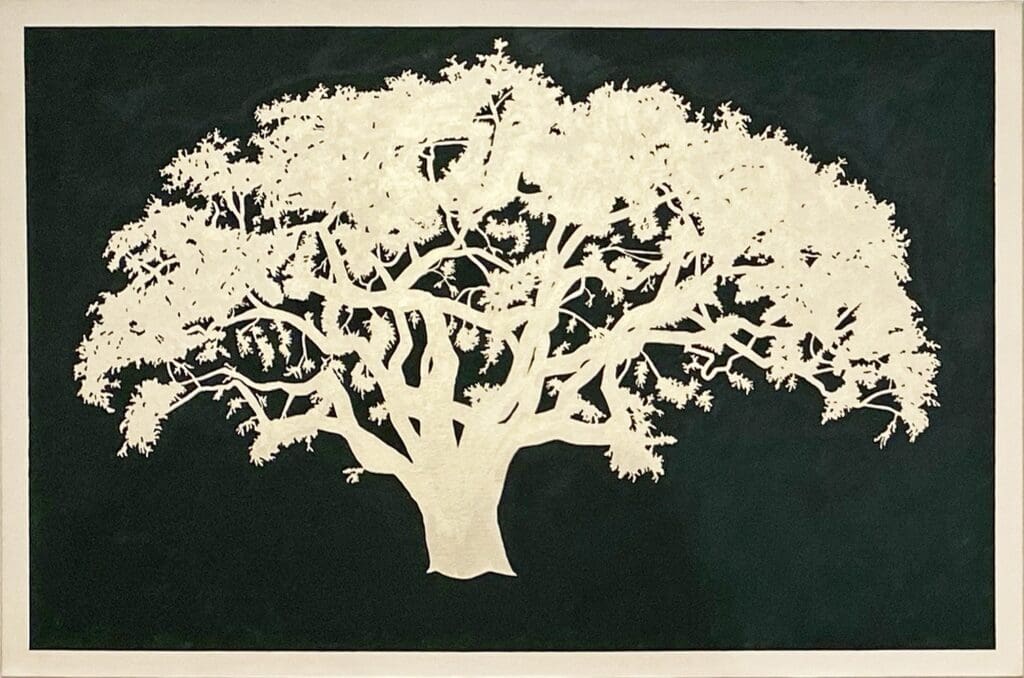 Red mangroves and live oaks both figure prominently in "Expanding Waters," although they both serve different functions in their respective ecosystems. What's the thread that connects the two trees?
CM: Basically, they help to reduce the warming of the planet. They're here; they're ubiquitous. It's like your mom or your husband. Things that are familiar, you often forget how important they are. They contribute, both of them, to the betterment of our climate. They're grand absorbers of CO2; a mangrove forest will absorb more CO2 than the rainforest. They're to be honored. They're mitigators for our climate change.
The triptych Imbalance presents ideas of consequence and mitigation. How do the two feed each other?
CM: It's like when you see evidence of abuse, you want to do something to correct it. In the triptych, the sperm whale is being abused by the warming of the water and the imbalance of fire tells you that.
RS: The water is on fire; how is that? It's really not on fire; it's a metaphor.
CM: And the whale, which is a strange entity in the Gulf of Mexico. The ice cube tray is a boat..
RS: …maybe a lifeboat.
What do you hope the exhibit moves people to do?
CS: One, I hope they appreciate it as art and enjoy it. [But also] I hope that this provides an avenue for people to think about this, to think about what they can do, like plant a tree, or drive an electric car, or not run their air conditioning too much, and not to waste water and not to cut down their mangroves.
RS: We'll have a big sheet of paper where people can write or draw what they think about this.
Expanding Waters: Through June 13, The Gallery at Creative Pinellas, 12211 Walsingham Rd., Largo, creativepinellas.org.