Clothes have long been a challenge for me. When I lived up north, I couldn't find styles that I liked or sizes that fit me correctly. My favorite boutique in South Tampa was Apropos; I could find everything I wanted there. But after they closed last year I was heartbroken, and haven't shopped for clothes since.  
Enter Michelle Cappeli Gordon. Regular readers of duPont Registry Tampa Bay know her as the magazine's style and beauty editor, a post she's held since the spring.  I began following her on Instagram and Facebook to see her latest tips, and just as I was beginning to contemplate how to update my wardrobe for the fall, I saw a picture of Michelle on Instagram in a pair of beautiful pumpkin-colored pants and matching silk shirt. 
There's my answer, I thought: Call Michelle.
With over 30 years of experience, starting out as a licensed cosmetologist, Michelle began her journey in a salon. Wanting more, she went on to study art at the Australian National University, fell in love with New York City while attending the renowned FIT and graduated with a BA in Art History from SUNY. She has always wanted to learn and grow and has been entrenched in every facet of the fashion and beauty industry with various luxury brands.
Michelle currently has her own lifestyle brand, "Love Michelle Style," and she can help any busy working woman make over her wardrobe or her collection of make-up and creams. She has affiliate partnerships with thousands of retailers, and can create a style board with shoppable links to create your own personalized looks. So who better to seek out for style advice?
I invited Michelle to my house. She went through my closet and suggested two blouses she thought would look great with three skirts I hadn't worn in a long time, since I'd originally bought them to go with sweaters. By adding those two shirts, I now had five new outfits to wear.
Through Michelle's connections with clothing retailers, she was also able to find me several outfits to spruce up my fall wardrobe. And since I had the beauty expert on hand, I asked her advice about a skin care program for nighttime to complement my daytime regimen. She gave me several skincare samples to try and I ended up purchasing two of my favorites.
A month later I stopped by Michelle's house to see several outfits that she'd found for me from Jackie Z Style Co. in St. Petersburg to try on for the holiday season. One of my favorite designers, a brand that Apropos used to carry, is Frank Lyman, and she told me Jackie Z carried his designs as well.
One dress that caught my attention right away was a black cocktail dress that fit me perfectly and had a flare at the bottom, prompting me to spin around like a schoolgirl. The square neckline and grommet accents add a touch of sophistication, and the material is a sturdy yet comfortable fabric reminiscent of St. John Knits.   
Another combination that I loved was a pair of black stretch pants and a soft rose cashmere topper, worn off the shoulder, with tiny pearls accenting the edges. It is so feminine and classy, I can put it over anything as a cover or wear it as part of the outfit. Michelle said it comes in a plethora of colors. She also brought over an Escada Plisse Maxi Skirt in multiple colors with fluid pleats and a holiday-accented sweater.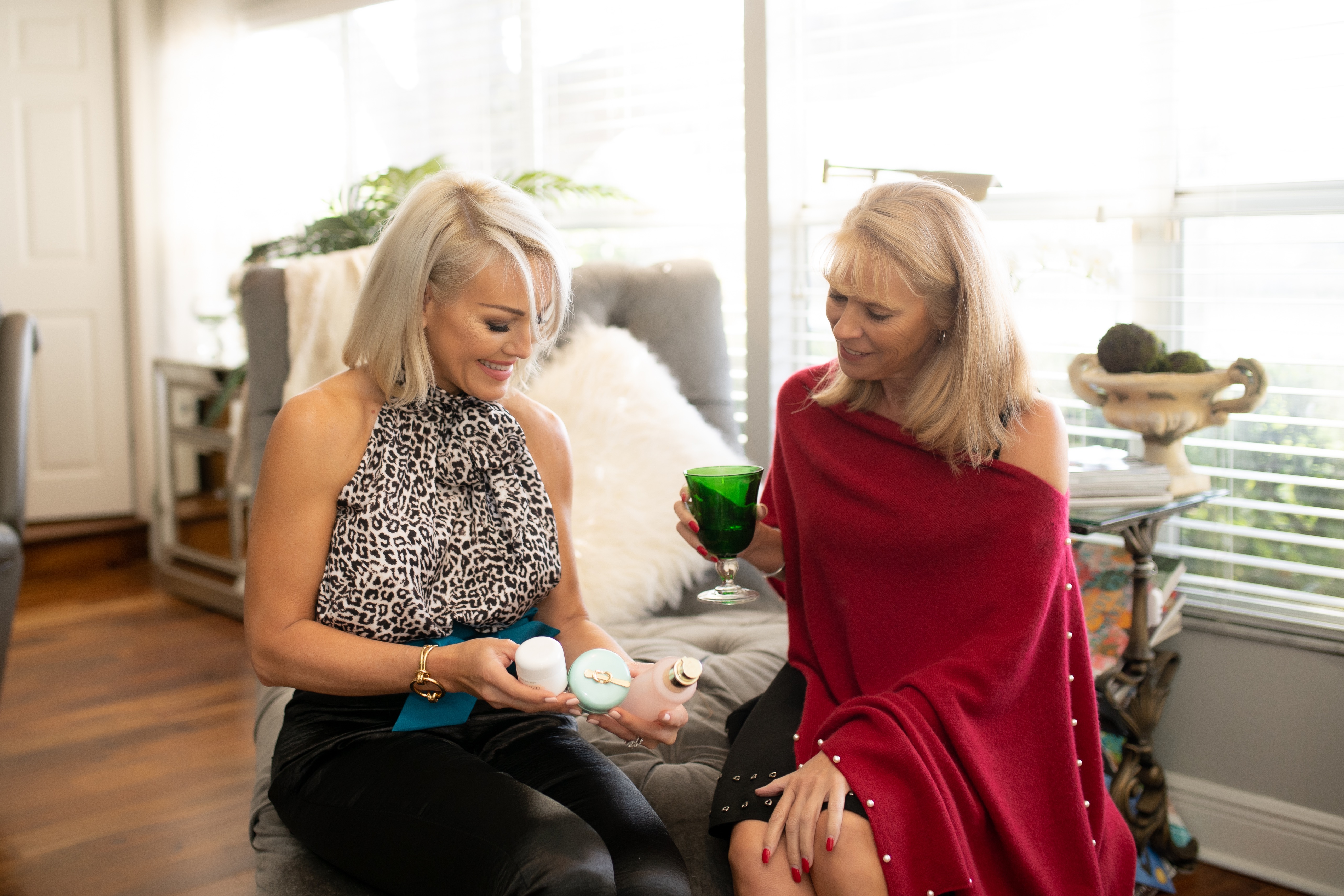 I already knew Michelle was expert at reporting on fashion, but after spending time with her I realized that her wealth of experience also makes her the ideal personal stylist and beauty consultant. I was so excited to have all my questions answered by one person.
For the holiday season, I recommend booking a few hours of Michelle's consulting time to get yourself set up for your best you.
www.lovemichellestyle.com, Facebook & Instagram @michellecappelligordon