K is for Kitchens: Home cooking never looked so good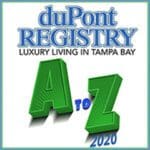 This year's A to Z Issue celebrates people and businesses who have been successfully riding the turbulent waves of change and offering service and hope to the community at large. The print edition will be out later this month, but we're teasing the content online, one letter at a time.
Cooking at home a lot more? Why not make your kitchen as beautiful and efficient as possible? Thankfully, there are local businesses that are able and willing to help.
Londos Fine Cabinetry in Largo offers designs in Modern, Transitional and Traditional styles, from the gleaming expanse of white and glass in an ultra-modern home on Snell Isle to the subtle silver and taupe of a kitchen on Crescent Lake.
At J&B Fine Cabinetry, the design team maps out the process for remodeling or creating a new kitchen from budgeting to installation, with results that can be as sleek and shiny or as warm and welcoming as the client wishes. With roots in Tampa Bay since 1983 and showrooms in Tampa and St. Pete, they give back to their communities by donating reusable cabinetry to Habitat for Humanity.
The folks at JAMCO Unlimited, a family business in Safety Harbor, call themselves bath and kitchen magicians, and judging by the multiple awards they've won from Houzz and the National Association of the Remodeling Industry, they've made plenty of magic. Plus, they're upfront with customers about the potential vagaries of supply chains and permitting during these uncertain times, and help clients maintain social distance through online tools that allow them to manage and receive support for their projects remotely.
Next: L is for Landscaping: Nature's beauty at the Pier and at home