L is for Landscaping: Your yard needs help from these guys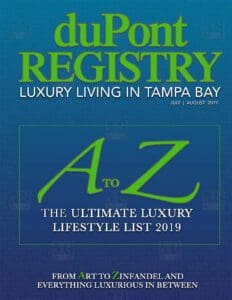 A to Z: The Ultimate Luxury Lifestyles List is duPont Registry Tampa Bay's annual compendium of the best our region has to offer. Each year we choose a different set of categories and then select businesses that are top-of-the-line in each category. This year: Art to Zinfandel (and everything luxurious in between).
When it comes to landscaping in Tampa Bay's challenging climate, you either go big or go home — or both. Phil Graham Landscape Design has had a hand in too many big public projects to mention here, from the Harborwalk at USF St. Pete to the RiverWalk in Tampa, but the firm also applies its expertise to private homes and estates. For dramatic tableaux, gemoetric precision and lush tropical plantings, The Argentine Group's design work is without peer. And Practical Gardening Services, Inc. in northern Pinellas does it all, from arbor construction to xeriscaping to everything in between.
Previous Post
Next Post