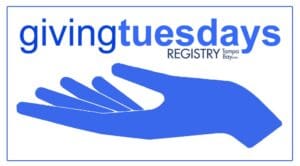 The TV-themed event will bring guests together in person on Saturday to help JHACH's Center for Behavioral Health.
We're baaack! The charity fundraising season is in full bloom again, and after years of Zoom-a-thons and party-pak dropoffs, you can feel the excitement in the air as people gather at live-and-in-person events for the first time in many months.
In this context, "A Night for All Children," this Saturday's fundraiser for the Johns Hopkins All Children's Hospital Foundation, will tap right into the zeitgeist: The theme is "Live! From St. Pete!"
"A Night for All Children" (ANFAC) is the marriage of two events: the Guild Evening Branch Charity Ball, which celebrated its 89th year in 2020, and the Foundation's VIP Auction, which celebrated its 31st year in 2019. In 2021, the Foundation and the Guild combined the two events into one to continue the legacy of community outreach and generosity in a new form.
"The first ANFAC was last year," explains Connie Guinn, the foundation's senior director of donor engagement. "Due to COVID, we went with a virtual format of the event." But this year, ANFAC invites guests to gather in person under tents on Johns Hopkins's St. Pete campus, hence "Live! From St. Pete!" If that catchphrase reminds you of a certain long-running Saturday night TV program, it's no accident: The party theme, cleverly enough, is also a celebration of iconic television shows.
The décor (by Fuel Four) will include a "Cheers" bar, a "Friends Central Perk" setting and a "Gilligan's Desserted Island" (for post-event dessert). The program will follow a "talk show" format, says Guinn, "complete with Johnny Carson desk and chairs." Joe Girvan (the high-energy auctioneer of Alpert Enterprises fame ) will be the talk show host.
TV-themed costumes are encouraged. "Rumor on the street," says Guinn, "is that we are expected to see some Golden Girls, Vanna White/Pat Sajak, the Gilligan's Island cast and Knight Rider." But don't worry; if costumes aren't your jam, cocktail attire is fine.
The live auction also features a nifty TV tie-in — aptly enough, a "Live from New York! It's Saturday Night!" package featuring two tickets to a live SNL broadcast, a 3-night hotel stay and round trip airline tickets. Another live item, "The Ultimate Date Night," sounds like one of those dream dates you see on The Bachelor: It includes a 14 karat white gold diamond cuff bracelet, dinner for two at Sola Bistro and Wine Bar, six bottles of Storica Armenian wine, and a nanny service to take care of the kids.
Maybe The Food Network would be interested in this live auction item: A Slice Above: A Private Culinary Experience at the home of Emily and Tash Elwyn, CEO of Raymond James & Associates, with the host and JHACH doctors doing kitchen duty as your pizza chefs.
The silent auction is full of goodies, too, including: a Tom Brady Autographed NFL Replica Speed Helmet; "Friends" and "Golden Girls" themed gift baskets; fine jewelry; weekend getaways; golf packages; and an item that's sure to be popular, a week's stay at a beautifully renovated apartment in Florence, Italy.
To register for the silent and/or live auctions, go to https://one.bidpal.net/anightforallchildren/welcome.
Speakers on Saturday night will include Alicia Schulhof, the president of Johns Hopkins All Children's Hospital, who will share a David Letterman-style Top 5 list of "Reasons Why JHACH is the #1 Hospital in Florida." Foundation Executive VP Jenine Rabin will talk about the importance of the event as a fundraiser for the hospital's Center for Behavioral Health, which provides pediatric mental health support for such specialized disciplines as eating disorders, gender-affirming care, autism and OCD/ADHD. The "star" of the evening will be Center patient Alan Cruz, whose story will be told in a five-minute video. The fundraising goal, says Guinn, is $450,000. (Past events have raised $250,000-$500,000.) Event co-chairs are long-time Guild members/volunteers Sandy Moss and Janis Weber.
Tickets to "A Night for All Children: Live! From St. Pete!" can no longer be purchased online, but you can check for availability by emailing achfoundationevents@jhmi.edu.