See this swoopy, all-electric super-sedan wafting stealthily down the street and you'd be forgiven for thinking it was some crazy, futuristic auto show concept.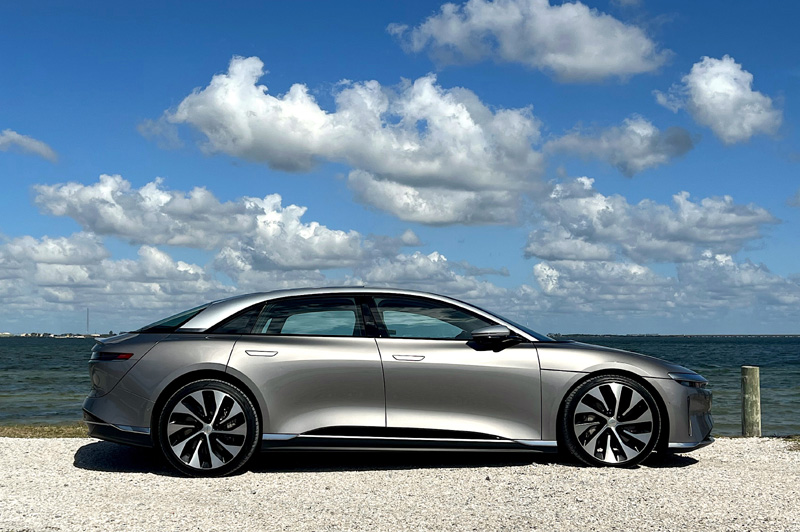 Or an extra from Blade Runner 2049 with a grizzled Harrison Ford behind the wheel.
That gorgeous, sweeping arc of its all-glass roof. The towering waistline with more taut, tense muscles than Seabiscuit in his prime. The cool laser light-show from its wafer-thin LEDs every time you get close. Jaw-dropping doesn't come close.
This is the Lucid Air, the first-born of Silicon Valley start-up Lucid Motors, run by a Brit who engineered the Tesla Model S for Elon, with production slowly ramping-up at Lucid's Casa Grande factory in Arizona. 
Currently, Lucid offers four, soon to be five, versions of the Model S-sized Air. The range kicks off with the 480-hp Pure at $87,400, soaring to the upcoming Air Sapphire, with an insane 1,200-plus horsepower and quarter-of-a-million sticker.
I've just spent a perspective-changing week with the mid-range Air Grand Touring, priced at $138,000, and with two quite-astonishing numbers.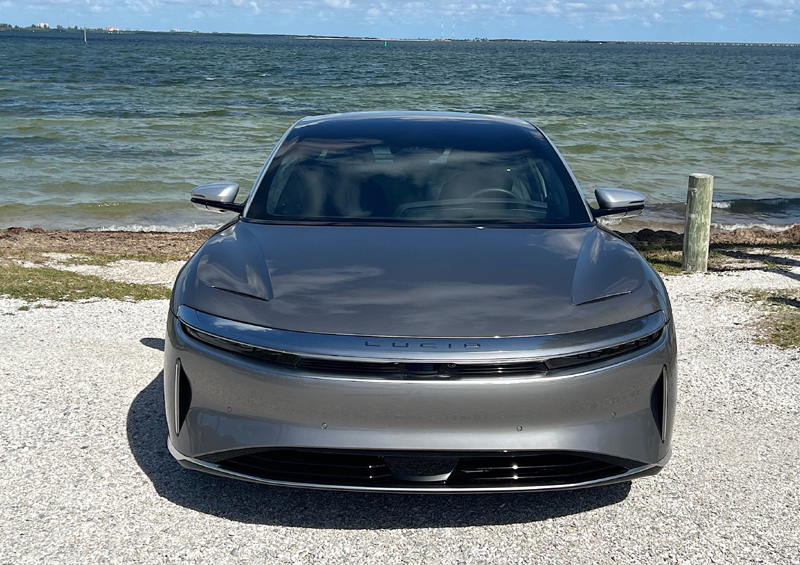 The first, 819, is the horsepower from its dual electric motors which can, when pressed, deliver standstill to 60mph acceleration in a wild 3.0 seconds.
Then there's 516. Which is the number of miles the Air can breeze along between charges, and currently the longest of any electric car. Range anxiety. What range anxiety? 
Inside it's as Jetson-esque as the exterior. With the entire roof being one vast piece of tinted, curved glass, it feels like you're sitting in a huge bubble. 
But beware; despite the tinting and metallic coating designed to reflect the heat, Florida-style sunshine will have you sweating like a polar bear in a sauna. 
More wow-factors include a dashboard dominated by a stunning 34-inch, floating curved glass display. Plus an iPad-like tablet in the center console that disappears at the touch of the screen to reveal a secret storage compartment.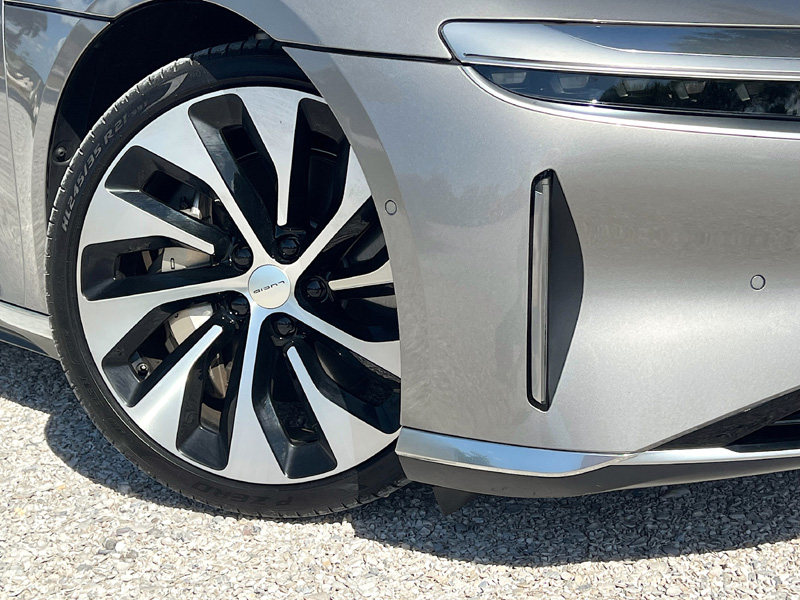 And the materials used are Scan-Design-cool with a contemporary mix of leathers, linens and suede-like Alcantara accented by open-pore matte wood. And when was the last time you saw front seats a different color than those in the back?
Talking of the back, there's Merc S-Class legroom back here and a perfectly flat floor to add to the feeling of space.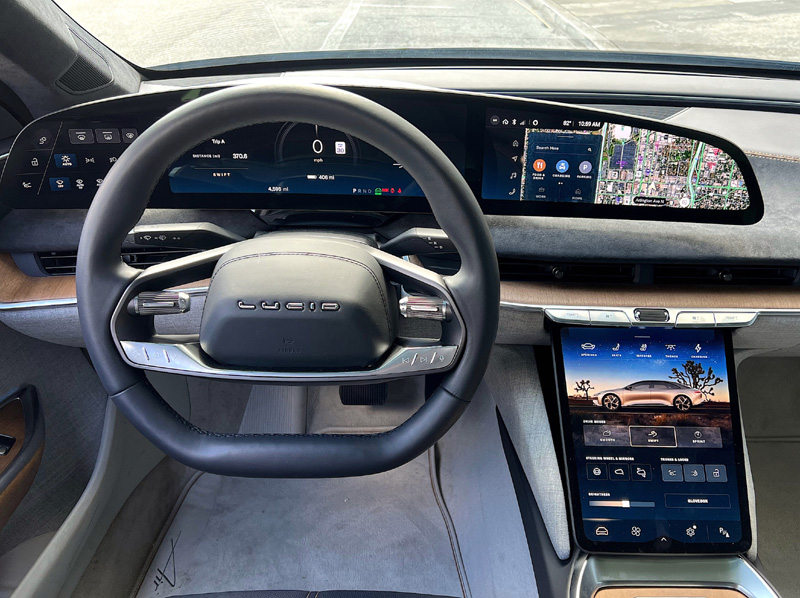 Those rear seats can also fold to add to the trunk space which is reached via a trunk opening that's weirdly wide and narrow. Need more bag space? Pop the 'frunk' up front and it's as big as a bath tub.
On the road, this Grand Touring Air makes a sensational, high-luxury sporting sedan. Naturally, it's whisper-quiet at anything other than low speeds when the background whine from the motors intrudes. 
Squeeze the throttle however, and it's all mind-warping, rock-out-of-a-catapult, Beam-Me-Up-Scotty thrust. 
Despite its 5,200-pound weight, show it a curve and the Air will scythe around like its running on invisible rails, with massive grip from the 21-inch rubberware, and laser-like precision from the steering.
And you can choose between three levels of electrical excitement. 'Comfort' provides a smooth, magic-carpet-like ride; 'Swift' offers more volts and firmer suspension; while 'Sprint' unleashes the Kraken and all 819 horseys.
But what about all those stories of so-so reliability, irritating software glitches and sketchy customer support? 
Full disclosure here; during my week with the car, it locked me out, with the key inside, requiring a call to tech support for a remote unlock. 
Two days later it refused to come out of Park and into Drive, requiring a 55-minute software update that thankfully solved the issue. Remember, Tesla had the same kind of glitches with its Model S circa. 2013.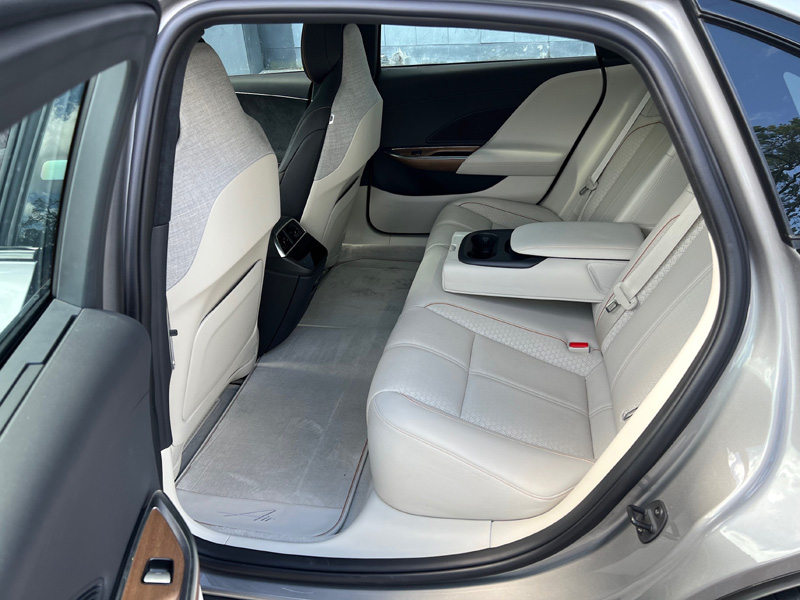 Yes, it's a concern, especially with a car costing almost $140,000. But there's too much at stake at Lucid – and too much financial backing behind it – for the Air and upcoming Gravity SUV version for the company not to succeed. 
Roll the dice, take the gamble and this remarkable piece of design and engineering will, hopefully, not disappoint.