When the cheerfully relentless auctioneer Jason Alpert roams the floor at a charity event, there's little doubt he's going to drum up some high bids.
But here's a little trick of the trade:
"I never try to ask for a bid while walking toward someone," he explains. "Literally as I'm asking I'm backing away."
That way Alpert's not putting the bidder on the spot — everyone else in the room is.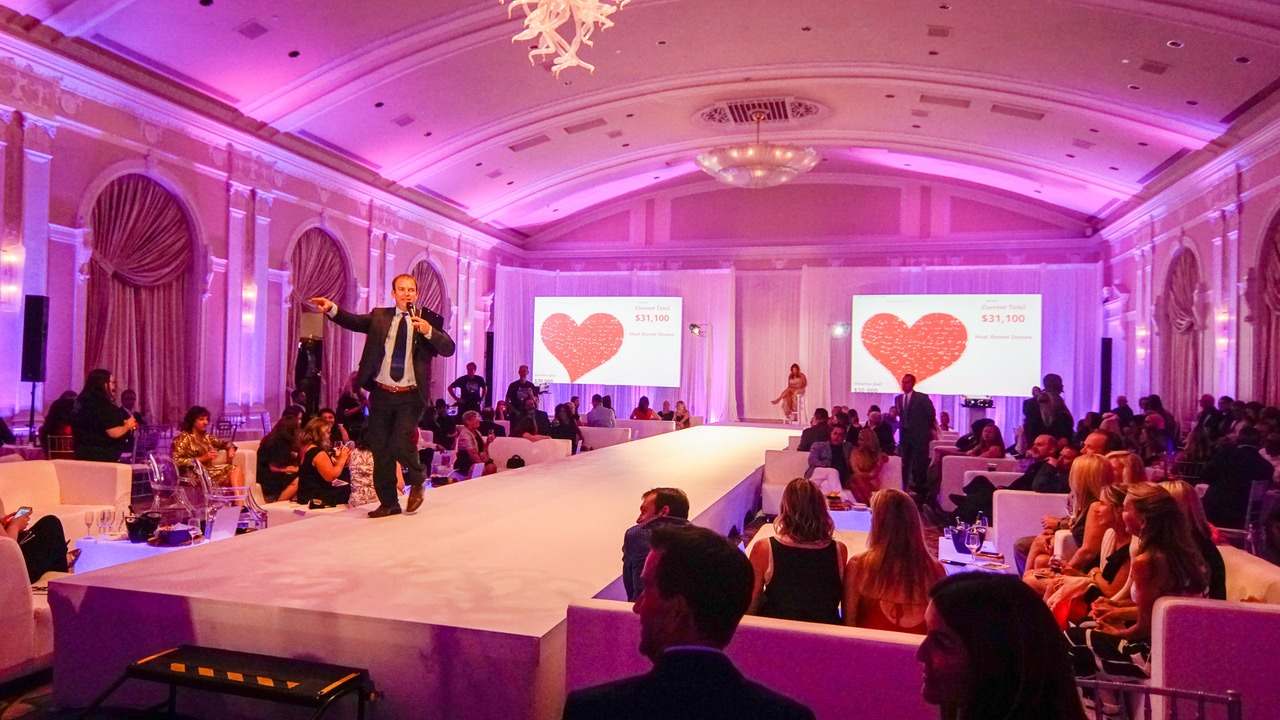 It's just one example of how Alpert and his team at Alpert Enterprises use psychology — as well as showmanship, timing and deep preparation — to bring about positive outcomes for their clients. The Largo-based company has raised more than $200,000,000 for close to 200 nonprofits around the country.
Alpert, a former TV sports reporter and NASCAR announcer, went full-time into the auction biz a decade ago. He went solo at first, making referrals when he couldn't do an auction himself, but at the end of 2017 — a year when he did 92 events — he sat down with his wife to make a plan on how to share the burden. It was tough to find the right personnel at first.
"I couldn't find other licensed auctioneers who could do charity who I could train to do entertaining. So I found two guys who were good entertainers and sent them to auction school."
The "two guys" are the suave Australian Geoff Cowan and the high-energy former sportscaster Joe Girvan (Alpert brought on his first female auctioneer, Vallye Adams, in March of last year). Alpert and his team are familiar faces at such iconic local events as the American Stage Gala Under the Stars, the Straz Center's Broadway Ball and the Poynter Institute's Bowtie Ball.
But, in 2020, all of those events were either postponed or held virtually. From mid-March to early June of last year, 41 events on Alpert Enterprises' docket had to be either canceled or rescheduled. Only a handful of clients decided to go the virtual route.
That changed as the year progressed. By April of 2021 his team had done about 80 virtual auctions.
"But that's about half the number of regular events we could have done in that same period," he told me. Through 2020 and early 2021, the company did only two in-person events, one in November and one in February, both of them outdoors. The experience was strange, he recalls.
"I changed my ways. I did not leave the stage. I didn't want to hover over people, and I didn't want them to hover over me."
When he and I spoke last month, he had just gone through a stretch of 30 days with no events at all. But that was all about to change, as he was scheduled to do nine auctions in 21 days, one of them at the Palma Ceia Golf & Country Club for First Tee Tampa Bay, a youth golfing initiative of the Tampa YMCA (an event that would raise a record-breaking $1.3 million).
Later that month, Alpert auctioneer Joe Girvan helped Habitat for Humanity bring in $450,000 at its April 23 Havana Nights outdoor gala, whose Bid from the Heart segment kicked off with a $50,000 donation from restaurateurs Steve and Nancy Westphal. (Bid from the Heart is a standard component of Alpert auctions, in which guests are asked to make gifts to show their support of an organization's mission.) The following night, Girvan did the 10th Anniversary Gala for the child advocacy non-profit Redefining Refuge at The Vault in Tampa — which was the first in-person indoor auction Alpert had done in more than a year.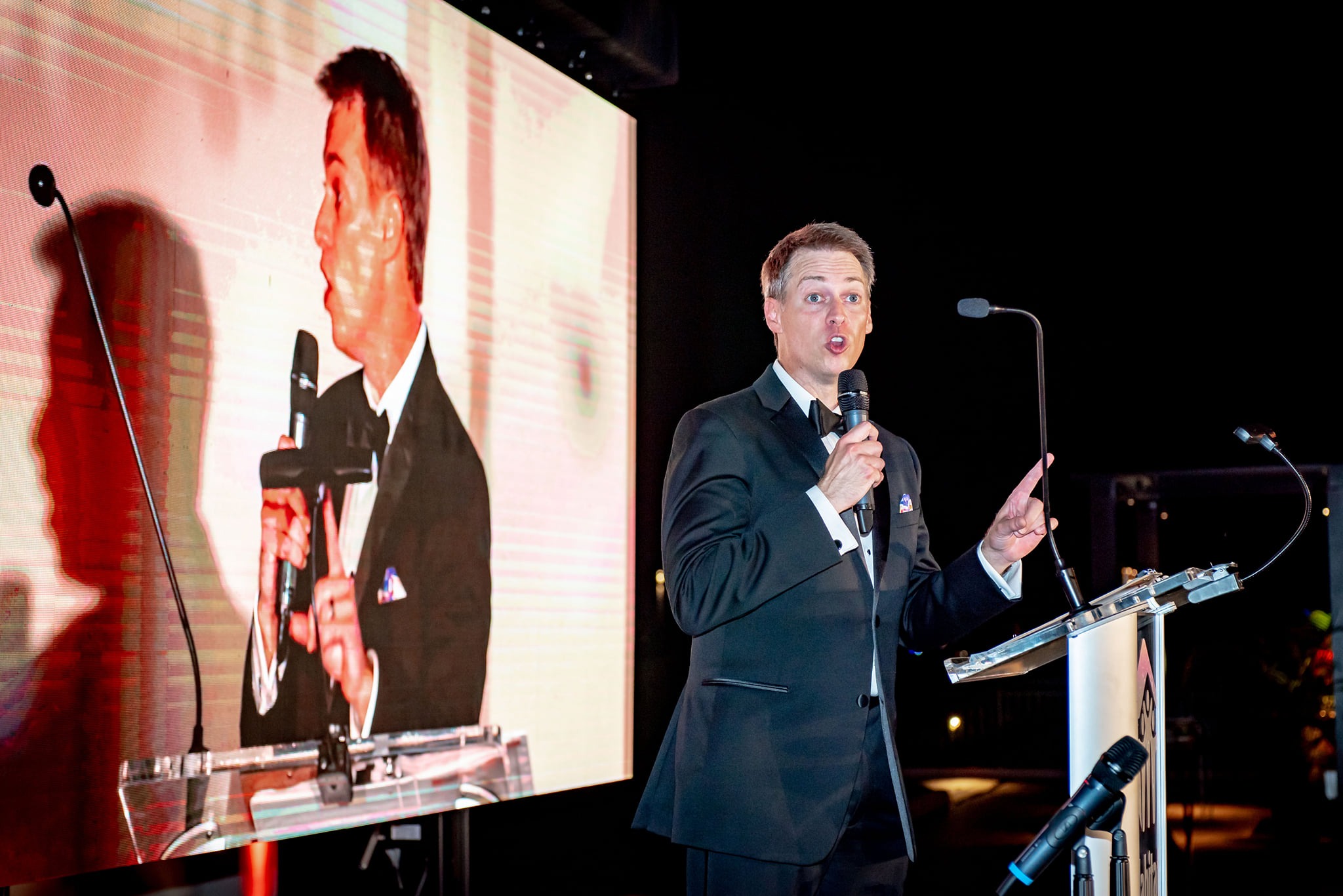 So as we warily emerge from Covid restrictions, will virtual galas go out of favor? And how does an auctioneer connect with guests through a screen? I asked these questions and more of Jason Alpert in a recent interview.
You're so good one-on-one. How do you replace that personal interaction when you can't see us in the audience?
Very carefully. There's no doubt that our skill set is most finely sculpted for that in-person interaction. But we all come from TV backgrounds. All I'm doing is selling through a camera all over again. There's a specific skill set of being engaging and compelling through a camera, and also being able to put together a run of show. All we're doing is a telethon.
How do you rate the fundraising success of live vs. virtual events?
The exact dollar amounts I don't have. But I will tell you that net revenue through virtual is similar to net revenue live because expenses are so much less. You're raising less money, the Bid from the Heart is down, but you don't have food, a valet, an open bar, a band. But even if virtual raised more money, in-person won't go away. The one-on-one interaction is still important.
In the fall, everyone is planning on in-person, though some are keeping the hybrid. It's the wave of the future — there'll be some element of virtual fundraising involved in all events. But nobody will be more ready for in-person events than we are.
You were the auctioneer for the Woodson Warriors virtual fundraiser, of which duPont Registry Tampa Bay was a sponsor. It seemed like your involvement went much deeper than just pumping up bids the day of the event.
When I do our initial pitch to an organization, the easy answer to what we do is we're live auctioneers. But live is really third on the list. First we're a fundraising and event consultant. We sit in on committee meetings to make the event successful. When we become part of that planning committee, it's important for us to be vested in the mission, so when we talk about your group, we can share the names of the people you're impacting. By the time the event rolls around, it could be us or the CEO up there talking. That's why we don't take events that call us less than 30 days before the event because that doesn't give us time to do that research.
Second thing we are is we're entertainers. We want to put on a good auction show.
Don't people request you in particular a lot?
In 2018 all [my team] did was shadow me. I wanted them to do a carbon copy of what I am. And my name's on the company. I still do more events than the other guys (though they're gaining on me).
You're booked years ahead — is that right?
We open for booking 18 months in advance of the event date.
And you charge a flat fee — no matter how much is raised?
We believe that's the right way to do it. Early on, I took a percentage, but that didn't feel right.
Next up locally for Alpert Enterprises: American Stage Theater Company's Raise the Curtain Gala at The Factory St. Pete on June 11. Geoff Cowan will do the honors.