Barbeque Is Ray's First Love.

Dr. Barbeque
Barbeque has been Ray Lampe's (Dr. Barbeque) first love since entering his first rib contest in 1982. Before he quit the family trucking business after 25 years to become a full-time pit-master, the Chicago native had spent 15 years testing different barbequing styles, participating in cookout competitions, and shifting his growing interest in barbeque from a serious hobby into a full-time career.
Only then did he buy a van in which to haul his smokers, and on which to show off a license plate with "DR BBQ," the moniker by which he would gain recognition as one of the world's prime professional pitmasters. He's got top celebrities and chefs on speed-dial, and he has written the book on the New American Barbeque—nine of them, to be exact. They include Slow Fire: The Beginner's Guide to Barbecue, Dr. BBQ's Big-Time Barbecue Cookbook, the official NFL Gameday Cookbook, he penned in collaboration with the National Football League, and his new Big Green Egg Cookbook.
Inducted Into The Barbeque Hall of Fame – Dr. Barbeque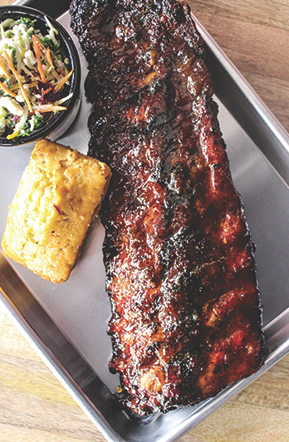 Inducted into the BBQ Hall of Fame in 2014, Lampe is routinely seen as a judge on shows like Travel Channel's American Grilled, FYI Network's World Food Championships, and the Food Network's Chopped and Tailgate Warriors with Guy Fieri. He also hosts a cooking segment on Fox Sports Network's "Fishing the Flats," as well as a monthly "Ask Dr. BBQ" Q&A segment on the BBQ Central Radio Show. He gives online barbecuing tutorials to boot.
Lampe will soon be stoking the fire on a new endeavor: as a restaurateur. With partners, Suzanne and Roger Perry, owners of the Datz, Dough and Roux restaurants in Tampa, Lampe will bring a new breed of vibrant, dynamic, even progressive, smoke-basted meat to Dr. BBQ in St. Petersburg's hip Edge District in September 2017.
Dr. Barbeque – New American Barbeque
Bringing "new American barbeque" to the Tampa Bay area, the new full-service restaurant will sizzle with barbeque varieties and variations fashioned around Ray's travels across the country and the many different styles of barbeque he tasted along the way, blended with local St. Pete tastes. The restaurant has a rustic industrial ambiance to complement the cuisine. It features a remarkable selection of bourbon curated by an award-winning mixologist along with a creative cocktail program and local beers for patrons wanting spirits along with the main event.
Dr. BBQ Tampa Bay Location
Dr. Barbeque will be located 1101 1st Ave. S. St. Petersburg, FL 33705
Dr. Barbeque.