Luxury Living from Outdoor Patios to Pools
In Florida, paradise starts with stylish backyards that double as modern escapes, big on connectivity and luxury upgrades. Outdoor living is more than a few lounge chairs on a patio. Think outdoor rooms with the comfort and convenience of your living room. Here are some unique ideas for upgrading your home exteriors from docks to decks, patios to pools.
OUTDOOR FURNISHINGS & ACCESSORIES
Indoor décor is taking over the outdoors this season. Look for comfortable, attractive furniture: Say goodbye to weathered wicker and wrought iron, today's furniture and fabric technology are weather-resistant.
Combine different looks, from teak to retro, including mosaic tables. Incorporate colorful fabrics, strong colors such as magenta and deep teal, anything as long as it goes with green. Purple too crazy? Go with taupe, brown, charcoal and navy.
Shoeless comfort begins with exterior painted floors, patterned floor tiles or outdoor floor rugs. Stripes and checkerboard patterns are classic options, and it gives the outdoor space polish. Add a modern ceiling fan such as Hunter, or a powerful Haiku fan to stay cool. A fire feature, from a glamorous fire pit to a fireplace, is all the rage. Add a personal touch. Hang art, mirrors, unexpected found objects or collections, even a flat screen TV on the patio.
OUTDOOR DECKS, DOCKS, PATIOS & PORCHES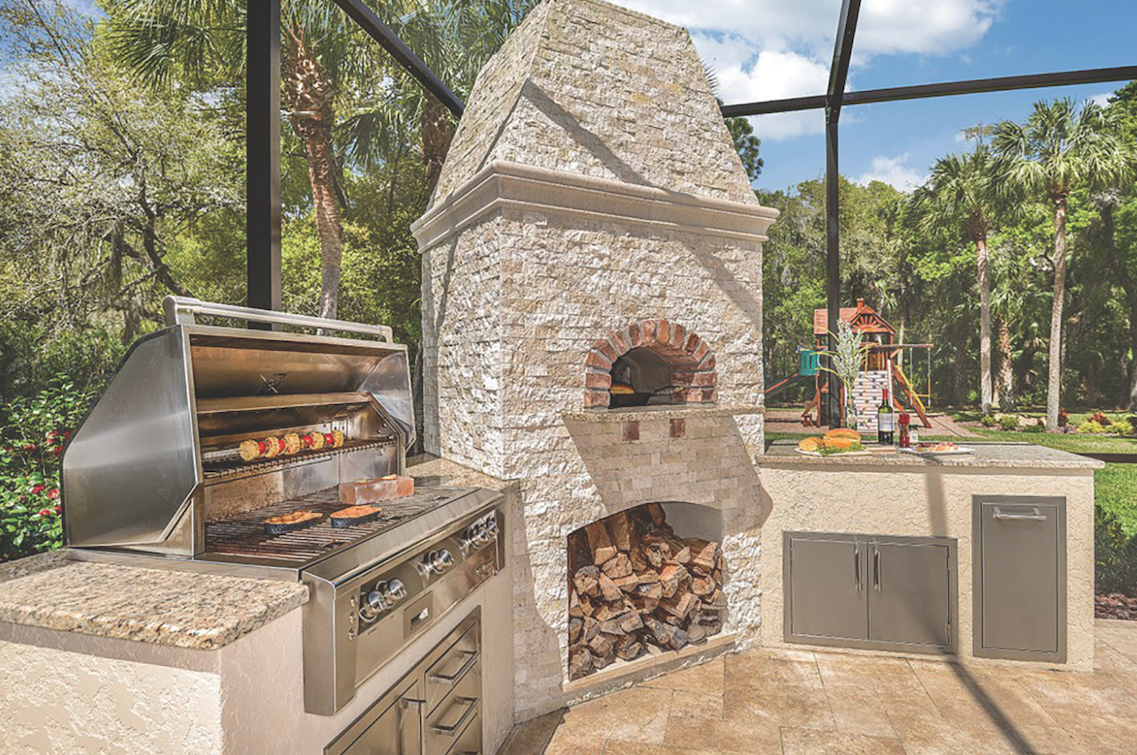 Transform your backyard into a garden oasis with landscaping that turns these outdoor spaces into an open air living room. From containers to plantings, experts like Argentine Landscaping can grow your vision into a verdant, relaxing reality. Multi-tasking, multi-level spaces are trending, with under-deck built-ins for storage. Look to mixing modern with rustic porch looks, hardware and railings, interesting landscape lighting and even a pergola for this year's trends. Add a drink-holder rail to a dock, mood lighting, audio and dine as the sun goes down.
COLOR ME GREEN OUTDOOR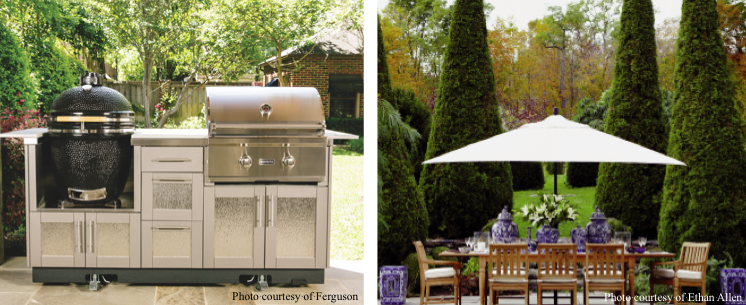 After a successful New York career for celebrities and other luxury homes, Interior designer and Feng Sui specialist Raina Yacoub brings a fresh perspective to her Tampa Bay clients. She suggests using green in your décor, from plants to accessories. In Feng Shui color psychology, colors play a big role in influencing how you feel. The color green is associated with calming, balancing, healing, relaxing and tranquil—it is the most restful color on the eye. Green represents growth, vitality, abundance, and nature. The color green also stimulates positivity and is very inspiring," says the owner of Designs by Raina.
OPEN SESAME
From landscaping around the door, to ornaments and lighting, your door says a lot about your lifestyle. A door has a lot of work to do. It needs to keep your home energy efficient, keep your family safe and secure; stand strong during inclement weather and prevent rot, rust and termite damage.
Patio doors have double duty but they elegantly usher the flow of the indoors out and transform your home with light (or shade during the summer months). Installing bifold patio doors to your home could really make a big difference, especially in the Summer months, and you'll be glad to know that you could install them yourself if you've got the right equipment. In order to do this, you might want to have a look at somewhere like Debar online, where you could find the products necessary to install your own patio doors.
MULTI-TASK SPACES
Organize your man cave or she shed with organized shelving and cabinetry from Closet Factory and Southern Closet Systems. Whether you're storing tools or seasonal items (golf clubs, bikes), there's a rack or storage unit for it as well as flooring options that give your garage sleek and slip-free experience. Both vendors can help you customize your garage to create a second space for a home gym or craft area, easily open to spring breezes by hitting your garage door opener.
ADD SOME WOO to YOUR LOO
If you've got an outdoor/garage bathroom, shower, guesthouse bath or outdoor bar in your backyard that needs seem TLC, don't look any further than Olde World Cabinetry, Plumbing & Hardware. Lighting, decorative plumbing, cabinetry and customized craftsman solutions are their specialty. Look to them for exterior hardware like designer houses numbers, mailboxes and more.
MAKE YOUR HOME SAFE & SECURE
Keep the outdoors from coming indoors with high quality, dependable windows and doors that are attractive and energy efficient with West Coast Windows & Doors. With 22 years of experience, West Coast Windows & Doors' factory-trained and highly-skilled installers can replace your leaky ones with impact-resistant ones will protect your home and family from the elements, giving you a sense of security and reducing noise.
dR FYI: Shop Home & Garden
Argentine Group | argentinegroup.com | 3220 South MacDill Ave | (813) 837-8023
Closet Factory | closetfactory.com | 13420 Wright Circle Tampa | (800) 838-7995
Design by Rania LLC | Raniayacoub.com | (727) 619-9941
Decker Ross | deckerross.com | 1445 Court Street | (727) 442-9996
Door Pro Entryways | doorpro-entryways.com | 8503 E Adamo Dr | (813) 740-9400
Landmark Pools | landmarkpools.com | 13253 Byrd Drive | (813) 792-1331
Olde World Cabinetry | oldeworldcabinetry.com | 3751 62nd Ave N | (727) 530-9779
Southern Closet Systems | southerncloset.com | 13211 Byrd Dr | 727-447-7227
Stone-Mart | stone-mart.com | 2460 22nd Ave N | (727) 800-2400 | 6005 Anderson Rd | (813) 885-6900
West Coast Window & Door | westcoastwd.com | 7501 124th Avenue | (727) 545-3400
Visit the websites above to learn more about luxury living from partios to pools for the outdoors.