Developer Matt Kihnke, President of MK Equity Corporation, has announced plans to build an 18-story boutique luxury condominium tower in downtown Sarasota. Located at 1260 North Palm Avenue, OBSIDIAN residences will redefine downtown luxury living and offer one residence per floor for a total of 14 meticulously designed "exclusive custom homes in the sky." Kihnke said each residence will be personalized to meet the individual desires of its owner and offer an abundance of resort-style amenities on four levels, including a sky deck on the roof of the building which incorporates a lap pool, spa, and fire pit.
After creating two successful downtown projects, Kihnke is proud to say the OBSIDIAN building design will appear as "sculptural art," noting that Sarasota's Palm Avenue is known as Gallery Row, where artisans offer everything from paintings and sculptures to hand-blown glass. "I love this project because I am passionate about art and architecture and I want to incorporate both into this project."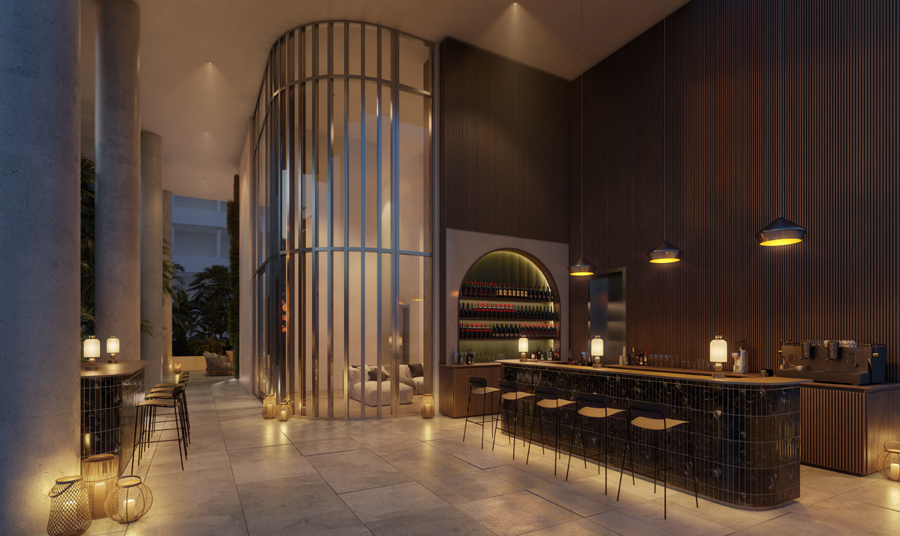 Each residence will be customized for personal use, ranging from three to five bedrooms, and include plenty of flex space to create an office, studio, music room, library, private fitness room or an additional wine cellar. The building is pet-friendly, and "out-of-town" guest friendly, with on-site suites for guests. Residence floor plans start with three bedrooms and up for a total of 14 full-floor custom homes.
OBSIDIAN will incorporate a first-floor commercial space and entry lobby facing Palm Avenue. Residents will also enter the building's parking garage from Palm Avenue with private parking garages available within. 
Kihnke has named Michael Saunders & Company, known as the premiere luxury real estate firm on Florida's West Coast, to sell the three to five-bedroom residential condominiums priced from the upper $4 millions. A groundbreaking for OBSIDIAN is anticipated to take place at the end of 2023 with an opening by the Fall of 2025. The team includes Sarasota–based project HOYT Architects as project architect in collaboration with local architecture firm PS Design Workshop, and LA-based interior designer Troy Adams.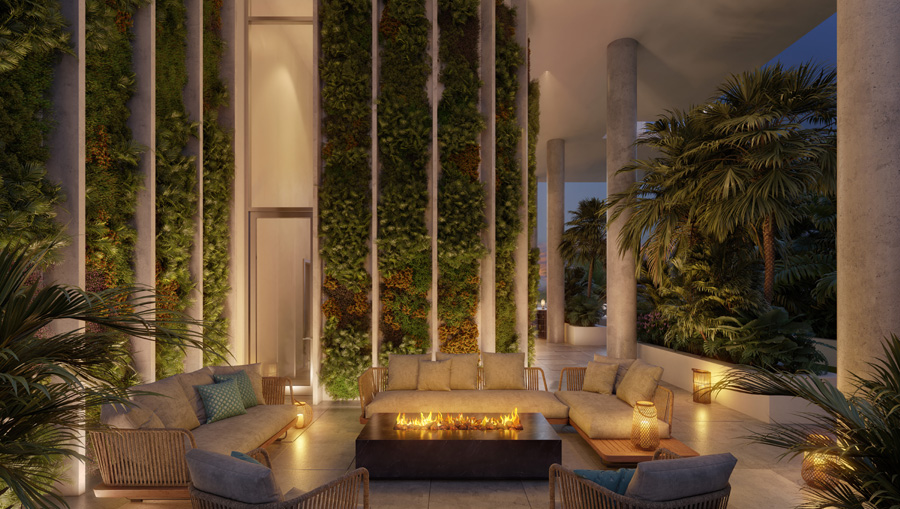 "The OBSIDIAN concept is an elegantly designed slender geometric tower composed of an interplay of solids and voids to engage the wide range of panoramic views. The tower is supported by a strong podium base with large glass openings that connect the multilevel amenities to the vibrant, walkable Palm Avenue in the heart of downtown Sarasota," explained architect Gary Hoyt.
OBSIDIAN AMENITIES
Lush landscaping will be prevalent throughout the outdoor amenity areas on both the fourth and top floor, providing residents with a tranquil, private sanctuary in the heart of downtown Sarasota, which will be serviced by a dedicated staff. Guests may be entertained in the wine-tasting room or the dedicated cigar/card lounge to enjoy a game of billiards. Those seeking serenity will enjoy the indoor/outdoor yoga and meditation studio.  The Wellness Center offers a sauna, steam room and treatment room for massage, a doctor's concierge office, and a cold plunge ice bath. Golf enthusiasts will find a private golf simulator room, and others a unique bocce ball space surrounded by lush landscape.
Additionally, the fourth-floor amenity level will have a spacious club room, fitness center, garden and resident water feature with fire pit.
DEVELOPER MATT KIHNKE OF MK EQUITY CORPORATION
MK Equity Corporation is a boutique real estate development company based in Sarasota focused on providing architecturally innovative residences. With a passion for architecture, design, and style, developer Matt Kihnke has provided forward-thinking luxury residences in markets that include Chicago, Florida, Michigan, and the Caribbean.
Matt Kihnke's recent and local portfolio includes the just finished downtown boutique project named THE Collection, at 1335 Second Street, across from the Selby Public Library.  He is also responsible for the highly regarded Sansara Condominium, which is also located downtown on Pineapple Avenue. 
Originally from Chicago, Matt Kihnke has lived in Sarasota for over ten years. He submitted the application for OBSIDIAN on behalf of 1260 Palm Properties, LLC, which purchased the parcel in January 2022 from Palm Avenue Properties LLC., owned by Dr. Mark Kauffman.
MICHAEL SAUNDERS & COMPANY
In its 47th year of innovative service to Southwest Florida, Michael Saunders & Company is the top independent real estate company in the region with a network of 24 full-service real estate offices — with more than 600 agents and 150 support team members spanning the Gulf Coast region. International brokerage affiliations with Leading Real Estate Companies of the World®Luxury Portfolio International® and Mayfair International Realty extend the company's message to qualified buyers nationally and globally. Headquartered in Sarasota, FL, Michael Saunders & Company affords customers the most comprehensive range of real estate services in the Southwest Florida marketplace. These include mortgage, title, insurance and relocation services, developer services, and a commercial real estate division. A philanthropic arm, the MSC Foundation, gives back to Gulf Coast community organizations via donations from agents and staff.
Jonathan Abrams is the sales representative for OBSIDIAN and commented "As our beautiful city continues to grow I am so excited to see such an incredible development come to the core of downtown. OBSIDIAN Residences will be like nothing else ever offered: a level of luxury difficult to duplicate. After seeing the artistic architecture come to life at Sansara and THE Collection, two previous MK Equity developments, I believe OBSIDIAN will become the highlight of our gorgeous skyline. Although there will only be 14 exclusive owners, everyone in Sarasota will be able to enjoy the stunning architecture from all throughout downtown and even our barrier islands."
HOYT ARCHITECTS
Founded in 1993, HOYT is an Architecture and Urban Design firm with disciplines including Master Planning, Urban Design, Architecture, Interior Design, Landscape Architecture, and Environmental Planning. 
HOYT believes in building unique architectural projects utilizing their experiential and immersive design process. This results in rich interaction, memorable branding, and unique architectural environments.
HOYT's research and visualization companies, HAL/IMERZA, expand the range of HOYT disciplines to include Virtual Reality Modeling and Simulation Technology.
PS DESIGN WORKSHOP 
Established in 2015, PS DESIGN WORKSHOP is an ambitious and aspiring young architecture firm pursuing original and innovative modern design proposals in both domestic and international markets. Influenced by regional and cultural precedents. PSDW's proposals begin to speculate on a design narrative that expresses the local and environmental qualities that define their individual context – contemporary, regional authenticity is the firm's pursuit. 
TROY ADAMS INTERIOR DESIGN CONSULTANT 
Based in Los Angeles, California award-winning interior designer Troy Adams is renowned for his grand-scale thinking and fusion approach – taking the best materials from around the globe and combining them for a spectacular effect.
He has been commissioned by the MK Equity Corporation in the past, creating two other successful luxury residential boutique projects in Sarasota as the interior design consultant. 
"I am looking forward to working with Matt Kihnke again and fulfilling his vision. This town is becoming more hip and cool every year. I will help create an overall "warm minimalism" look and feel for OBSIDIAN with a refined elegance that transcends the highest quality available for our sophisticated clientele moving to downtown." 
Troy Adams portfolio includes projects both domestically and internationally:  from Bali to Hawaii and Norway to Germany. His work has been showcased around the world with personal appearances including Oprah and HGTV's Designer Challenge. He is known for a number of interior design concepts such as his trademarked Fusion Design concept which blends European standards of sophisticated and technological minimalist design with both the American principles of functionality and the Zen qualities of Asian cultures.
 OBSIDIAN CONTACT: 
OBSIDIAN SALES LOUNGE by appointment only: 
Jonathan Abrams 941-232-2868
Michael Saunders & Company
1460 Ringling Blvd.
Sarasota, FL 34236
OBSIDIANsarasota.com