From Oct. 15-21, artists will once again be painting the town as part of the St. Petersburg Art Alliance SHINE St. Petersburg Mural Festival, which has added more than 100 murals throughout downtown and surrounding arts districts since 2015. Muralists from as far away as Germany and as close by as the Warehouse Arts District are taking part in this year's event, transforming drab local walls with international flair. Here's a list of participating artists (21 in all) by home base. Note that the photos show past murals, not the ones the artists will be working on this week.
Colombia: Gleo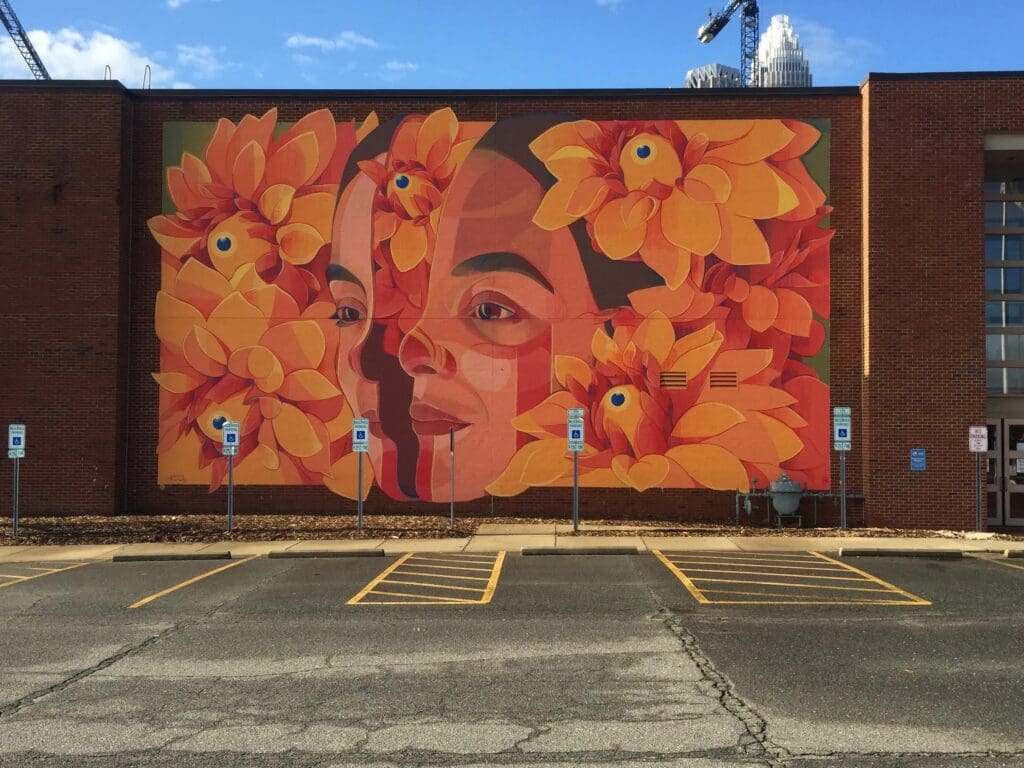 Also from Miami: Nicole Salgar, painting at Cimco Tile, 615 23rd St. S.
Also from Tampa Bay/St. Petersburg areas:
• Aurailieus Artist, at Zen Glass Studio, 600 27th St. S.
• Miss Crit, at Absolutely Beautiful Flowers, 3000 Central Ave.
• Michael Fatutoa, at Grayspeed, 2060 1st Ave. S.
• Jason Harvin, at Rick Noll Properties, 1211 1st Ave. N.
• Reid Jenkins, at St. Pete Distillery, 800 31st St. S.
• Jared Wright, at Colony Grill, 670 Central Ave.
Bright Spots
Bright Spots are community mural projects led by local artists, including Leo Gomez, above. He's inviting Bayfront Health St. Petersburg doctors, nurses and other medical personnel to participate in the mural painting process on October 17-18 at 744 6th Ave. S.
Other Bright Spots artists:
Jujmo and Diana Bryson. The Sunnyside Up Productions team led a week-long mural-making course for the Shirley Proctor Puller Foundation art club. 2221 5th Ave. S.
Ya La'ford. La'ford's "Love Line Project" mural will include an illuminated neon sign featuring a phrase voted on by the public. Smith & Associates Real Estate, 330 Beach Dr. NE.
Chad Mize. The inimitable Mize has transformed a matte black Polaris Slingshot with his signature free-flow doodle style. The custom Slingshot can be seen throughout October at various SHINE Mural Festival events.
iBOMS. Jabari "iBOMS" Reed's artwork can be found on a PSTA bus for the next six months. This project, titled "Together We Grow," was designed in partnership with the St. Pete Youth Farm.
SHINE-related events
2021 Exhibition at Morean Arts Center, October 15, 5-8 p.m.
Spraycation Day at Bayboro Brewing, October 16, 2-11 p.m.
SHINE Year 7 Art Exhibit at MIZE Gallery, October 22, 6-10 p.m.
d-railed at d-gallerie, October 22, 6 p.m.
LOVE SHINES Lighting Ceremony for Ya La'ford's mural at Smith & Associates Real Estate, Oct. 23, 7:15 p.m., with remarks from Mayor Rick Kriseman.
An updated Google Map featuring all the SHINE murals from 2015-2021 is live on the SHINE website. (Hint: 2021 locations are in purple.) Paper maps will be available at the St. Pete Store & Visitors Center, 100 2nd Ave. N.