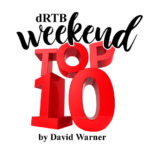 Conditions being what they are, many of us may lay low, binge-watch and eat a batch of Hoppin' John (pictured above) instead of partying hearty this weekend. You do you (but wear a mask if you're out and about).
Watch the ball (virtually): Crowds won't be allowed to gather in Times Square on New Year's Eve, but festivities will still occur, and the usual array of smiley-faced hosts will oversee the entertainment: Carson Daly on NBC, Ryan Seacrest on ABC, Anderson & Andy on CNN, etc. But the live entertainment lineup in Times Square looks mighty appealing — Jennifer Lopez, Billy Porter, Cyndi Lauper and, most appropriately of all given the year we've just endured, Gloria Gaynor singing "I Will Survive" — so staying home and popping your own personal bottle of bubbly may be all the party you need.
Have a ball (also virtually): The delightfully family-friendly First Night St. Pete celebration is going virtual this year, and while the Virtual Art Packs have sold out (sorry, you're going to have to find your own bubble wrap to stomp), you can still tune into the livestream fun — music, dance, fire sculpting (!) and more at firstnightstpete.com/celebrate2021.
Watch the water: If you haven't had a chance yet to visit the new St. Pete Pier, and especially if you've got kids in tow, this would be a great weekend to take a waterside stroll and stop by the Tampa Bay Watch Discovery Center — a small but fascinating museum full of info about what's in our waters, and how we can help them thrive. tbwdiscoverycenter.org.
Watch a stream: We're hooked on Bridgerton on Netflix (and it's not just because Regé-Jean Page is a shoo-in for the next Sexiest Man Alive title), but we also hear great things about Soul on Disney+ and Sylvie's Love on Amazon. Wonder Woman 1984 on HBO Max? Saw it. Meh.
Take the kids to a museum: Kids already tired of their Christmas toys? Take 'em to the Tampa Bay History Center, the Glazer Children's Museum or MOSI (Museum of Science & Industry) — all full of wonders for young folks (and old ones, too). Many of these (though not all) will be open on New Year's Day; call to confirm.
Take yourself to a museum: For art aficionados, it'd be a good weekend to hit the St. Pete circuit. Take in the Van Gogh show at the Dalì (advance timed tickets required) or the Navajo textiles at the Museum of Fine Arts, see the Gay Rodeo show at the James or the dazzling glassworks at Imagine. Again, call to check hours if you want to stop by on New Year's Day.
Snag a bargain on next year's decorations: Holiday items are on sale at Florida CraftArt, which means they'll be unusual, fun and beautifully crafted — and, with any luck, easy on the pocketbook. floridacraftart.org.
Read a book: I just finished The Overstory by Richard Powers. I loved it (I'll never look at trees the same way again), but at 500+ pages, it was not a fast read. If you want a quicker but still satisfying escape into a book this weekend, ask the friendly folks at Book + Bottle or Tombolo to recommend a short story collection. I recommend Tampa Bay Noir, Colette Bancroft's delicious compilation of short fiction about shady doings in our sunny clime.
Eat some Hoppin' John for good luck. Black-eyed peas, bacon, onions, seasonings, rice, collard greens — tastes so good no wonder it's lucky. Here's a recipe.
Sleep. It's always important, but experts say a good sleep schedule could protect you against COVID infection. And if 2021 is anything like 2020, you'll need the extra rest.