Bolognese, the ubiquitous red sauce, so similar and yet tinged with subtle differences from one restaurant to the next.
Its origins date back to the Middle Ages in the city of Bologna in northern Italy. Over the centuries, bolognese has become a staple of, not just Italian restaurants, but dinner tables far and wide. I didn't know the stuff was called bolognese until adulthood. In our house it was simply "spaghetti with meat sauce."
This week's edition is another installment of Tampa Bay vs. The World. Our combatants are a couple of white-tablecloth establishments: Made in Italy in Venice and Gratzzi Italian Grill in St. Pete.
MADE IN ITALY
The restaurant sits in the heart of Historic Downtown Venice, right on the main drag, Venice Avenue, which is populated with upscale restaurants, boutiques and shops. Our party of four arrived at 7 p.m. on Saturday night.
Made In Italy's front dining room, which included the bar, was kind of boomy, so I was glad when the hostess showed us to a back area that had been outfitted to resemble an Italian village. The room was better lit and less noisy.
Bonnie and I ordered Pappardella Alla Bolognese ($21, plus $2 split charge) and also split the Cesarino salad ($11). I had a Stella Artois draft ($5.50).
Appearance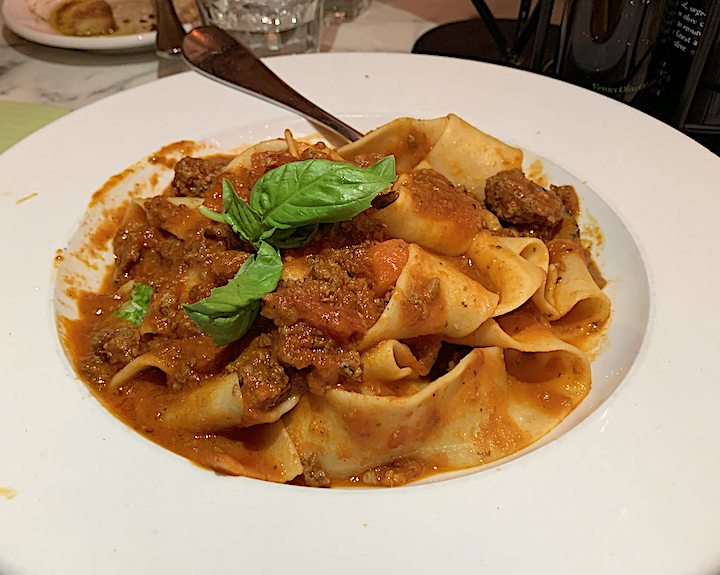 I was heartened by the sight of the wide pappardelle pasta, like fettuccine(2). In my experience, the bigger the noodle, the more you can taste it.
Our portions were hefty, especially considering we had half-orders. A couple sprigs of basil added a bit of color contrast.
Similarly, our half-portions of Caesar salad were larger than expected.
Texture and Taste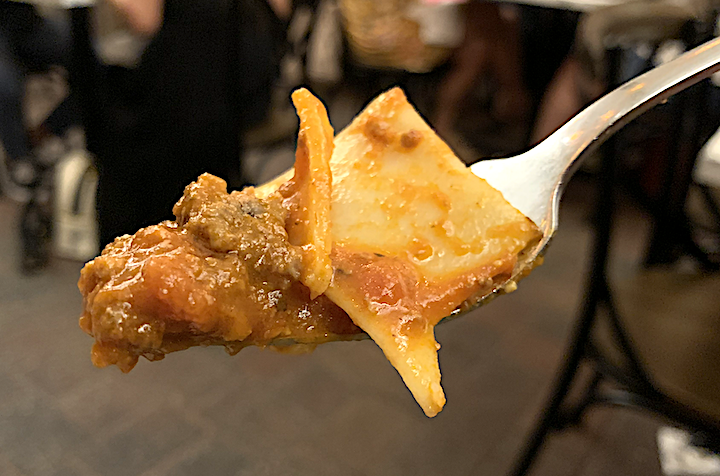 The bolognese was not consistently textured throughout, and that's a good thing. Some of the least satisfying versions I've had were when the meat was near pureed or, conversely, filled with little else but large lumps of beef. Here, a few chunks served up mini-meatball moments. Overall, the sauce had a pleasing tinge of sweetness.
The pasta was as advertised, although in a perfect world it could've been a smidgen firmer.
The Caesars proved suitable starters, although before chopping mine up I should've removed some of the parmesan shavings, which ended up dominating the flavor.
GRATZZI ITALIAN GRILLE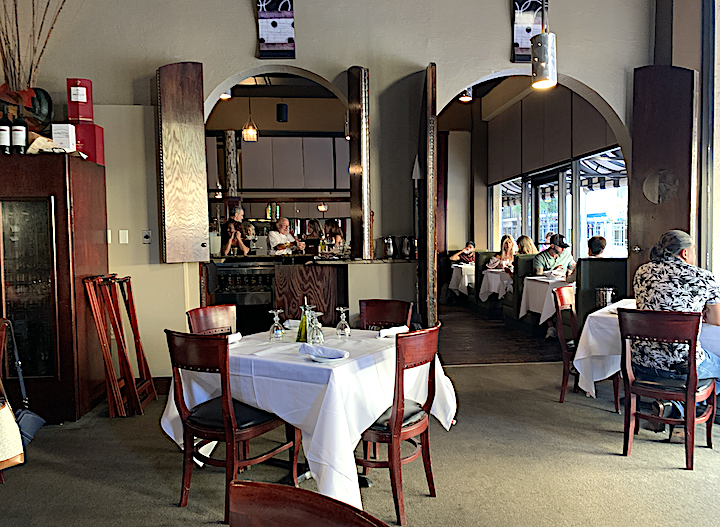 Once a fixture at Baywalk (now Sundial) in downtown St. Pete, Gratzzi has occupied its current location at 2nd Street and 2nd Avenue South for a dozen years. The exterior is marked by a long black-and-white-striped awning.
Business was relatively brisk for 6:30 on Tuesday, but Bonnie and I had plenty of space in the back dining room, and really took to it quaint farmhouse ambience. With no music and minimal bustle, we could converse easily.
We ordered Spaghettini Bolognese ($24), with a $3 up-charge for pappardelle, plus two small Caesar salads ($7 each). I was pleased to learn that the restaurant had my favorite local beer, 3 Daughters Beach Blonde Ale, on tap. I asked our server to set me up with a pint ($6), and had second with dinner.
Appearance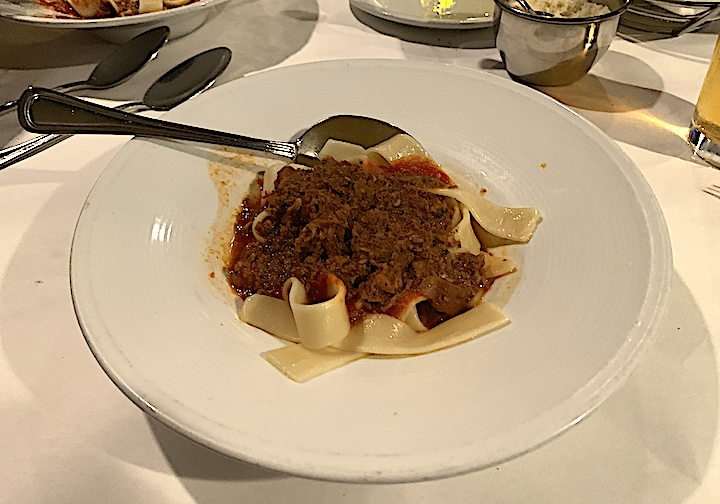 No-nonsense. A white plate with some pasta and sauce sunk in the middle. Go'head, mangiare. I was okay with the lack of presentation, although our portions did appear smaller than the competition's. I left my measuring tape in the junk drawer, but the pappardelle noodles looked narrower, too.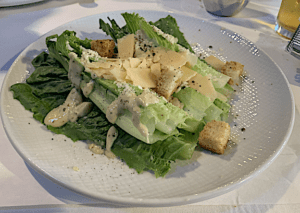 It was a different story with the salads. They featured stalks of romaine lettuce, drizzled with dressing and topped with parmesan shavings. The croutons looked as if they'd been carefully placed by a gloved hand.
Texture and Taste
Although I encountered a couple of mini-meatballs, Gratzzi's bolognese was more evenly textured than MiI's. It also had more acidity than sweetness, and was spicier, which resulted in a somewhat bolder flavor.
The pappardelle was just the right measure of al dente, and stood on its own in terms of flavor. It was not just a vessel for the sauce.
The Caesars were satisfying, redolent with crunch, but the sharp parmesan was overwhelming at times.
And the Winner of the Battle of the Bolognese Is …
Gratzzi.
This was the closest Food Fight in a while. I liked both sauces quite a lot, although neither one knocked me over. MiI won on portion size; I preferred the taste of Gratzzi's ever so slightly. Let's call it a tie.
Gratzzi's ambience was calm and intimate. MiI's was more animated, marked by laughs and spirited conversations with the Dillons. So what if we had to raise our voices some. A tie for atmosphere.
Gratzzi earns the W based on pasta that was a cut above and a superior salad course.
Another deciding factor: MiI's Stella vs. Gratzzi's Beach Blonde. No contest.