Or even your mom's.
It's all about the glamour in today's tech-savvy kitchens. Look for the perfect marriage of artistry, color and design with amazing "smart" tech features that make life easier.
The art's in the fridge
"Performance, quality of materials and dependability will always be important, but artistry is the future of where appliances are going," says Brandon Bair, luxury appliance expert at Appliance Gallery. "All the top brands are using aesthetics to distinguish their products in the marketplace."
And why shouldn't your kitchen appliances be just as beautiful as any piece of furniture in your home? It's an exciting new trend for 2019. Look no further than Dacor's Atelier Edition Porcelain Refrigerator.
"Talk about creative flair," says Bair. Open the refrigerator and freezer doors to reveal an all-porcelain interior that features hand-painted fine art. Dacor will add the art for you, or invite a local artist of your choice to do the finishing touch.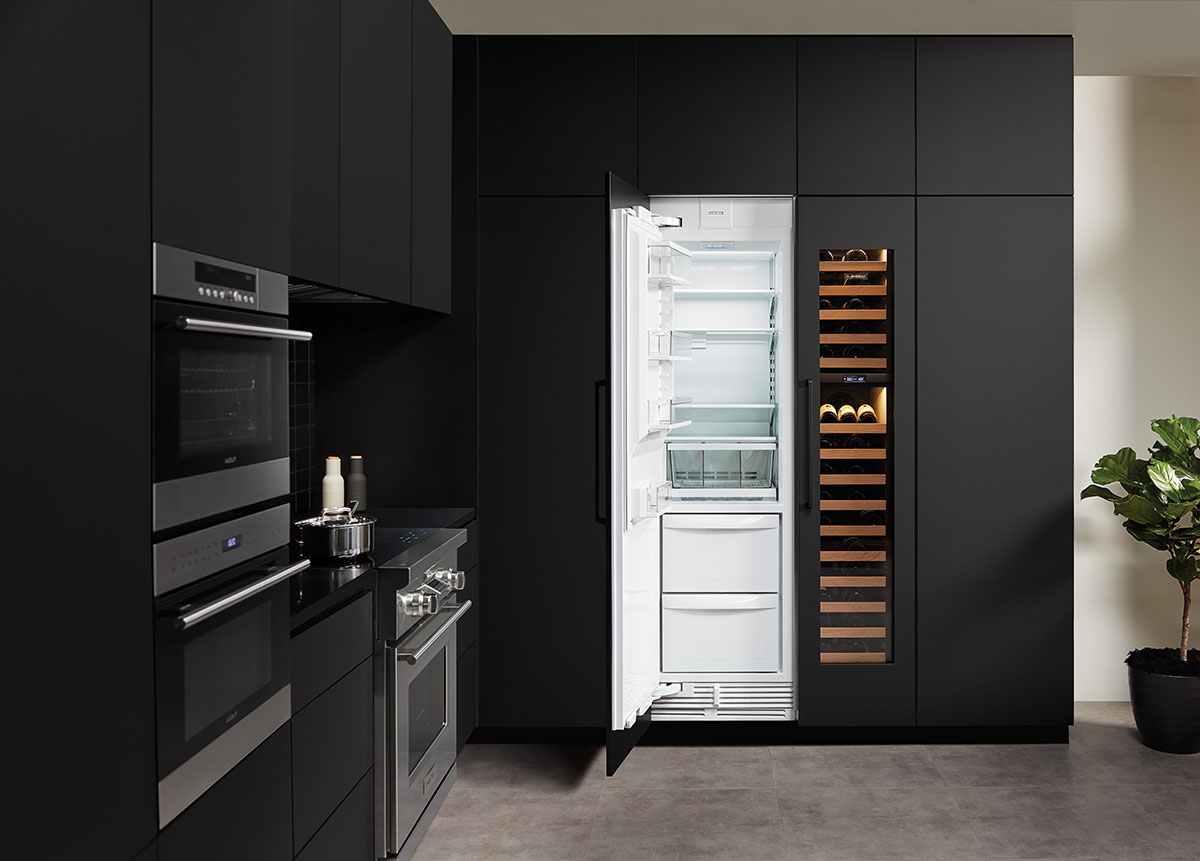 Smoldering hues
Color as a design element will also be showing up in 2019 luxury kitchens. "Color is being used to create a special vibe," says Bair. "Sometimes it's as simple as a different color handle or hardware to draw attention to the stainless appliance, or it can be all out and bold like an accent wall. The sky is the limit." Vintage styling with retro colors from the '50s, '60s, and '70s are also making a comeback.
Color is even showing up on hoods over the stove. "Hoods with a pop of color offer artistic flair and dimension," says Jennifer Hettich, Tampa showroom branch manager for Ferguson Bath, Kitchen & Lighting Gallery. "The hood is definitely one kitchen appliance where homeowners are introducing more creativity to the kitchen."
But color doesn't have to shout to be noticed. Hettich says subtle tones ranging from warm light gray to a cool matte black are being incorporated into lighting, faucets and appliances.
"It's a trend we're calling smoldering hues," says Hettich. "They add a subtle layer of intrigue and distinction."
Toward a smarter kitchen
Sometimes all you need to do to improve your kitchen is increase its functionality. Look for common-sense add-ons such as sinks with an integrated cutting board that offer an additional workstation, or water-efficient faucets that fill pots and pans to the exact level you need.
But if you're looking for the "wow" factor, turn to technology, which is making kitchen appliances smarter than ever. Almost every luxury manufacturer is incorporating smart home technology into its kitchen product.
"As platforms like Google Home or Amazon Alexa are more widely adopted, we're seeing people use voice command to control the oven or view the contents of the refrigerator via an app on their smartphone," says Hettich. "You can even preheat your oven using a mobile device or access guides that offer step-by-step meal instruction and cooking tips, including the right pan to use and the best temperature setting."
The latest dish(washers)
Dishwashers are getting a makeover, too. They're quieter and more energy-efficient. "Manufacturers continue their focus on energy and water-efficiency — how to create a dishwasher with maximum cleaning power using as little water and electricity as possible," says Hettich.
Cove is introducing a new line of dishwashers that might be this year's trendsetter. "Cove dishwashers have been super-engineered with amenities like stainless steel racks and a variety of custom wash and dry options to make sure that dishes, glasses and utensils come out spotlessly clean and dry," says Bair.
But the appliance's most unique feature is the ability to move the racks around, rotating them or laying them down to give homeowners maximum flexibility in how to stack everything just right.
Dream on
As the new focal point for the home, kitchens are reflecting a level of luxury, expression and creativity light years away from their former utilitarian role.
Your dream kitchen for entertaining family and friends is just around the corner.