Tampa Bay is a boater's paradise, and if you own a boat you'll want a great place to dock it. These spectacular homes have docks that'll really float your boat, but if you're interested in purchasing one of them, better act quick: The home in Largo was sold right before this story made it to publication. 
 Miami Vice-style compound on Belleair Beach, $3.195 million 
Sonny Crockett, welcome to your new home. There's even an oversized dock out back perfect for your thundering Cigarette boat. From its electric-blue barrel-tiled roof, to its semi-circular tower of blue glass, to its wild neon lighting inside, this eclectic, polarizing 5,500-square-foot waterfront mansion will have you humming the Miami Vice theme tune. Built in 1986, the property sits at the end of Belle Isle Avenue on Howard Point and boasts panoramic vistas, north across the Intracoastal to Belleair Bluffs. The extensive dock includes a tiki bar deck, a trio of jet ski lifts and a heavy-duty lift for a 35-footer. The rear of the home is dedicated to enjoying the water views; a towering, spiral staircase leads up to a humongous rooftop deck, while a sitting area features stunning floor-to-ceiling curved-glass windows offering to-die-for water views. Rafal Wazio at Coldwell Banker Residential holds the listing.
 Lake Thonotosassa waterfront, $2 million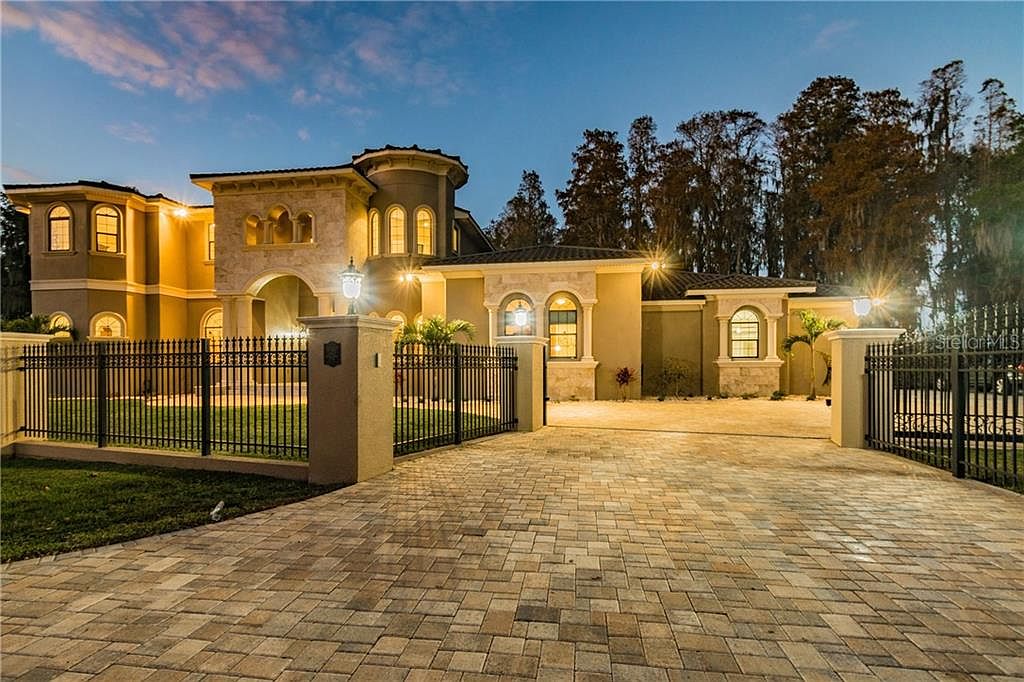 While the 36-acre French-style mega-estate of Lazydays RV "king" Don Wallace may be the most famous property on the banks of Lake Thonotosassa — last asking price $17.5 million — this 5,800-square-foot spread on the lake's southern tip should also appeal to boaters, and it can be had for a nice round $2 million.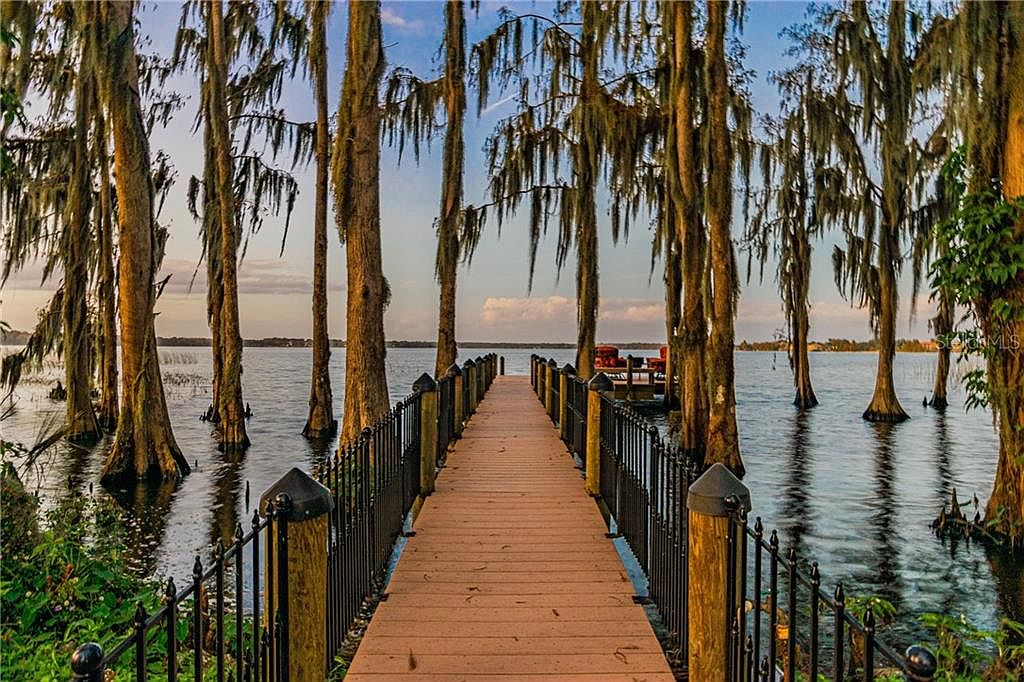 Boating on the 839-acre freshwater lake isn't quite the same as on Tampa Bay, but it's perfect for pontoon and fishing boats, jet skis and paddle boards. And the Mediterranean-style home comes with a large dock ripe for a boat lift or two. The dock itself sits at the end of a gorgeous pier with a walkway through eerie Spanish moss-covered trees. We love the home's vast indoor/outdoor entertaining area with its fire pit, and the huge caged saltwater pool. Boating was never more peaceful. Keller Williams in Tampa holds the listing. 
 Tierra Verde home with 680 feet of waterfront, $11.9 million
They're not exaggerating when they call this a "yacht owner's dream." More like a superyacht owner's dream. With a massive 680 feet of prime waterfront on Tierra Verde's Grand Canal with easy access to the Gulf of Mexico, this sprawling, two-acre spread on Barcelona Drive features a total of four docks, five boat slips, two lifts, a new seawall, plus parking for a couple of 100-foot-plus whoppers.
Right now it's the biggest piece of waterfront property in Tampa Bay. It was formerly owned by Stuart Arnold, who made a fortune from his Auto Trader magazine group. Before his death in 2017, Arnold used to moor his 103-foot motor yacht "Ivory Lady" at one of the docks. Right now there's a 3,000-square-foot home on the land that Arnold used as a weekend retreat. Arnold's granddaughter, Fallon Arnold of Coldwell Banker, has the listing. 
Protected Snell Island Harbor is home to this elegant mansion, $9.03 million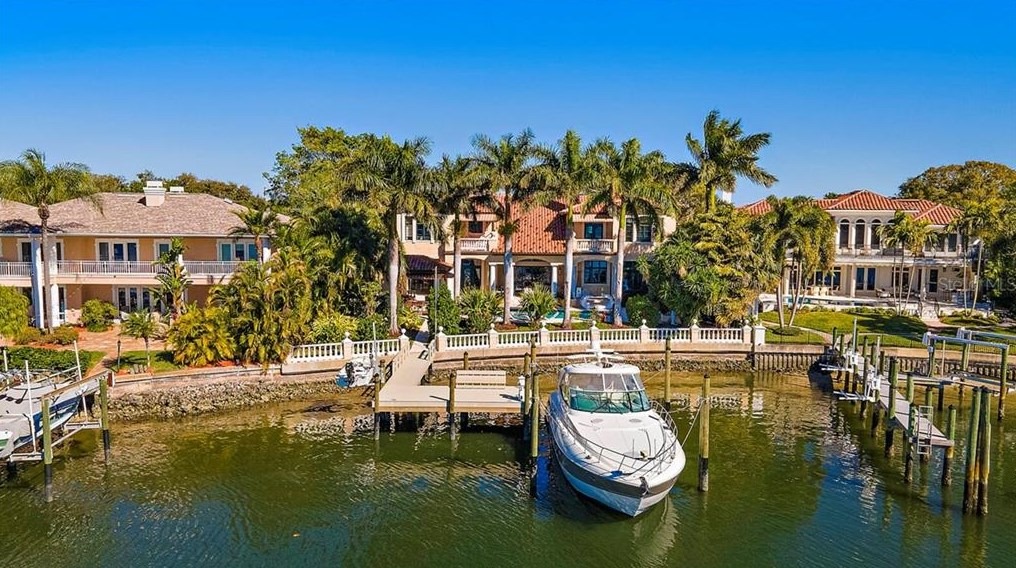 For peace-of-mind boat ownership in Tampa Bay, you need protection from those nasty storms (we don't mention the word "hurricane"). The upscale St. Petersburg enclave of Snell Isle has a lagoon-like hidey-hole — called Snell Island Harbor — that offers just that. With a narrowish entrance and protection from Tampa Bay's often nasty wave action, it's a true safe haven.
Tucked away on the northern side of the lagoon, on gracious Brightwaters Boulevard NE, this 9,722-square-foot Mediterranean-style home has a deep-water dock with space for a 60-footer and mini-lift for small fishing boat or jet ski. From its stunning entryway with a gracious spiraling staircase to its grand ballroom and banquet-sized dining room, the home oozes classical style. Chuck Anderson at Keller Williams Gulf Beaches has the listing.
This little bit of Italy in Largo is perfect for your gondola, $11.9 million (SOLD!)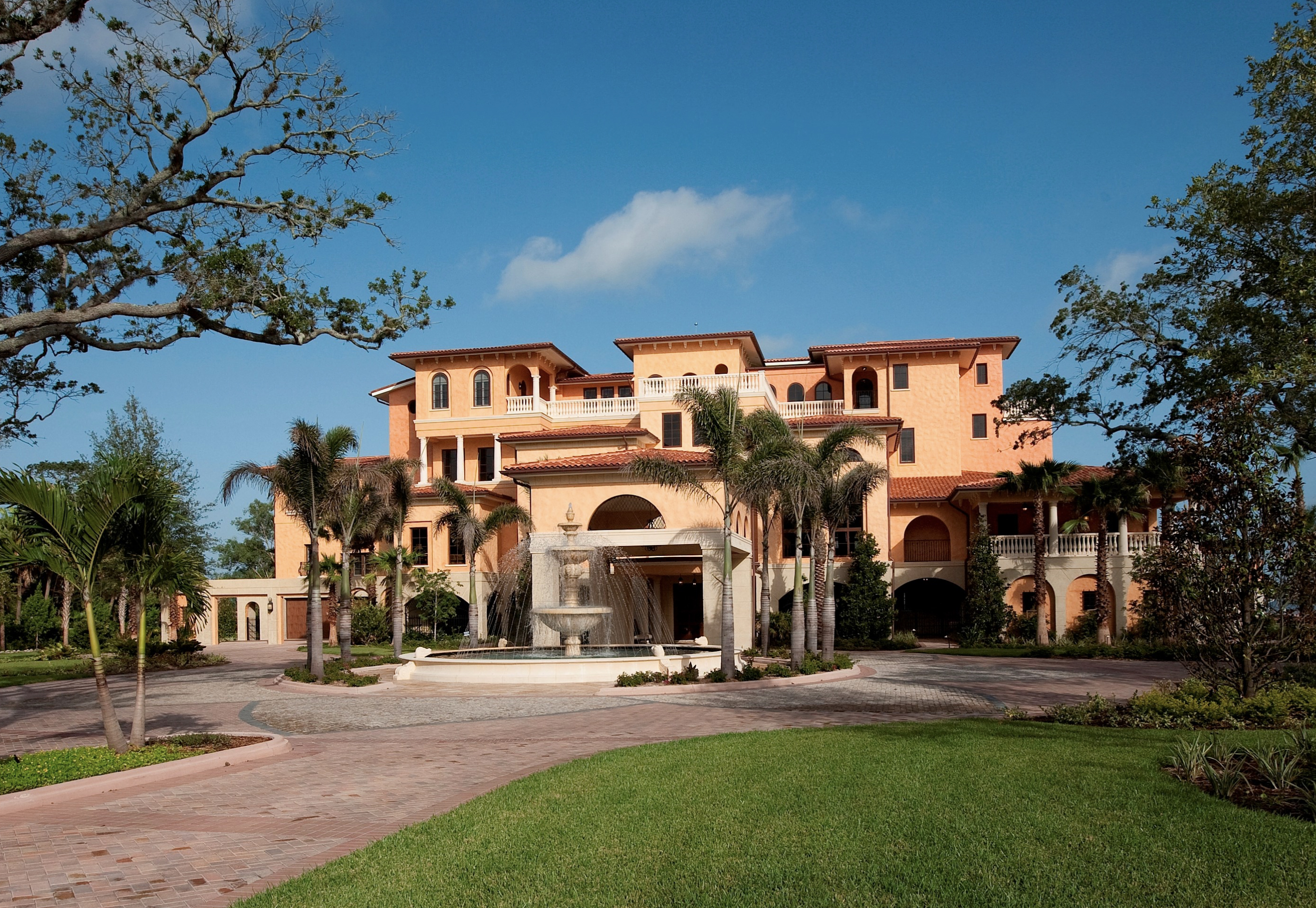 Perched on a wide section of the Intracoastal Waterway in Largo overlooking Indian Rocks Beach, this towering Tuscan-style palazzo on 4.5 acres is grand in every sense. Set on three levels, it offers 17,599 square feet of luxury living space, with four huge bedrooms — the master is 30 feet by 18 — and a two-story formal dining room big enough to seat 20. Outside there are marble-tiled terraces, a superb outdoor kitchen alongside an infinity-edged swimming pool, and a spectacular fountained pond.
For boat lovers, there's 247 feet of waterfront, an expansive dock with its own ornate boathouse with a rooftop deck, two lifts for center consoles and an in-water dock for a 45-footer-plus. Martha Thorn of The Thorn Collection/Coldwell Banker sold the home in March. 
Belleair's Rinker Estate comes with its own private marina, $6.995 million
Why have an ugly dock and boat lift blocking your spectacular view when you can tie up your pride and joy in your own private marina? The Rinker Estate, overlooking the Intracoastal and Clearwater Harbor in Belleair, has just that — a protected, horseshoe-shaped marina steps from the magnificent 12,000-square-foot home (which may be familiar to duPont REGISTRY Tampa Bay readers as the cover home in the Jan/Feb 2021 Real Estate Issue).
Built in 1991 for Marshall Rinker Jr. — his father founded the concrete giant Rinker Materials Corp in 1926 — the compound was originally listed in 2018 for $8.6 million and famously included a Rolls-Royce Phantom and Bentley Arnage in the asking price. Not even the luxury cars turned up a buyer; it's now on the market, minus the cars, for $6.995 million. Described as having a "Great Gatsby" feel, the main house features sweeping staircases, soaring 21-foot-high ceilings, six lavish bedrooms and no fewer than 11 bathrooms. Outside there's a water-side tennis court, pool and spa. Dania Perry of Century 21 holds the listing.
Derek Jeter's huge Davis Islands waterfront mansion, $29 million
With 345 feet of open-bay waterfront, a deep-water dock and two big-boat lifts, baseball legend Derek Jeter's 22,000-square-foot Davis Islands mega-mansion, close to downtown Tampa, is definitely boat-friendly. But it seems the dock space isn't quite big enough for the home's current renter, Bucs quarterback Tom Brady and wife Gisele Bündchen; they have to park their brand new, $2 million, 55-foot cruiser in a marina in St. Pete. But anyone paying the $29 million asking price for this vast mansion, should have enough left in the bank to expand the dock.
Jeter spent four years constructing the custom, seven-bed, 16-bath home, completing the project in 2011. One thing said to be lacking with the property is waterside privacy. Shortly after moving in, Brady complained about the number of boaters constantly circling outside, hoping to catch a glimpse of the power couple. Stephen Gay, of Smith & Associates holds the listing.