Tour our new Airstream — which is also our new home!
Recently, we told you about driving to Tampa to pick up our new Airstream. Check! It was wonderful to get in our new digs and to finally move in. We also got really emotional when it was time to drive away from my dad's home, since we knew that this time around, our road trip would be at least a year long. But for two people who love traveling as much as we do, long-term travel on the horizon is a surefire way to get us excited about what's to come.
Sharing All the Specs
While it's easy to find run-of-the-mill walk-throughs of Airstreams and RVs on YouTube, what makes this different is that we actually live in ours full-time. In addition to showing you around, we want to share some insider information about what makes life in an Airstream easy and comfortable for us.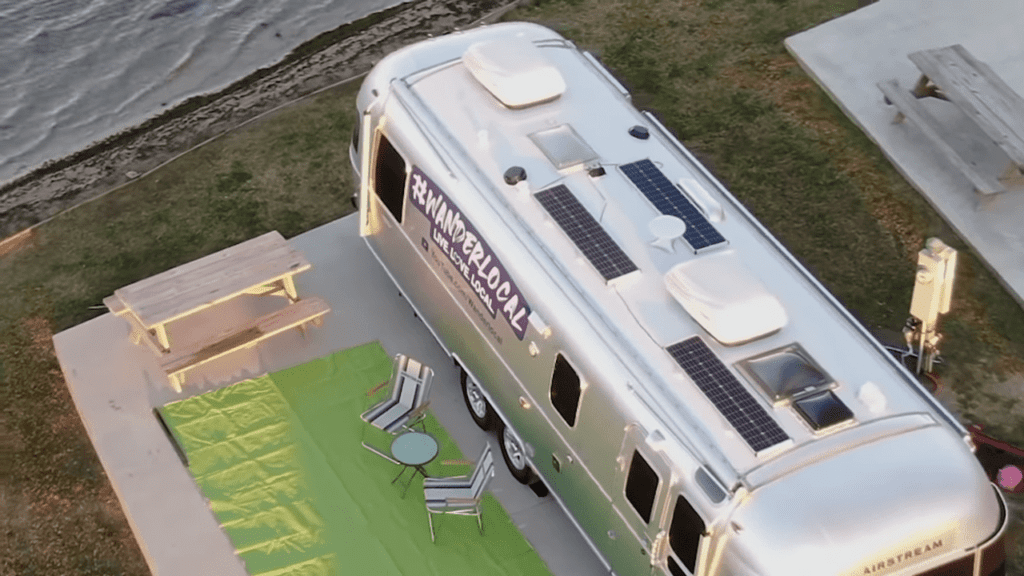 Let's start with the basics. We got a 2021 Airstream 30-ft Classic RBQ, and the acronym stands for Rear Bed Queen. Don't be fooled by the name; the camper is actually just over 31 feet long. It's also eight feet, five inches wide — which is crucial as it fits comfortably on a highway lane and fits under most bridges. Trust me when I say that bigger is not always better! As for height, it's nine feet and 9.5 inches tall. These details aren't exciting, but you'll need to know all of these measurements when you're making travel plans.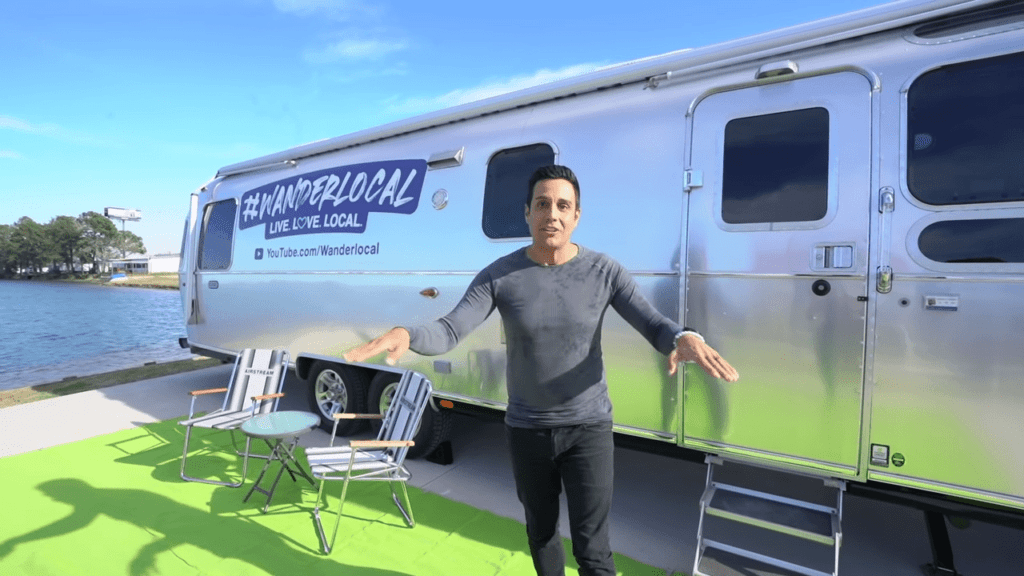 The Airstream also requires two batteries and it comes with two propane tanks to take care of heating, refrigeration, and other stuff Daniel couldn't remember as of the writing of this blog.
Locks All Over the Place
Something to keep in mind when you have an Airstream is that you're going to have a lot of keys (we keep them all together in a lanyard). The first one unlocks the outdoor shower. Didn't know Airstreams have one of those? Turns out our model does! You get a pull-out sprayer and knobs for hot and cold water — perfect for rinsing off after beach days or particularly dusty adventures. Just make sure to shut it all the way off when you're done.
Another key opens the port for your coaxial connections (e.g. where you hook up your cable TV and/or satellite dish). Next, there's a 50-amp hookup. This is what ensures you can connect your Airstream to a power source. There's also another locked compartment that you use to fill the fresh water tank — essential for boondocking. Our camper holds 54 gallons of water, which comes in pretty handy. Next to that is another compartment with three additional hookups. One connects to the local water supply/city line. Right below it is a flush line for the black tank (stay tuned to find out what that is). Then there's a black tank hookup — or like Daniel likes to call it, the poop train — that connects to sewage.
There's also a gray tank, which holds used-up shower and dishwashing water; and the black tank, which holds sewage every time you flush the toilet in the Airstream. There. Now you know what it is.
Something that's crucial to know is that even though all these keys open all of these compartments, you'll actually have to buy all the hoses that hook up to them.
Other Cool Exterior Features
The 2021 30-foot Classic also comes with storage compartments and window awnings. Something we learned the hard way: don't open up the awnings on a windy day. Seriously. And one of the coolest things is the smart controllers app, which you use to open and close the awnings, turn on the lights, and control the AC and heating. The Airstream also includes 270 watts of solar panels on the roof, which powers the smart controllers, the lights, and recharges the battery.
An Indoor Area Fit for Royalty
Low-maintenance royalty, that is! But first, take off your shoes — unless you bring in a little bit of everywhere you've walked. You'll then notice the spacious overhead compartments with built-in lights. And in addition to providing storage space, you'll find that one of them has a WiFi system. Airstream really does make life on the road as easy and practical as possible.
The sitting area is wide enough to turn into a bed, but it also has dual recliners, which is so perfect for Netflixing and chilling. As a bonus, there are USB charging stations for your electronic gadgets right on the armrests, which is so convenient. The middle cushion also turns into a table, so you can relax with a cocktail or latte while watching The Queen's Gambit (or whatever show you want to enjoy). Right next to the recliners, there's a panel with buttons that include cinema mode — which turns off all the lights.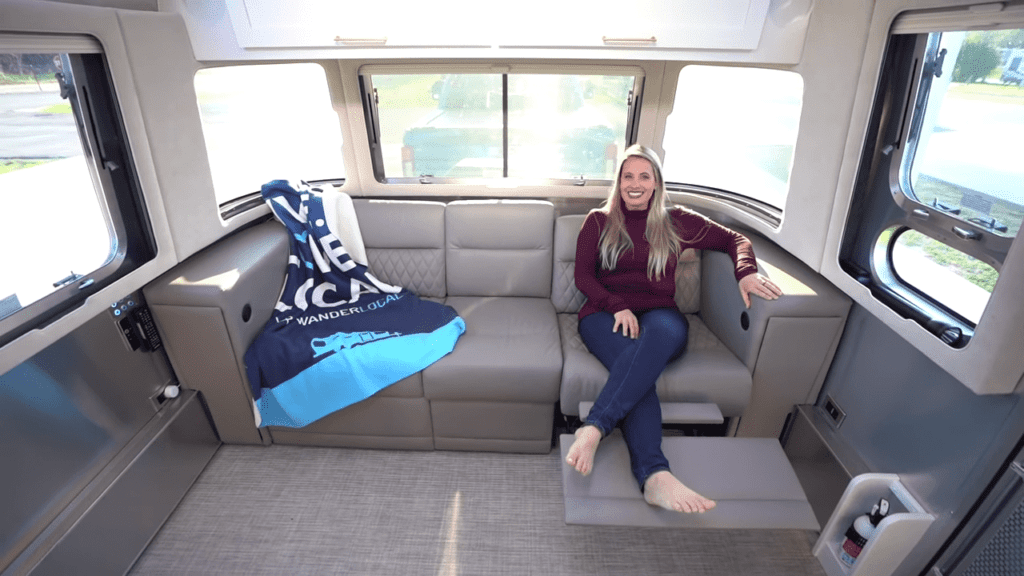 The kitchen area is also really comfortable. It has plenty of storage space, counter space, a full-sized farmers tub sink, stovetop, oven, a convection microwave, a slide-out pantry, and a full-size, residential-style refrigerator and freezer. There's also a light and a fan right above the stovetop, so that your Airstream doesn't smell like whatever you cooked last.
The dining area is roomy enough for four people. It also doubles as office space for both of us. And something else that's really cool is that you can adjust the table height by simply pushing a button. Or if you're having guests stay over, you can fully lower it, cover it with cushions, and turn it into a bed. For perspective, Daniel is 5'10" and fits in it comfortably.
We also have a pretty decently sized closet. It fits all of the clothes and shoes we wear on a regular basis. And at the bottom of the closet there's a safe, which yes, means another key. So many keys.
Tech To Make Silicon Valley Proud
For all the nerds reading, hear this: right behind the dining table, there's a smart display that shows the water levels in the various tanks, controls the interior and exterior lighting, heat pump, AC, heating, and fans. It makes everything so easy. Right next to it there's a system that controls the propane, so it heats up the Airstream really well when it's cold outside. The Classic also comes with an adjustable smart TV, Blu-ray player, and a Bluetooth sound system.
Keeping It Clean
Our bathroom is split into two compartments. On the left side, there's the shower. And on the right side, there's the toilet, sink, more cabinet space, and a full-sized mirror on the door to make sure your outfit is on point. But the best bathroom feature goes to…heated towel racks.
Where Some of the Magic Happens
Towards the very back, there's our bedroom. And as the name RBQ states, it fits a queen-sized bed comfortably. There's also additional overhead storage space with built-in lighting, and even more storage under the bed. And right above the bed, there's another panel with reading lights and a button to turn on and off the bathroom lights. There are also additional USB plugs by the bedside tables, and we love that the room has plenty of windows.
All in all, Airstream has really hit it out of the park with the design of their 30-foot Classic. Now we just need a name…
Watch for yourself so you can take a visual of our beautiful new home — and to see other cool features Daniel installed outside. And don't forget to subscribe to our YouTube channel, Wanderlocal, so you don't miss a single episode of this adventure!
Author Bio
Lauren Davenport is the CEO of The Symphony Agency, a healthcare communications firm providing technology and marketing solutions to help healthcare practices grow fast and efficiently. She's been featured in Forbes and local magazines, showcasing her experiences as a small business owner. Daniel Fernandez is the Chief Experience Officer at the Symphony Agency and host of The Healthcare CEO podcast.