A humble returning champion and a good-natured competition set the stage for the tournament, coming to Innisbrook Mar. 14-20.
What's more fun than watching paint dry?
Watching it EXPLODE!
The 2022 Valspar Championship kicked off (or should I say teed up?) for the media on Monday at the Innisbrook Resort in Palm Harbor. (The tournament doesn't officially get going until Mar.14-20.) Along with speakers and interview opps, the PGA Tour and Valspar invited us to Art of the Swing, an unusual match between 2021 Valspar champion Sam Burns, World Long Drive champ Maurice Allen and Bucs legend Ronde Barber, general chair of Copperhead Charities, the nonprofit that puts on the Valspar Championship.
Why unusual? Because it involved hitting golf balls, not into a tiny hole hundreds of yards away, but into paint-filled balloons hanging from a scaffold above a blank canvas. The goal? Drive balls into the balloons containing your opponents' assigned Valspar paint colors — Sea Frolic for Burns, Jaunty Green for Allen and Scarlet Sun for Barber — until you are, in the words of Tournament Director Tracy West, "the last balloon standing — or hanging." The artfully splattered canvas will be auctioned off for charity during tournament week.
I'll get to the winner of the balloon battle in a moment, but the event vividly underscored the tournament's self-described status as "The Most Colorful PGA Tour Tournament in the World." The multi-hued universe of Valspar Paint informs everything from the signage (including billboard-size paint swatches in colors like Dreamy Teal and Au Naturale) to the tournament's Back to Bright community mural initiative, which last year yielded the vibrant mural at Clearwater's North Greenwood Recreation Center by local artist Zulu Painter. (Look for an announcement on March 11 re the location of this year's mural, which is being created in partnership with Tampa General Hospital.)
There'll also be a Valspar-painted tiny home and a Color Cabana, and Color Scouts will be roaming the course in search of the most colorfully dressed fans. Because the first round begins on St. Patrick's Day, the outfit color of choice that day will be, no surprise, green, with a prize of $500 in Delta Air Lines credit going to the fan whose wearin' o' the green stands out most.
There's also plenty of non-golf and golf-adjacent fun in store, too, including food and beverage offerings from Frenchy's, Horse Soldier bourbon and Josh Cellars wines; a Publix Chillounge; an autograph alley; and, for a ticket upgrade, admission to the Hooters Owl's Nest hospitality chalet. The big event is Valspar LIVE, the post-golf concert featuring country stars Chris Young and Big & Rich that's free with the price of a tournament ticket on Sat. March 19.
But the main attraction, of course, is the game, and the players who'll be vying for the Valspar trophy. At press time, the tournament was due to feature 5 of the 13 top players in the Official World Golf Ranking, including the #2-ranked wunderkind Collin Morikawa, whose cool composure during his 2021 Open win was a wonder to behold. Also on the roster: #4 Dustin Johnson, #7 Xander Schauffele, #12 Louis Oosthuizen and the aforementioned Burns, who's ranked #13.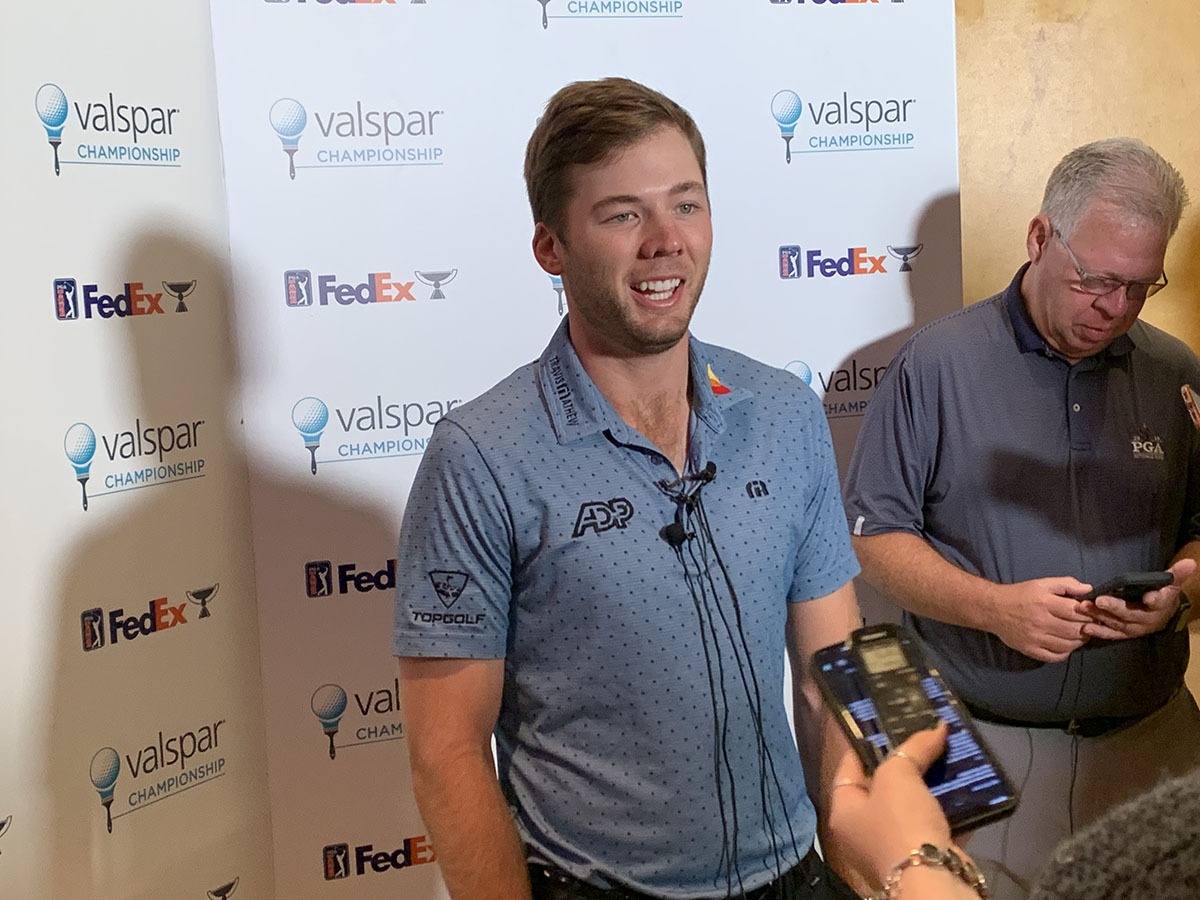 Sam Burns and Valspar Tournament will forever share a special relationship because that 2021 win was his first ever on the PGA Tour. Those kinds of breakthroughs are rare – he's one of only five players who have had their first Tour wins at Valspar — and as Burns said on Monday, the win was a once-in-a-lifetime thrill: " My first will never happen again."
During an on-stage interview with Golf Channel's Matt Adams, the 25-year-old Burns came off as charmingly humble and self-deprecating, sharing that his first love in high school and college wasn't golf, it was football. "I played a ton of golf growing up," he said, "but it was never my main focus."
But it's unquestionably his main focus now. And despite his low-key vibe, he's definitely out to win again. "I'm competitive in all things," he told Adams. "Just ask my wife."
Or just ask his opponents in Art of the Swing. Though he and his Sea Frolic "team" took a beating at first, he finally took out both his own and Maurice Allen's balloons with one final swing. Asked afterwards if that double whammy represented a tie or a win, he answered,
"Definitely a win! I hit Maurice's balloon first."
The Valspar Championship will be held March 14-20 on the Copperhead Course at Innisbrook Resort in Palm Harbor. It will be televised on NBC Sports and Golf Channel, as well as worldwide on PGA Tour affiliates. Video of the Art of the Swing competition will be posted Monday of tournament week on Skratch, the PGA Tour's playful digital channel. For info on tickets to the tournament, go to valsparchampionship.com.
Next week in RTB's Giving Tuesdays column: How the Valspar tourney and its Copperheads ambassadors contribute to local non-profits.