Meet some of the families who've been helped by Valspar's partnership with Habitat for Humanity.
Hear "Valspar" and you think… paint. 
Hear "Valspar" in Tampa Bay and you think…. golf. 
Or at least that's how it was for me. Golf used to be what I first thought of when I heard the name, given that the Valspar Championship has been a main event locally since 2013, when the paint company became title sponsor. I didn't really get the full impact of the product tie-in till the recent Media Day, when events and signage fully reinforced the identity of the tournament, which returns next week to Palm Harbor's Innisbrook Golf Resort, as the "most colorful" on the PGA Tour.
But there are a few other words I've now come to associate with Valspar: 
Charity.
Copperhead.
And….Habitat.
Copperhead Charities is the non-profit foundation that operates the tournament. Headed by a volunteer board, it has operated for over 40 years under various tournament names and has generated more than $47 million for charities, primarily in the Tampa Bay area. Among its many beneficiaries is Habitat for Humanity of Pinellas & West Pasco Counties, a locally run affiliate of Habitat for Humanity International — and, it occurs to me, an obvious choice as a partner for a paint company. 
Because what does Habitat do? It helps needy families move into affordable homes.
And what do new homes need? A fresh coat of paint!
Of course, that's not all that Valspar provides. The tournament raises funds to help Habitat and its families build and rehabilitate houses which are then sold to the partner families or individuals at no profit and with zero-interest loans.
The stories of the families who've been helped by this charitable partnership are varied and inspiring. 
Angela Dean, an office manager in a primary care facility, was raising four children in a cramped two-bedroom rental before joining the Habitat Home Ownership Program. Her new home was dedicated just before Christmas last year.
"I believe my life will improve so much more with Habitat giving me the chance to be a homeowner and raise my children in a home that is our own," said Dean. "We can mark the wall of them growing, and make the space ours."
Brittany Holmes, who also works as an office manager, said that before getting involved in the Habitat program she and her two boys, son Jayden and nephew Lanard, were living in a home with a leaky roof. 
"Earning sweat equity was a great experience," said Holmes, whose new home was dedicated in 2019. "We were able to learn steps on how a home is built. A lot of work goes into building these homes for families in need. It was a very humbling experience."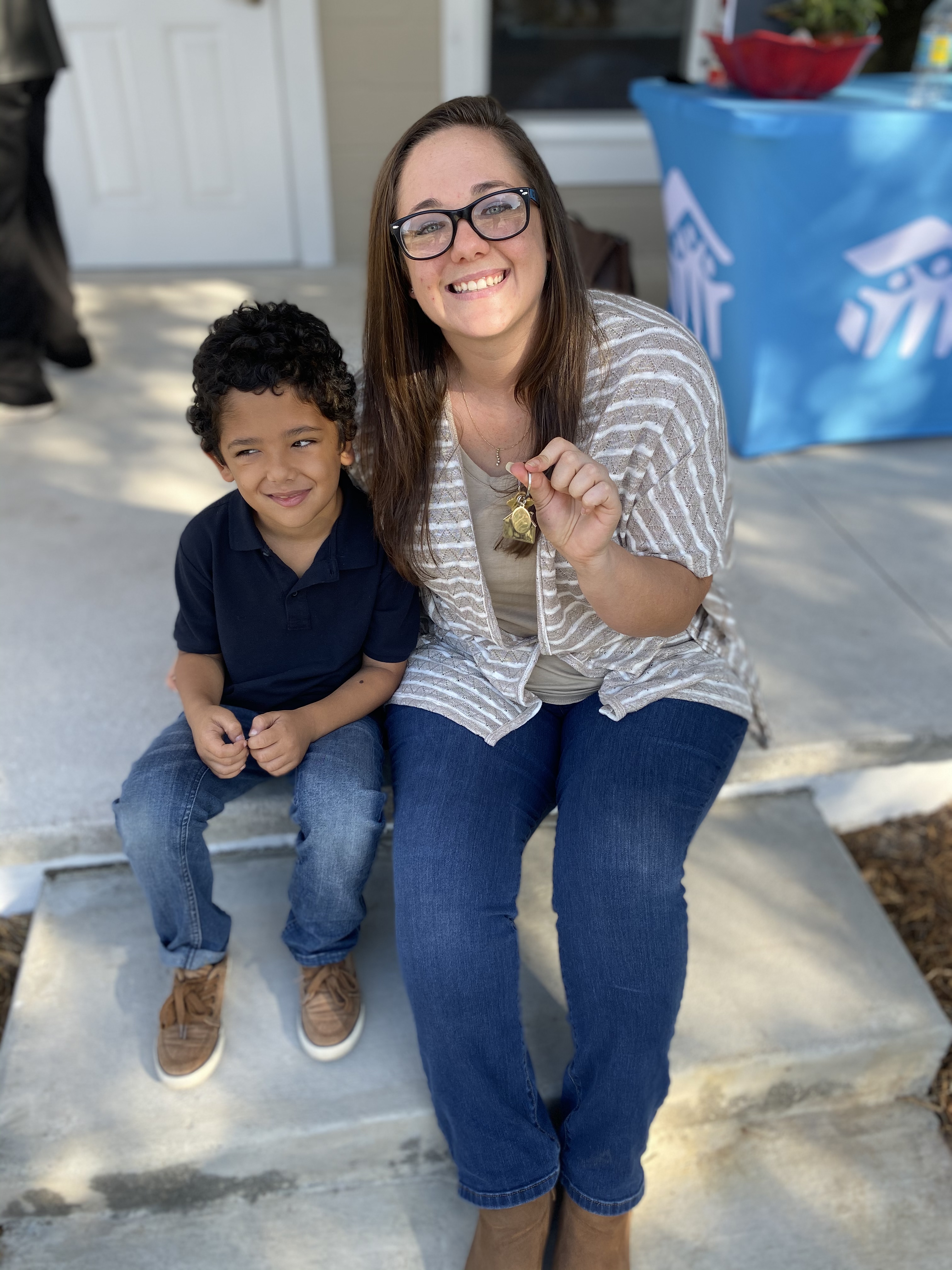 Erica Dupuis, a medical assistant, is single mom to two daughters and a nephew. Hers will be Valspar's seventh family, and they'll be celebrating the dedication of their new home on April 15.
Living in a rental home with improper A/C, lack of hot water, a broken fence and no door for her bedroom, she was thrilled to be approved for the Habitat homeownership program.
"I know this will be a very challenging program," she said, "but the finish line will be so worth it." 
Ronde Barber, the Bucs legend and Valspar Championship general chair, spoke earlier this year about how moved he was that Valspar is helping families like these.
"My mom had the same issues as a single mom," he told reporters in January. "To have a home of their own is outstanding."