Like everything else that's been turned upside-down in COVID-19 World, the notion of a "weekend" may already be out of date for those who work at home or, worse, have no job to go to anymore. (My heart goes out to the journalists affected by layoffs this week at Creative Loafing and the Tampa Bay Times.) With so many arts organizations shuttered for the time being, this column's mission — highlighting the weekend's top arts & entertainment events — might seem moot. We're not supposed to go to events where we'll be among other people, and anyway, there's no place to go.
And yet: What's emerging is a plethora of opportunities to enjoy plays, operas, museums, concerts, galleries and more while staying in. Here are 10 ways to dive into this ever-expanding world.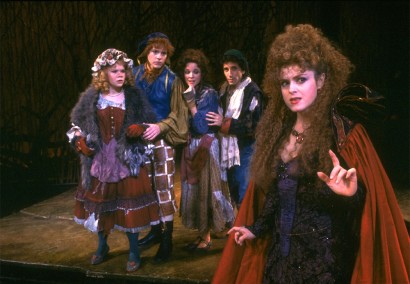 Playbill.com has been listing numerous shows as available online. Be forewarned — viewing them usually involves a fee — but when you can see the original production of Sondheim's Into the Woods starring the transcendent Bernadette Peters, it's a steal at $2.99 (for rental on YouTube or Amazon Prime). And you can also binge-watch Broadway shows at BroadwayHD.com; they're offering a seven-day free trial (after which it's $8.99 a month or $99.99 a year).
Travel & Leisure recently published a handy list of museums you can tour virtually via Google. For instance, at the Van Gogh Museum in Amsterdam, you can view his famous "Sunflowers" by itself or in "Street View" — aka, in context of the gallery around it — and there's video, too, so you don't even need a docent.
You've no doubt seen the video of penguins released to wander Chicago's Shedd Aquarium (they were particularly interested in the fish exhibits, it seems). Well, Tampa's own Florida Aquarium is offering some online action, too, with its charming #SEASPAN videos. A recent edition featured aquarium staffer Todd singing an original song about sharks with a dancing turtle at his side, while divers bopped along behind him in the shark tank — along with, yes, an actual shark.
With COVID-19 sending conspiracy theorists into overdrive (it's a Democrat hoax! it's a Chinese plot! it's because of radio waves from 5G towers!), the latest show at MIZE couldn't be more timely. And while the gallery is open only by appointment at the moment, you can view Conspiracy anytime at chadmize.com.
5. "Resources for Experiencing Art in Times of Social Distancing"
Sheila Cowley, Jennifer Ring and the gang at Creative Pinellas's Arts Coast Journal are doing a bang-up job discovering new avenues into online arts experiences, none more comprehensive or varied than this amazing list. It's a cornucopia of info and links to great local stuff (including the MIZE show listed above) and around the world (including links to all-time-great concerts on YouTube, like Queen's set at LiveAid in 1985). Three others that caught me (and thanks for helping me fill my Top 10, Sheila):
6. Anna Netrebko in Verdi's Il Trovatore
I'd heard of her but I'd never actually heard her. Thanks to the Metropolitan Opera's free livestreams of its operas in HD, I now know what all the fuss is about.
Young Jean Lee's one-woman musical sounds depressing, especially in our current circumstances, but it's anything but. 
Theater Wit in Chicago is offering tickets for online viewing of this production — think Richard III in high school — at regular showtimes. 
This is something to put on your calendar for next weekend. Beginning Thurs. Mar. 26 at 7 p.m., TFO will share live recordings of 13 select Masterworks concerts for free on Classical WSMR 89.1 and 103.9 FM and online at WSMR.org. Next Thursday's broadcast is a recording of this season's opening night performance of Gershwin, Grieg, Ravel and more. Continuing through June 11, the broadcasts will be a mix of recordings from this season and TFO's archives. If you miss a broadcast, you can listen on-demand at WSMR.org for one month after the airdate.
10. Buy a gift certificate
We've already recommended this as a way of supporting local restaurants, but it'd also be a great boost for your favorite local theaters, museums and other nonprofit arts organizations. Not only do you give them a financial boost right now when ticket revenue isn't coming in, but buying a gift certificate is also a gesture of hope — because there will be a time when this is all over and you, your friends and family will be able to see a performance live and in person, an experience that can't be replicated no matter the sophistication of its online equivalent.