With Cinco de Mayo and the Kentucky Derby falling on the weekend, there is no shortage of must-do events in Tampa Bay. Good luck deciding (like I did) – but what a great problem to have! Look for my "Featured Event." It's my don't miss pick of the week. Enjoy!
Thursday
Emerging Artists Exhibition
The Gallery at Creative Pinellas, Largo
The opening reception for one of the most anticipated arts exhibitions in Pinellas County is tonight – and it's free to attend! The Emerging Artists Exhibition showcases the work of EA grant recipients so that they may elevate their art careers to the next level. Beside the grant, this mission is facilitated through mentorships with professional artists and with this show that gives grantees a professional gallery exhibition that will be seen by thousands. Come on out and invest in #LocalArtists. EAE will be up through mid-Summer.
May 4th @6-8pm Reception /Exhibition May 5th – July 16th  More information here.
Ain't Too Proud
Starz Center – Morsani Hall, Tampa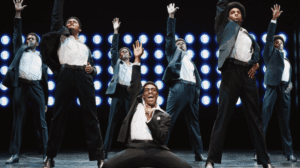 The winner of the 2019 Tony Award® for Best Choreography, it's a thrilling story of brotherhood, family, loyalty and betrayal during a decade of civil unrest in America. Set to the beat of the group's treasured hits, including "My Girl," "Just My Imagination," "Get Ready" and "Papa Was a Rolling Stone," AIN'T TOO PROUD tells the unforgettable story of the legendary quintet that Billboard magazine named the greatest R&B group of all time.
**Fun Fact: St. Petersburg's own Ephram Sykes was in the original Broadway cast and he was nominated for a Tony for Best Featured Actor in a Musical.
Runs through May 7th  Tickets and more information here.
Friday
Tampa Riverfest
Riverwalk, Tampa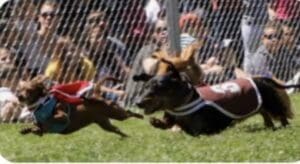 Riverfest is a public, two-day, free event that is held the first weekend in May each year.  The festival spans the entire length of the Riverwalk including several parks and features family-friendly activities and events showcasing Tampa's cultural institutions, local musicians and restaurants.  The festival includes Taste of Riverwalk on Friday night and RiverFiesta (NEW!) on Saturday.  There is also a full concert series of tribute bands on the main stage in Curtis Hixon Waterfront Park and a balloon glow at sunset on both nights.  Other activities include a wiener dog derby, a lantern parade, yoga, a water ski show and a paddle invasion.
May 5th & 6th  Tickets, event schedules, and more information here.
Fiesta St. Pete – Cinco de Mayo Block Party
Park & Rec / The Avenue, DTSP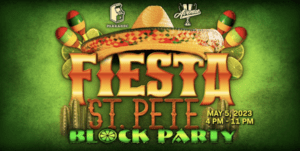 Bustling downtown eateries, The Avenue and Park & Rec join forces, shut down the street, and host a huge Cinco de mayo celebration on the 300 block of 1st Ave S. A live mariachi band, multiple drink specials, and lots of delicious street food will be the order of the day. Lots of fun festivities are planned like pinatas, stilt walkers, games and so much more. Tickets start at $10, with a VIP tent available.
May 5th 4pm-midnight and beyond. Tickets and more information here.
Casa Tina's 31st Annual Cinco de Mayo Festival
Casa Tina's, Main St., Dunedin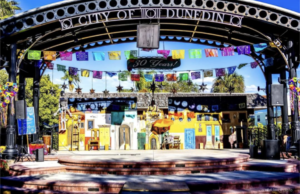 This is a top Cinco tradition and it happens at and all around the Casa Tina Restaurant, home of authentic Mexican cuisine. 31 years and going strong in its tradition to host a truly authentic Cinco de Mayo experience.
Continuous Live Performances by: • Madera Sol (Latin American Folk) • Grupo Folklorico Mahetzi • Simone Salsa, Free Salsa Lessons • Orquesta Infinidad (12 Piece Salsa Band, 7pm) • Giant Mojiganga Parade (7:30ish) FFeaturing: Grupo Folklorico MahetziThere'll be a Casa Tina drum line with walking puppet parade. It's the real deal if you're looking for a more traditional Cinco de Mayo event.
May 5th @4-11pm. More information here. (Click on event upper right corner)
Saturday
Derby at the Pier – A Kentucky Derby Event
Spa Beach Park, DTSP
It's touted to be the premier Kentucky Derby event in Tampa Bay. Derby hats, sundresses, seersucker suits, bow ties, high-end bourbon, specialty craft cocktails, cigars, and of course, the traditional mint julep – all while enjoying the beautiful Sunshine City weather. Spa Beach Park provides a serene, picture-perfect waterfront venue with views of the DTSP city skyline and the beautiful bay.
May 6th @3-9pm Tickets and more information here.
4th Annual MayFest
Perry Harvey Sr. Park, Tampa
One of Tampa's largest 'urban markets,' MayFest will feature food tents & trucks, an artist park with live painting, youth arts area with free art activities, shoppes, vendors, and lots of related events throughout the day. Watch fine artists, makers, and crafters create pieces live, and then take something home to remember the great time you and your family had at this arty weekend festival.
May 6th & 7th @11am-5pm  More information here.
*Featured Event*  WMNF Presents Tropical Heatwave
Cuban Club, Ybor City
After many years, WMNF's Tropical Heatwave, the multi-band, multi-venue super show, was on a bit of a hiatus. I'm thrilled to report that Tropical Heatwave is BACK, and hotter than ever! If you've ever attended, you understand why I'm excited. This year some 16 bands, musicians, and singers converge on Ybor City's Cuban Club to bring audiences the very best in blues, rock, country, soul – every musical genre you can imagine.  It's just a great event, so check it out.
May 6th @6pm-11:55am (Doors open at 5pm) Tickets, full performer list and more information here.
Sunday
Trinity Art Festival
Little Road, New Port Richey
Take a lovely drive up to Trinity for this Sunday Funday open air festival featuring the work of many local artists. Enjoy live music, food trucks, and a live chalk throwdown that's sure to be fun for whole family. Spring is the perfect time to discover new artists that you love.
May 7th @12-6pm More information here.
Ciao Bella Voce! – St. Pete Opera Company's 2023 Gala
Coastal Creative, St. Pete
Join Maestro Mark Sforzini for an evening of musical delights. Immerse and enchant your senses in the sounds and tastes of Italy on Sunday,
Ciao Bella Voce! is St. Pete Opera's biggest fundraiser and this edition will be filled to the brim with romantic musical performances, sumptuous food, and authentic wines and spirts.
Coastal Creative – a new industrial style performance space – will be transformed into an Italian café with roaming performers and serenades from the balconies. After cocktails and appetizers, you will enjoy duet plates of chicken marsala and filet mignon with all the extras. Decadent dessert bites will be passed tableside.
May 7 from 5:30-8:30 pm  Tickets and more information here.
Have fun and stay safe out there!
Cindy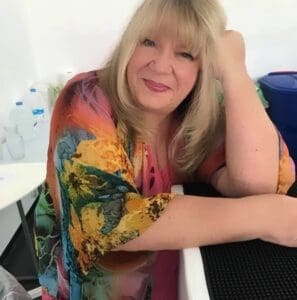 Submit your events to: cstovall5@gmail.com