There's a lot going on this weekend: Gladys Knight at Ruth Eckerd, the Decades show at MIZE Gallery, the new Black Love movie series at Tampa Theatre kicking off with Love and Basketball on Saturday at 3. And of course, the Winter Olympics are beginning their run on TV. But for this edition of Weekend Top Ten, it's all about theater, because the next three days are packed with shows. In fact, I had to push it all the way up to 11!
A production of King Lear would be news on its own — there hasn't been a live performance of Shakespeare's towering tragedy in these parts for almost 30 years. But Tampa Rep's is also noteworthy for its cast (led by Michael Mahoney in the title role and including such shining talents as Roxanne Fay, Jim Wicker, Jack Holloway and Cranstan Cumberbatch) and for its pedigree: It's dedicated to the late great leader of Tampa Rep, David Frankel, who dreamed of staging Lear. His wife, Connie LaMarca-Frankel, a fine theater-maker in her own right, took the reins and co-directs with Megan Lamasney. Feb 4-20, Tampa Repertory Theatre, hosted by USF School of Theatre & Dance, 3829 USF Holly Drive, Tampa, tamparep.org.
Following upon its acclaimed production of 12 Angry Men, Stageworks is once again presenting a familiar story that resonates strongly in today's divisive climate. Sixteen-year-old actor Mercy Roberts (so impressive three years ago in American Stage's Fun Home) stars as the young diarist whose poignant record of life in hiding from the Nazis during WWII is both a testimony to the human spirit and a bracing reminder of the destructive forces of bigotry. Feb. 4-20, Stageworks Theatre, 1120 East Kennedy Blvd, Suite 151, Tampa, stageworkstheatre.org. 
Pass Over was the first play to open on Broadway last summer, and it was greeted with raves: "Antoinette Chinonye Nwandu's play about young Black men in peril inaugurates the new season with unexpected joy," said the New York Times. In the play, which was inspired by Beckett's Waiting for Godot and the Book of Exodus, two young men dream of their promised land as they talk smack, pass the time, and hope that maybe today will be different. Erica Sutherlin directs the co-production with the Outcast Theatre Collective. Feb. 3-13, The Studio@620, 620 1st Ave. S., St. Petersburg, thestudioat620.org.
Set in all girls' school in Ghana in 1986, Jocelyn Bioh's much-acclaimed play pits a new girl in town, an American, against the reigning queen bee. There's a prestigious pageant on the line, which could provide the opportunity to move up in the world to the lucky winner. It's a comedy about the universal teenage struggle, and the need to feel like you belong. The Hollywood Reporter said it was "ferociously entertaining, as heartwarming as it is hilarious" and the Washington Post called it a "charming comedy of adolescent angst." American Stage Producing Artistic Director Rajendra Ramoon Maharaj directs and choreographs. Through Feb. 27, American Stage, 163 3rd St. N., St. Petersburg, americanstage.org.
Taking the form of a crash-course remedial English class, three actors playing a drama teacher, coach and an inept student-teacher all play their part in this comic tour de force, billed as "a crash course in Western Literature from The Iliad to Harry Potter, plus everything else you really should have read by now but couldn't be bothered." Feb. 4-13, ThinkTank Theatre at the Shimberg Playhouse, Straz Center, Tampa. The 3 p.m. Saturday matinees on Feb. 5 and 12 are Relaxed Performances, with various elements adjusted to ensure that audience members with sensory-based sensitivities can attend. strazcenter.org, thinktankTYA.org.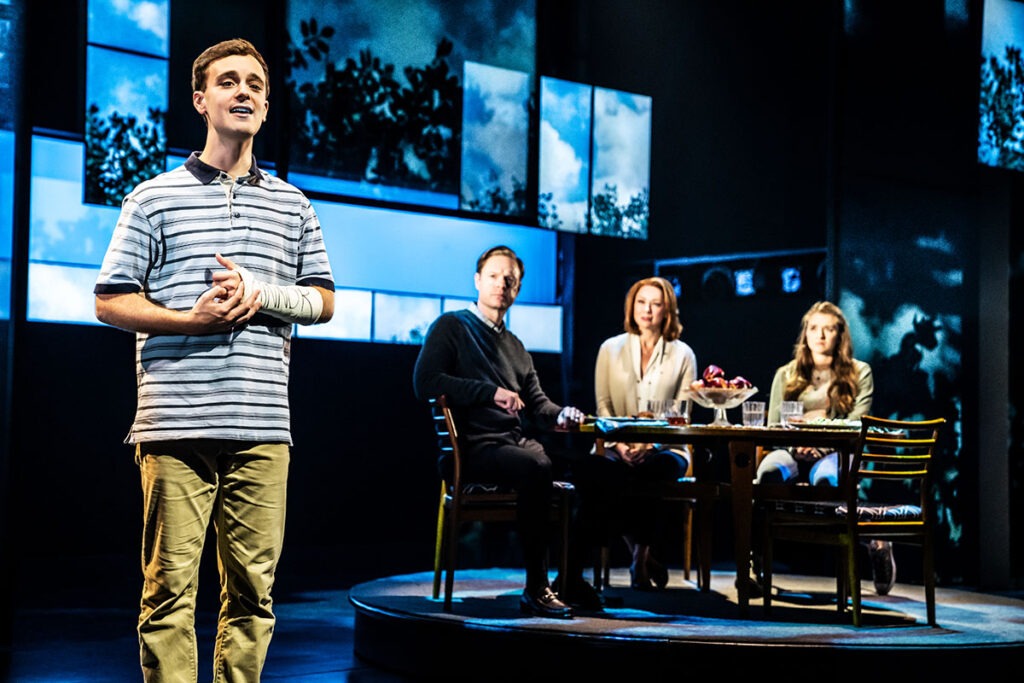 A huge hit on Broadway and on the road, Dear Evan Hansen didn't fare as well on film, in part because the actor who created the title role, Ben Platt, had aged beyond being a believable teenager once the movie adaptation was released. There've been debates about the character's moral code, too, given that he lets a lie get out of hand in order to belong. But that dilemma is also what makes the show interesting, the Tony-winning score by Benj Pasek and Justin Paul is downright irresistible, and Evan is a once-in-a-lifetime role for young singer-actors. Through Feb. 6, Straz Center, Tampa, strazcenter.org.
7. I LOVE TO EAT at freeFall
Matthew McGee is getting some of the best reviews of his much-honored career for his solo turn as James Beard, the larger-than-life chef, cookbook author and TV personality whose name is attached to the culinary profession's most coveted awards. James Still's play, subtitled "a love story with food," imagines a late night in Beard's Greenwich Village home. (If this sounds like it'd make you hungry, fortunately there's an excellent restaurant right next door to freeFall: Two Graces, the indoor/outdoor destination from the talented folks who run Grace in Pass-a-Grille.) Through Feb. 27, freeFall Theatre, 6099 Central Ave., St. Petersburg, freefalltheatre.com.
Full disclosure: I'm in this one, playing two roles (Prince Escalus and Juliet's Nurse), which is why the excellent Eric Snider has been subbing for me lately as the writer of RTB's daily newsletters. Audiences (and critics) have been loving director David Jenkins's '80s-accented production of Shakespeare's tragedy, which begins as swoon-worthy romance and ends in heart-rending loss. Only four performances left. (Use code VERONA for $15 off your seat to the Feb. 3 show.) Through Feb. 6, Jobsite Theater at the Straz, jobsitetheater.org.
Six improv comedians pair up to go on three first dates in front of the audience. The Spitfire troupe promises a train wreck (of laughter) as the best and worst dates ever unfold over dinner at a fancy on-stage restaurant. Feb. 5, 9-10 p.m., Spitfire Comedy House, 1920 1st Ave. S., St. Petersburg, spitfirecomedy.com.
I previewed this show in January, but performances were canceled for a week due to Covid concerns. Now it's back up and going strong, so here's another prompt to go see it and get yourself a welcome dose of farce. Marc Camoletti's 1960 comedy (revived to great acclaim on Broadway in 2008) deals with a playboy's amorous predicament when his three fiançees — all airline hostesses — simultaneously land in his Paris apartment. Through Feb. 27, 4 p.m. Thursday–Sunday, 11 a.m. Thursday & Saturday. Early Bird Dinner Theater, 13355 49th Street N Clearwater. Reservations: 727-446-5898.
Restoration-era playwright William Congreve wrote the comic libretto for Handel's English-language opera Semele, so it ties in nicely with this week's theater-centric list. Semele, the latest mortal dalliance of Jupiter, becomes convinced that she won't be happy until she is made immortal. Juno, Jupiter's long-suffering wife, has other ideas. Holly Flack plays the title role. Feb. 4, 6 and 8 at The Palladium, 253 5th Ave. N., St. Petersburg, stpeteopera.org.