In chronological order, here are my picks for what to do this weekend:
1) Thursday: Midnight in Paris screening at the Dalì. Whatever you think of Woody Allen, this 2011 fantasy comedy (which won him an Oscar for Best Original Screenplay) is pretty darn enchanting, its premise being that a current-day screenwriter (Owen Wilson) time-travels to Paris in the 1920s and meets everybody, including, course, Salvador Dalì (perfectly embodied by Adrien Brody). A free screening at sunset in the Museum's Avant-garden. thedali.org.
2) Opening Thursday: White Gold: Thomas Sayre at the Tampa Museum of Art.
Sayre is a North Carolina-based artist whose interest in the natural landscape led him to create this fascinating installation in which he considers both the beauty and the terrible toll of the cotton industry in the South. Highlights include a mural-sized evocation of a cotton field, each cotton blossom meticulously depicted in rows stretching to the horizon. Through 5/17, tampamuseum.org.
3) Friday: Steve Martin & Martin Short at Ruth Eckerd. Two of the funniest men alive — and you get 'em both for the price of one! rutheckerdhall.com.
4) Friday/Saturday: Roxanne Faye's Thrice to Mine at HCC Ybor. One of Tampa Bay's most charismatic actors as well as a superb writer, Roxanne Faye reprises her one-woman show about Lady Macbeth in benefit performances for Tampa Repertory Theatre. 8 p.m., Studio Theatre, HCC-Ybor, corner of E. Palm Ave. and N. 14th Street (Avenida Republica de Cuba), Tampa, tamparep.org.
5) Friday & Tuesday: St. Pete Opera's Rigoletto at the Palladium. Giuseppe Verdi's tragedy of love and revenge, in which a corrupt duke (played by Benjamin Werley, left) seduces the beautiful daughter of his court jester, Rigoletto. In past productions the opera has been set amongst NYC Mafiosi, Sinatra's Rat Pack in Las Vegas and Silvio Berlusconi's cohorts in Italy, and while I don't know what St. Pete Opera will do with it (I can think of at least one corrupt-duke analogy off the top of my head), I'm confident Maestro Mark Sforzini and company will do Verdi (and "La donna è mobile") proud. 1/24, 8 p.m., and 1/28, 7:30 p.m. (Sunday's matinee is sold out.) stpeteopera.org.
6) Opening Friday: Inside the World of Public Art: Craft Goes Monumental at Florida CraftArt.
Eight artists who use fine craft techniques to create monumental public artwork in the Tampa Bay area are profiled, along with their smaller fine craft studio work. Curated by public art guru Ann Wykell. Above: A work by Xenobia Bailey, whose crochets are scanned and translated into mosaics like this one, which will be installed at the new St. Pete Pier. Through 3/7, floridacraftart.org.
7) Saturday: Ira Glass at the Mahaffey. The most imitated man in public radio, This American Life's Ira Glass brings his live show, "Seven Things I've Learned," to St. Pete. themahaffey.com.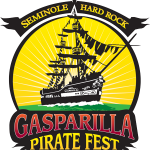 8) Saturday: The 2020 Seminole Hard Rock Gasparilla Pirate Fest. Or, for short, just Gasparilla. Though it's been expanded this year to stages on the Riverwalk, Curtis Hixon and MacDill Park, the Big Event is of course the Pirate Parade (preceded by the 103rd Gasparilla Invasion and Brunch, because… pirates love brunch?). Once in possession of the key to the city (handed over, but not without a fight, by Mayor Jane Castor), the pirates of Ye Mystic Krewe of Gasparilla celebrate with a victory parade that begins at 2 p.m. at Bay to Bay and Bayshore and continues for 4.5 miles into downtown Tampa, with over 140 units – featuring 103 floats, five marching bands and over 50 participating social organizations (krewes). And oh yes, there will be drunken fools clamoring for beads. 9 a.m.-9 p.m., gasparillapiratefest.com.
9) Opening Saturday: Art of the Stage, Picasso to Hockney at the Museum of Fine Arts.
An exhibition that's a must for theater and art geeks alike: Art of the Stage features over 100 studies for scene, costume, curtain and program designs, as well as maquettes and costumes, by noted artists from the 19th century to the present day — Natalia Goncharova, Picasso, Matisse, Robert Indiana, David Hockney and many more. The exhibition design by Rush Jenkins (he designed last year's dazzling Schlumberger jewelry show) is a theatrical milieu in its own right, with colorful backdrops, stage drapes and delights around every corner. And the coolest thing about this very cool show: Associate Curator of Public Programs Margaret Murray has come up with a lineup of ingenious performance collaborations in conjunction with the exhibits, pulling together dance, opera, theater and music — including an MFA "takeover" by the Florida Orchestra, whose members will be playing throughout the museum's galleries on Sunday Jan. 26 from 12:30-4 p.m. Through 5/10, mfastpete.org.
10) Opening Saturday: Let Me Be Myself: The Life Story of Anne Frank at the Florida Holocaust Museum.
If you've read The Diary of Anne Frank, you will have already imagined what it felt like for Anne and her family to hide from the Nazis in the cramped, concealed rooms of a friend's home. Visitors to the Anne Frank House in Amsterdam can experience those close quarters with visceral immediacy, and now there's an exhibition coming to the Florida Holocaust Museum that recreates that haunting, claustrophic environment through Virtual Reality. That's just one way in which Let Me Be Myself: The Life Story of Anne Frank carries her story into the 21st century, addressing issues of identity, exclusion, and discrimination and tracing her life from her birth in 1929 to her death in the Bergen-Belsen concentration camp in 1945. Opening reception, Sat. 1/25, 7-9 p.m., RSVP required. Florida Holocaust Museum, 55 5th St. S., St. Petersburg. Through 1/21/21, 727-820-0100, flholocaustmuseum.org.