The historic Sarasota High School, built in 1926 and augmented with an addition by the famed architect Paul Rudolph in 1959, gets a new life this weekend as the Sarasota Art Museum of Ringling College. The museum opens with an exhibition of works by Vik Muniz, the boundary-pushing Brazilian artist and photographer; a show called "Color. Theory. & B/W" that features such artists as Helen Frankenthaler and Dominique Labauvie; and a photographic tribute to the people who helped with the renovation. Opening Day Sat. 12/14, 10 a.m.-5 p.m. Ringling College of Art & Design, 1001 S. Tamiami Trail, Sarasota. Public hours will continue Sundays-Mondays and Wednesdays-Saturdays. sarasotaartmuseum.org.
The ingenious, whimsical creations of a world-renowned glass-making family from Poland are on view in Safety Harbor starting this weekend, and on Saturday you can meet artist Wiktor Borowski in person. The Borowskis' works range from small, functional fantasy creatures (like the "Gator Box," left) to outdoor objects like a 4-foot-tall chameleon made of glass and steel. Meet the Artist, Sat. 12/14, 4-8 p.m., Syd Entel Galleries, 247 Main St., Safety Harbor, 727-725-1808, sydentelgalleries.com.
3. Holiday Sparkle at St Petersburg Opera Company
St. Pete Opera's annual songathon at Opera Central, where that human sparkler Maestro Mark Sforzini will no doubt come up with some holiday hijinks as he conducts a cast of marvelous singers and a 15-piece orchestra in an intimate cabaret setting with choreography and staging by Robert Rigsby. Expect music from the sacred to the secular to favorites from TV and the movies. Thurs-Sat. 12/12-14 and 19-21, 7:30 p.m.; Sunday matinees at 2 p.m., 12/15 and 12/22. Opera Central, 2145 First Ave. S., St. Petersburg, 727-823-2040, stpeteopera.org.
4. Nate Najar's Jazz Holiday at the Palladium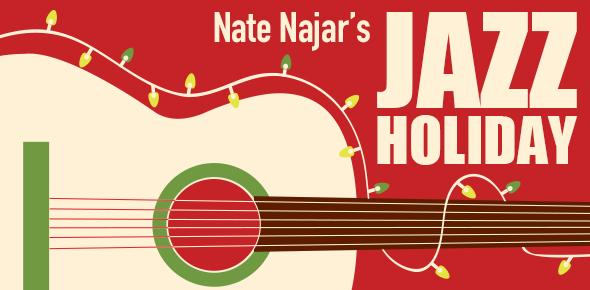 The season gets jazzed up in high style when guitarist extraordinaire Nate Najar throw his annual bash, this year in the company of bassist John Lamb; drummer Jean Bolduc; trumpeter James Suggs; NYC  jazz star Adrian Cunningham on sax, clarinet and flute; and Chuck Redd on vibes. Thurs. 12/12, 7:30 p.m., The Palladium, 253 Fifth Ave. N., St. Petersburg, 727-822-3590, mypalladium.org.
5. Black and White Christmas at Tampa Theatre
Yes, in an inspired bit of programming, the folks at Tampa's favorite movie palace are following up Black Christmas, the classic 1974 slasher film, with White Christmas, the sing-along version. (Sisters figure prominently in both.) Black Christmas was the original "The caller is in the house!" movie and stars the likes of Margot Kidder, Olivia Hussey and Andrea Martin (?!) as sorority sisters stalked by an unseen killer. A new remake is due — also on Friday the 13th — so if you're a horror-flick completist you'll need to see this first. Fri. 12/13, 10:30 p.m, Tampa Theatre, 711 N. Franklin St., Tampa, 813-274-8286, tampatheatre.org. As for Sing-along White Christmas, some may look forward to singing along with Bing when he starts dreaming about all his Christmases being white, but seems like it'd be a whole lot more fun to chime in with Rosemary Clooney and Vera-Ellen (above) when they sing "Sisters," with the immortal lyrics, "Lord help the mister/Who comes between me and my sister/And lord help the sister who comes between me and my man!" Sat.-Sun. 12/14-15, 3 p.m., doors open at 2. The theater recommends arriving early or ordering tickets in advance, tampatheatre.org.
Te
n years is quite an achievement for a small independent art gallery. In the case of Tempus Projects, a pioneer in Tampa's Seminole Heights neighborhood, the achievement is even more significant because of how influential Tempus and its director, Tracy Midulla, have been in advancing the careers of local artists and fostering alternative galleries. (See the excellent list of examples in this Creative Loafing story by my friend and former colleague Jennifer Ring.) On Saturday, the gallery celebrates its milestone with an "epic bash." In addition to an anniversary exhibition, there'll be special performances by internationally acclaimed artist (and USF grad) Kalup Linzy and the band Alien House. "X: A Decade of Tempus Projects," Sat. 12/14, 6-9 p.m., Tempus Projects, 4636 N. Florida Ave., Tampa, tempus-projects.com.
7. Orchestral Celebrations: TSO at Amalie and TFO's Holiday Pops
Two very different options for your holiday music enjoyment: the Trans-Siberian Orchestra, where you can expect to hear your favorite carols with the volume turned up to 11 and the spectacle turned up to eye-popping, or the Florida Orchestra, who promise "a jolly good time for the entire family" with singalongs and maybe a Santa sighting.
Trans-Siberian Orchestra's "Christmas Eve and Other Stories": Sun. 12/15, 3 & 7:30 p.m., Amalie Arena, Tampa, amaliearena.com. The Florida Orchestra's Holiday Pops: Fri. 12/13, 8 p.m., Straz Center, Tampa; Sat. 12/14, 2 & 8 p.m., Mahaffey Theater, St. Petersburg; Sun 12/15, 2 & 8 p.m., Ruth Eckerd Hall, Clearwater, floridaorchestra.org.
Only two performances to go for this one, both on Thursday, so act quick. Expect inspired slapstick and hilarious character work in a play that feels like a mix of Neil Simon and that great '30s film comedy Topper, complete with a pair of mischievous, bickering ghosts and an officious guardian angel. Thurs. 9/12, 11 a.m. & 4 p.m., Early Bird Dinner Theater, 13355 49th St. N., Clearwater. Call 727-446-5898 or email susan.lyons@earlybirddinnertheater.com for reservations. Tickets are $36 and include a buffet-style meal and the show

Dunedin seems to host a different festival every week, but its picturesque environs are particularly amenable to the holidays. The parade begins at 4 p.m. Saturday along Douglas Avenue and proceeds downtown, where there'll be horse-drawn carriage rides, train rides, a snow slide, snow flurries, kids' crafts, old-fashioned games, s'mores, live entertainment, and, of course, the man with the bag. Sat. 12/12, 4 p.m. For more information, contact Dunedin Parks & Recreation at 727-812-4530.
It's billed as the biggest lighted boat parade in Tampa Bay — "like Las Vegas on the water!" Boats will depart from The Club at Treasure Island at 6:20 p.m., sail past the Treasure Island Causeway Bridge at 7 p.m. and end at 8:15 p.m. at John's Pass. For best public viewing points and other parade info, visit the Treasure Island & Madeira Beach Chamber of Commerce website.