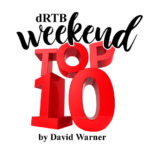 Hasn't the weather been cooperating nicely? December rolls in, and presto! It's chilly enough to bundle up Florida-style (long sleeves!). It's the perfect weather for socially distanced outdoor art, shopping strolls, seeing shows and…
1. Lights!
The downtown St. Pete waterfront is looking particularly fetching right now, thanks to new illuminated wonders in Straub Park (love the giant ornaments and scampering squirrels) and a new sight on the horizon, the Christmas trees on the St Pete Pier (not to mention Janet Echelman's Bending Arc, which is kind of a year-round ornament).
2. We the People!
American Stage continues its Digital Theatre Series with Nosotros La Gente (We The People), a commissioned work by Jerry Montoya about two brothers, Santiago and Salvador, working the date palm fields in the California desert on the verge of WWII. When Santiago decides to enlist, Salvador promises to take care of his brother's love, Sophie, in this story of faith, family, hope and love in America. Real-life partners Diana Garle and Daniel Llaca play multiple roles. Dec. 3-20, americanstage.org.
3. Pop-Up Market!
The debut of Uptown Market should be quite the block party, since the 600 block of MLK is home to three of St. Pete's niftiest businesses: Neat! Neat! Neat!, MIZE Gallery and Uptown Eats. They're co-sponsors of the outdoor popup market, which will feature artists Alli Arnold, Andrea Pawlisz, Todd Bates (Vintage Neon Sign Project/Press Press Pull), Hardison L. Collins III and Blossom and Shine. (Order breakfast at Uptown Eats. You will not be sorry.) Sat. Dec. 5, 9 a.m.-2 p.m., 689 Dr. Martin Luther King Jr. St. N, St. Petersburg. 
4. 2020? Really?
While you're on the 600 block, stop inside MIZE Gallery to see "Something 2020," for which artists were asked to create works expressing something positive about, yes, one of the worst years ever. Impossible? Guess we'll find out. Opening online Dec. 4 at 6 p.m. on Facebook and at 7 p.m. on Instagram. Gallery hours Saturdays 11 a.m.-7 p.m.; Sundays 11 a.m.-3 p.m. or by appointment. Masks required. Limit to 6 people in gallery at once. Exhibit on view through Dec. 20. chadmize.com.
5. CraftArt!
The annual Florida CraftArt Festival in downtown St. Pete morphed this year into CraftArt with a Twist, a smaller affair held outside and across the street from CraftArt's gallery. Participants in the second and final Saturday include artists working in ceramics, fiber, jewelry, glass, mixed media and sculpture. Sat. Dec. 5, 10 a.m.-5 p.m. Free admission. 501 Central Ave. and across the street in Regions Bank parking lot, St. Petersburg, floridacraftart.org.
6. Studio Tour!
Go Slow — Artists at Work. That could be the directional sign for Gulfport's annual ArtJones, an outdoor self-guided tour through studios and galleries in everyone's favorite funky beach town. This year you'll find 12 artists in seven studios throughout Gulfport; download a map here. Sat. Dec. 5, 10 a.m.-5 p.m.; Sun. Dec. 6, 11 a.m.-4 p.m. artjonesstudiotour.com.
7. Shop Hop!
Like the idea of getting your holiday shopping done in the space of a few blocks? Then you'll enjoy the Sunny Central Avenue Holiday Shop Hop, featuring "great deals, beverages and fun" at "12 of St. Pete's best boutiques!" With spots like ZaZoo'd, The Merchant, Plain Jane, Atlas Body+Home and MISRED Outfitters involved, the fun is a given. For a complete list of participating stores, go to the ZaZoo'd Facebook page. Sun. Dec. 6, 11 a.m.-5 p.m.
8. Go Underground!
The Tampa Bay Underground Film Festival was founded seven years ago "to catch the independent films that fall through the cracks and end up… underground." Due to the pandemic, this year's programming is primarily virtual, but as alway there's plenty of variety, including features, documentaries, shorts, student films and Q&A's. One notable entry, the short comedy My Dinner with Steve, features two top St. Pete talents: The writer and co-star is Lisa Kirchner, host of the popular storytelling series "True Stories," and the director is movie & TV luminary Eugenie Bondurant (Hunger Games: Mockingjay – Part 2, The Conjuring: The Devil Made Me Do It). Their film is included in the Sunday Comedy Block, but you can start watching all the films tonight at 7 p.m. Virtual screenings are hosted on the Eventive platform. Find info on films, scheduling and passes here.
9. Vanessa!
Is there anything she can't do? Silky-voiced Vanessa Williams has been a hit recording artist in just about every genre you can name (her Silver & Gold is one of the best Christmas albums ever), her charisma has powered TV shows like Desperate Housewives and Ugly Betty, so why wouldn't she conquer Broadway, too? A Tony nominee for Into the Woods. she made her splash debut in Kiss of the Spider Woman, and this weekend she's the latest divine diva to take a turn in Live from the West Side: The Women of Broadway, a series of one-woman shows streamed for the benefit of performing arts centers across the country, including our own Straz Center. The first two concerts in the series, by Patti Lupone and Laura Benanti, were surprisingly intimate and powerfully entertaining. I have no doubt Vanessa's will be just as much of a treat. Sat. Dec. 5, 8 p.m. Buy your virtual ticket here. strazcenter.org.
10. Tchaikovsky! Vivaldi! Heroes!
The Florida Orchestra is offering two programs at the Mahaffey this weekend: Tchaikovsky & Vivaldi for Strings, conducted by concertmaster Jeffrey Multer (Dec. 5, 2 & 8 p.m.; Dec. 6, 2 p.m.) and American Heroes, for which Music Director Michael Francis will conduct TFO's woodwinds, brass and percussion in music by great American composers, including not just Aaron Copland's Fanfare for the Common Man but — it's about time for this one — Joan Tower's Fanfare for the Common Woman (Dec. 5 & 6, 5 p.m.). Note that Saturday's 8 p.m. Tchaikovsky program will also be live-streamed; info here.