Go to brunch, meet (or eat) a bunny, watch Rays baseball on TV, watch a baseball legend play guitar, hear the music of a Broadway great in a parking lot… the possibilities abound.
Leonard Bernstein's New York. freeFall's latest drive-in theater attraction is a two-person revue celebrating the music of the genius composer/conductor who wrote, among other things, West Side Story. Julia Rifino and Emanuel Carrero star, Eric Davis directs the show and musical director Michael Raabe conducts. You can watch from your car and listen via your radio or bring chairs to sit outside and listen on headphones provided by the theater. You can also order a NY-inspired catering platter via freeFall's website. Opening weekend Apr. 2-4, continuing Wednesdays-Saturdays through May 9. All performances at 8 p.m.  freefalltheatre.com.
Mindi Abair with Bernie Williams. St. Pete's own Mindi Abair, the jazz saxophonist with a slew of #1 hits who's been seen on American Idol and The Tonight Show with Jimmy Fallon, is the headliner on this bill that also features Bernie Williams, Latin Grammy-nominated jazz musician and World Series legend. Williams played center field from 1991-2006 for the NY Yankees, helping them win four World Championships in the process, and went on to become a renowned guitarist and composer. Sat., Apr. 3, 8 p.m., Bilheimer Capitol Theatre, Clearwater, rutheckerdhall.com.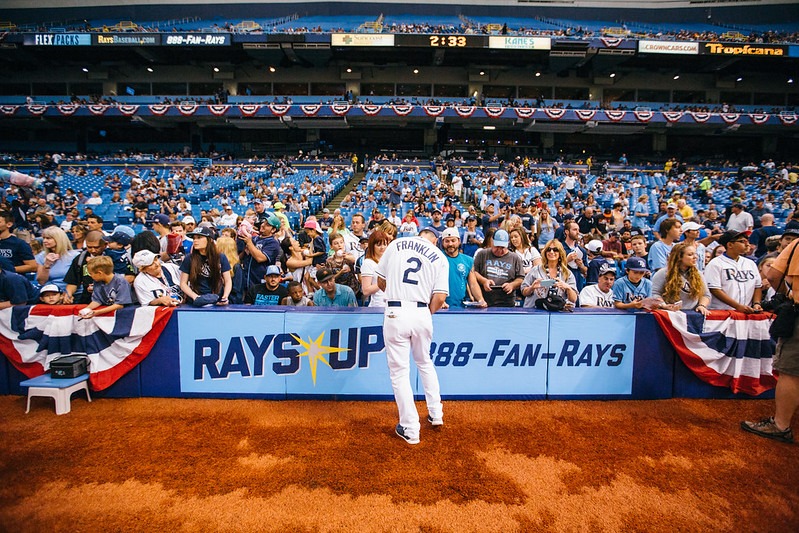 MLB Opening Weekend. The fun began April 1, no fooling, with the Rays winning the first game in a three-day stand at the Miami Marlins. (The home opener for the Rays isn't till April 9.) Games will be televised on Bally Sports Sun, the channel formerly known as Fox Sports Sun. Spectrum, DirecTV and AT&T TV users can access the rebranded channel no problem, but tough luck if you were hoping to watch via Frontier, Hulu Live TV or YouTube TV; due to a dispute with Bally Sports Sun's owners, Sinclair Broadcasting, those networks do not carry the channel. (But you can still listen on the radio at WDAE 620 AM/95.3 FM.)
Meet the Easter Bunny. He (or she — not sure of the preferred pronoun) will greet fans at Armature Works on Saturday and Sunday from 11 a.m. to 2 p.m. in the Heights Public Market. Everyone's favorite rabbit (other than Bugs) will also be making appearances (and offering photo ops) at International Plaza and Westshore Plaza through Apr. 3 and at Bass Pro Shops in Brandon on Apr 2 and 4.
Eat the Easter Bunny? In a commendable display of culinary irony, HEW Parlor & Chophouse at the Fenway Hotel is featuring this special addition to its Easter Brunch menu: Cornmeal Fried Rabbit Leg & Waffles, with smoked maple syrup and sage butter. For the bunny-averse, there's also a special of Tomahawk Ribeye & Eggs for Two, plus the rest of HEW's usual tasty brunch items and libations. And for Easter dinner, guests can indulge in a little lamb — or, rather, a whole lotta lamb: a Roasted Australian Lamb Rack special. Easter Sunday Apr. 4, The Fenway, 453 Edgewater Drive, Dunedin, fenwayhotel.com.
Get up early for Easter Eggs. If your little scavengers get up in time, they can join the hunt for 3,000+ eggs at England Brothers Park in Pinellas Park on Saturday. Children are divided into age groups; masks required. The listing on the Pinellas Park website gives a start time of 9 a.m., but if your kid wants an egg, I recommend you get there at 8. Or better yet, 7. Or stay home and hide the eggs around your own house and then forget where you put them all till one turns up sometime in July.
Get up early for a Sunrise Service. First Unity, a nondenominational church in St. Pete whose broad spiritual mission embraces prayer, meditation and the arts, will celebrate the season of rebirth with an Easter Sunrise Service in Vinoy Park beginning at 6:45 a.m. Attend in person or watch online on Facebook. Sun. Apr. 4, 6:45 -8 a.m., 701 Bayshore Dr. NE, St. Petersburg, firstunity.org.
Get up early for mermaids. Yes, Weeki Wachee Springs State Park has re-opened to the public, but you'd better get in line by 7 a.m. or earlier if you want to snag a first-come/first-served ticket to one of the three limited-capacity mermaid shows. (On Wednesday, all three of the day's shows were sold out by 10:30 a.m.) Otherwise, the park is open to the public for swimming every day from 9 a.m.-5:30 p.m., with waterslides, kiddie pool and lazy river available on weekends until May 29. 6131 Commercial Way, Weeki Wachee, floridastateparks.org/weekiwachee.
Eat Easter dinner at home. With egg hunts, bunny meet-ups, sunrise services et al, who has time to cook? You could always pick up a nice Honey Baked Ham, but for a real wow factor, Capital Grille is offering up a dinner for 4-6 starring a whole rack of bone-in filet, plus salad, grilled asparagus, mashed potatoes and chocolate espresso cake. Price is reasonable, starting at $155 (although it mounts up if you throw in add-ons like lobster tails for $80), and if you order online ahead of time you can pick up Saturday from 12 noon-5 p.m. or Sunday from 10 a.m.-12 noon. Simple instructions for warming before serving will be provided. 2223 N Westshore Blvd. (Bay Street at International Plaza), 2223 N. Westshore Blvd., Tampa, thecapitalgrille.com.
Catch up on your Oscar-watching. Area movie theaters are screening Academy Award nominees so you can be a well-informed guest in time for the awards on Apr. 25. Best part: This is the time of year when you can see the shorts! This weekend, Tampa Theatre's got Live Action Shorts on Friday night at 7:30; Animateds on Saturday at 7:30; Documentary and Animated Shorts on Sunday at 3 and 6:45 respectively; and a screening of the wonderful Best Picture nominee Nomadland on Saturday at 3:30. Green Light Cinema in St.. Pete is all shorts, all weekend: Live and Animated at 5 and 8 on Friday; Animated and Live at 4 and 8 on Saturday; and Live and Animated at 2 and 5 on Sunday. And over at AMC Sundial, catch the rave-reviewed Minari, another Best Picture nominee, on Thursday at 7:50, Friday at 7:30 or Sunday at 1:10.